If you work long hours or plan to be out all day, then you should definitely have a crockpot do all the work for you! 
The great thing about crockpot cooking is that you can buy cuts of meat that would otherwise be tough; those cuts that need super-long cooking times on low temperatures. These cuts (particularly with beef) tend to be cheaper, too.
When it comes to pork, you can cook any type of cut in the crockpot, but only a few work in a way that you can use them for pulled pork dishes. I've used tenderloin when I didn't have another option, but pork shoulders and pork loins are cheaper and work better.
Love slow cooker recipes?
Click here to get your FREE copy of our delicious Slow-Cooker Recipes!
Another great thing about shredded pork (or beef for that matter) is that it just seems to taste better when it's shredded compared to chunks or pieces of meat, and it takes sauce better.
This recipe is great to eat on its own, on top of Paleo biscuits, or however you want it. I'm particularly partial to eating it with Slow Cooker cabbage and apples (recipe to come). If you can find a decent Paleo biscuit or bread recipe, this pork is great with some homemade coleslaw on top. It's also good served on its own with a big pile of sweet potato fries and an avocado salad.
The PaleoHacks Team
Delicious Crockpot Pulled Pork Recipe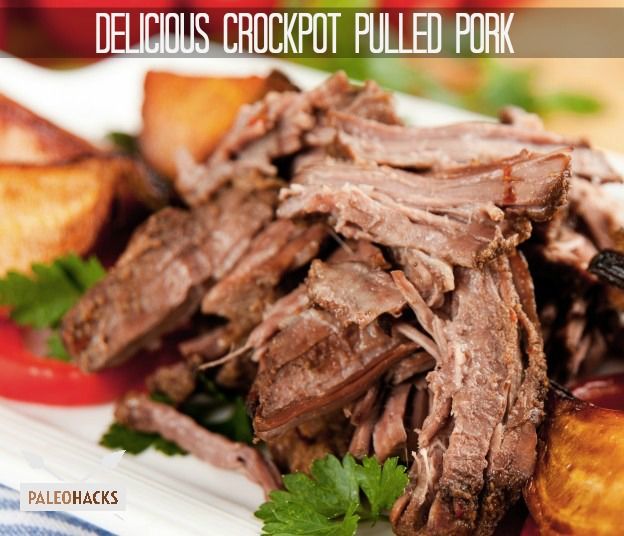 Prep Time:
5 mins
5 minutes
Delicious Crockpot Pulled Pork Recipe
This sweet and tangy pulled pork has only a handful of ingredients, and can be ready by the time you get home from work!
Ingredients
2 to 4 pounds of pork loin

1 large onion, sliced

1/2 cup of beef or chicken stock

1 tsp salt

1 tsp garlic powder

1/2 tsp each of black pepper and paprika

1 tsp chili powder

1/2 cup honey
Instructions
Put pork in the crockpot and cover with stock.

Add onions. Toss in the spices and honey, and cover.

Turn the crockpot on low and cook for eight to 10 hours.

Use two forks to shred the meat. Enjoy!
Watch the Video Recipe Below!
You'll Also Love: 20 Easy Paleo Crock Pot Recipes