Come home to a ready-made dinner using this simple Crockpot Mexican Stew recipe!
Crockpots are a lifesaver when it comes to weeknight dinners. It's a low-hassle kitchen appliance that does all the work for you! The only thing you need to do is toss everything in, set it to slow cook, and come home to a dinner ready and waiting for you to enjoy!
This Crockpot Mexican Stew is filled with soul-soothing ingredients. Spices like chili powder and oregano make a great duo, adding plenty of antioxidants and a hint of heat. Tip: If you're looking for even more spice, try experimenting with extra jalapeños.
Love slow cooker recipes?
Click here to get your FREE copy of our delicious Slow-Cooker Recipes!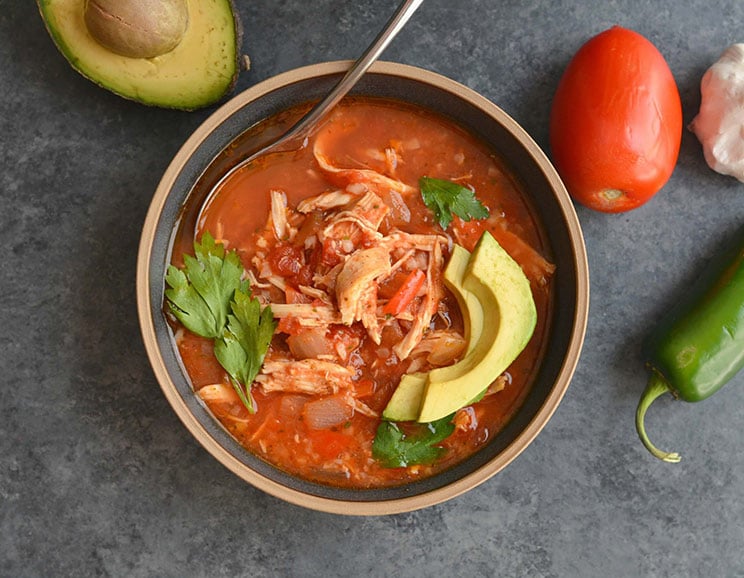 Chopped veggies and cauliflower rice give this dish a hearty, yet healthy, serving of essential vitamins and minerals. Along with nutrients from the veggies, this stew also has a healthy heaping of protein from both the chicken and the broth.
To make your Mexican Stew, toss all the ingredients (except for the cauliflower rice) into your crockpot. Set the crockpot on high and cook for three and half hours. Note: You can also cook it on low for 7-8 hours for more tender meat.
The slow cooking will tenderize the meat so you can shred easily with two forks. You can also remove the chicken and place it on a cutting board to shred, then add it back to the crockpot. Before serving your stew, add the cauliflower rice to the crockpot and give it a stir. Garnish with sliced avocado and cilantro and serve warm.
Megan Olson
Crockpot Mexican Chicken Stew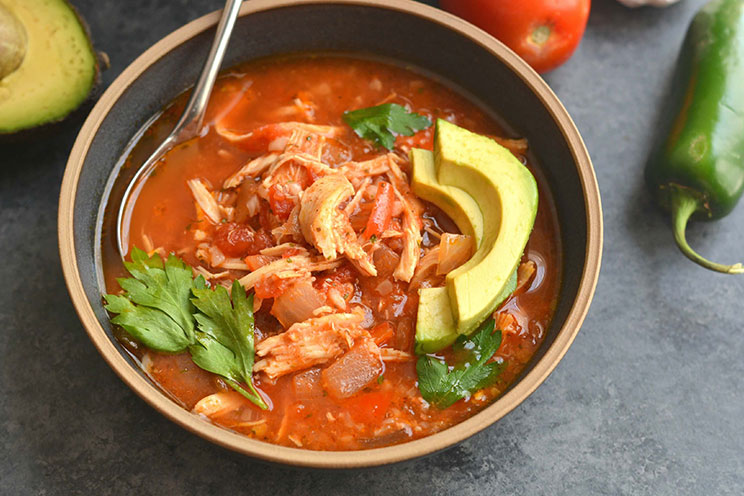 Cook Time:
3 hrs 30 mins
3 hours 30 minutes
Prep Time:
10 mins
10 minutes
Crockpot Mexican Chicken Stew
Come home to a ready-made dinner using this simple Crockpot Mexican Stew recipe.
Ingredients
1 lb chicken breast

2 T olive oil

2/3 cup white onion, diced

14-oz can diced-tomatoes with juices

1 cup chicken broth

4 T minced garlic

½ t oregano

½ t chili powder

2/3 cup red bell pepper, diced

2 cups cauliflower rice

Salt and pepper, to taste

Cilantro and avocado, for garnish
Instructions
Place all ingredients into a crockpot -- except cauliflower rice, cilantro and avocado.

Set the crockpot to high and cook for three and half hours (seven hours on low).

Add the cauliflower rice and give it a stir in the stew.

Shred the chicken with two forks, then serve in a bowl with cilantro and sliced avocado on top.
Looking for Paleo ingredients? Here are a few we'd recommend:
Olive oil (Kirkland Signature)
Ancho chili powder (Simply Organic)
You'll Also Love:  20 Easy Paleo Crock Pot Recipes