Can't decide what to make for dinner?
Follow these tips to create a healthy and vitamin-packed stew, customized for whatever you have on hand!
A hearty stew is just a few ingredients away. Use this foolproof method to combine whatever meat, veggies, broth and herbs you happen to have in your pantry, and let the crockpot do all the work. Anytime you need a no-fuss dinner that can feed an army, refer to this handy guide for a stew that's never the same twice.
Love slow cooker recipes?
Click here to get your FREE copy of our delicious Slow-Cooker Recipes!
Step 1: Pick Your Protein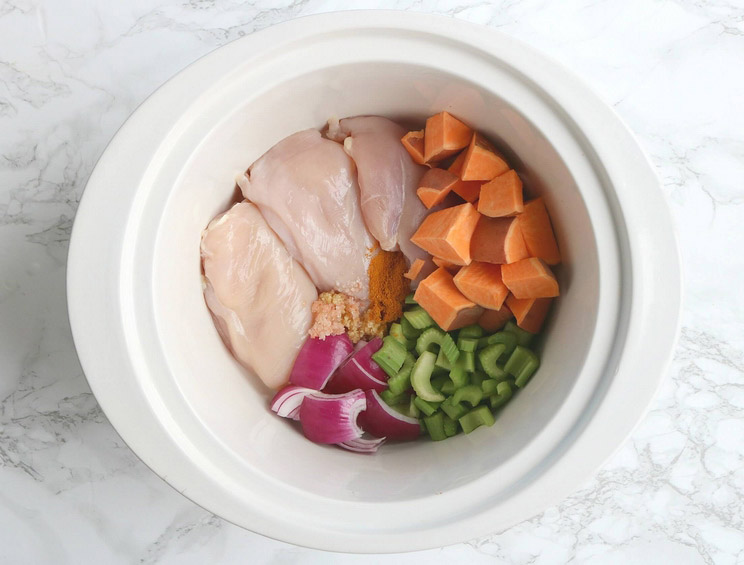 Chicken is one of the best proteins for crockpot cooking. It soaks up all of the herbs and broth as it cooks, transforming bland chicken into a tender and flavorful delight. If you're in the mood for red meat, look for pre-cubed, grass-fed beef stew meat to save on prep work.
Try one of these proteins:
Step 2: Select Your Veggies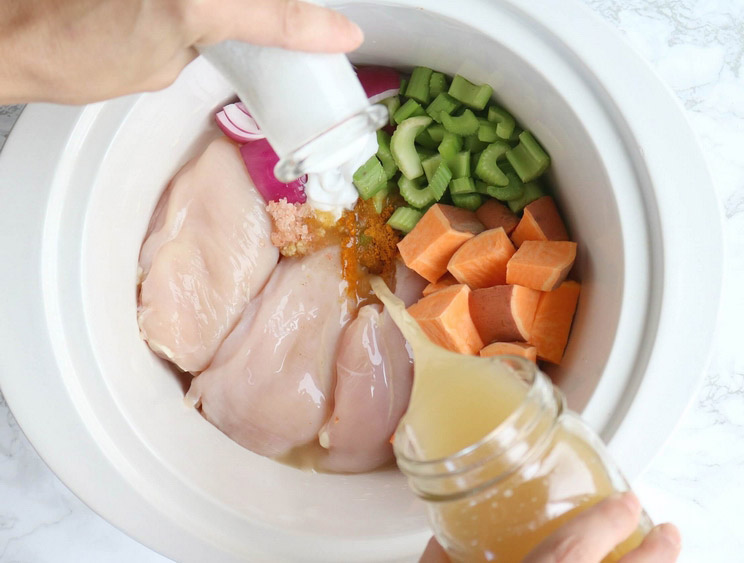 Our motto for stew: Eat the rainbow! Choose a variety of colorful veggies, as this is where the bulk of vitamins and antioxidants will come from. Start with hearty vegetables that take the longest to cook (think sweet potatoes, carrots and celery) and toward the very end of cooking, add vegetables like broccoli or zucchini that have a short cook time (so they don't get mushy). For this stew, I used sweet potato and left the peel on for plenty of fiber along with celery and red onion.
Add these hearty veggies first:
Sweet potatoes
Carrots
Celery
Onion
Add these veggies for the last 30 minutes of cooking
Broccoli
Zucchini
Cauliflower
Yellow squash
Step 3: Choose Your Liquid
Every good stew needs a tasty broth to bring all the flavors together. Bone broth is our personal favorite – it helps promote gut health and builds strong joints – but you can use any other meat or vegetable stock you like. For a creamier broth, add a little coconut milk. Its exotic flavor works great in Indian and Thai-inspired stews.
Replace Water with Any of These Liquids:
Bone broth
Chicken stock
Vegetable broth
Coconut milk
Diced tomatoes with its juice
Step 4: Spice It Up!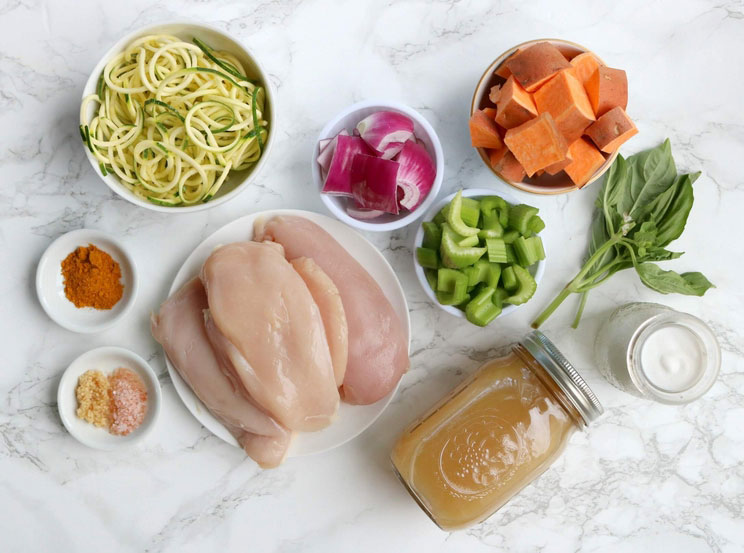 Herbs and spices can make the difference between a ho-hum stew and one that really sings. Add any combination of your favorite seasonings, or use this guide to match your favorite ethnic stew.
Add Extra Seasoning:
Indian
Curry powder
Cumin
Mexican
Paprika
Chipotle powder
Cilantro
Lime juice (at the end of cooking)
Italian
Garlic
Diced tomatoes/tomato paste
Basil
Oregano
Step 5: Garnish!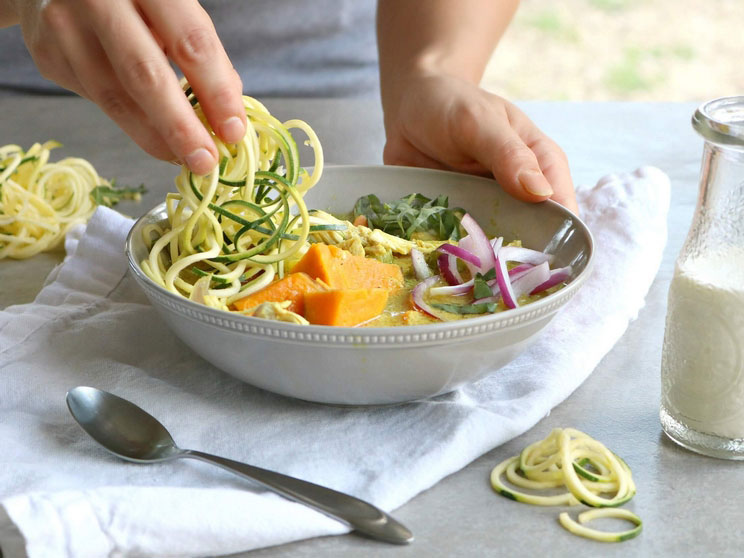 Fresh chopped herbs, like basil, cilantro or scallions, are essential for brightening up a stew before serving. Add purple shredded cabbage or raw zucchini noodles for crunch, or drizzle in a little Paleo sriracha or pesto.
Play around with your favorite ingredients to create your own signature stew. Use a 2:1 veggie to meat ratio for ample antioxidants. Just add everything to the crockpot, leave on high for four hours, ladle into bowls with your favorite garnishes, and serve!
If you're looking for a place to start, follow the recipe below for one of our favorites: Paleo curried chicken zoodle soup.
Jennafer Ashley
Whatever-You-Have Crockpot Soup Recipe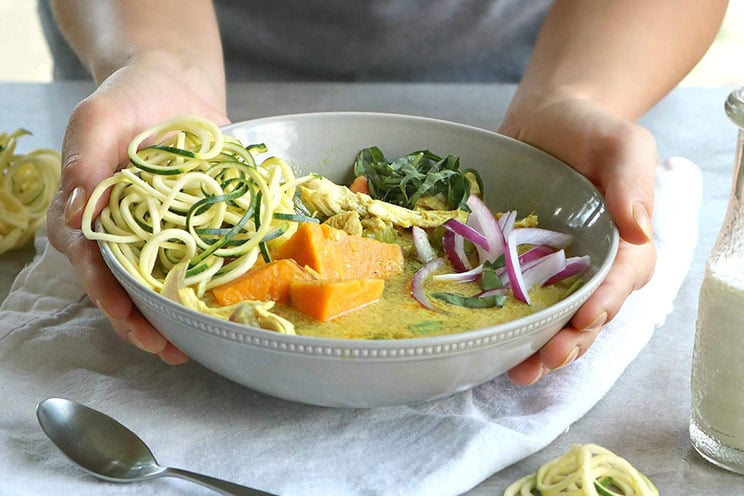 Prep Time:
10 mins
10 minutes
Whatever-You-Have Crockpot Soup Recipe
Can't decide what to make for dinner? Follow these tips to create a healthy and vitamin-packed stew, customized for whatever you have on hand!
Tools
Crockpot

Cutting board

Knife

Spiral slicer (optional)
Ingredients
Crockpot Soup
3 boneless/skinless chicken breasts

1 sweet potato, diced

3 celery stalks, sliced

1/2 cup red onion, diced

1 t garlic, minced

1 T curry powder

1 t sea salt

3 cups bone broth

1 cup full-fat coconut milk
Raw Toppings
1 handful fresh basil, chopped

2 cups zucchini noodles

Sliced red onion
Instructions
Arrange all chicken, vegetables and seasonings in the crockpot.

Pour in liquid and turn crockpot to high setting. Cover with lid and cook 4 hours or until chicken is tender and cooked through.

Shred chicken with a fork and return to crockpot. Stir to combine. Ladle stew into bowls and serve with raw toppings.
Looking for Paleo ingredients? Here are a few we'd recommend:
Coconut milk (Native Forest)
You'll Also Love: Crockpot Chicken and Cauliflower Rice Soup