Do you bloat out like a hot air balloon after every meal?
Do you need coffee just to poop? Perhaps you feel heavy and overstuffed after you eat, and you're done with relying on stretchy pants to help hide the bloat.
There are few things more frustrating than living your life plagued by digestive symptoms such as bloating, constipation, cramping and irregularity. But digestive discomfort doesn't have to be your norm. In fact, there are several foods that can help relieve digestive symptoms quickly.
Do you struggle with bloating, gas, constipation, or other digestive issues? We've created a FREE guide to healing your gut naturally.
Click here to get your FREE copy of our Digestion Guide!
The Dangers of Digestive Symptoms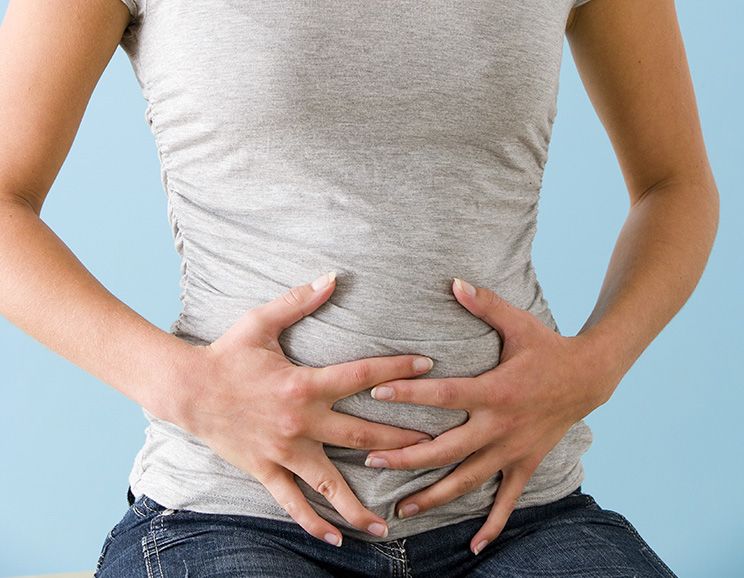 While digestive symptoms are like an unwelcome house guest, they can also be a sign of a deeper health issue.
You see, your gut is the foundation of your health. In fact, over 70% of your immune system is found in your GI tract. (1) And while the symptoms may seem innocent at first, they can lead to more serious health conditions if left untreated.
Let's take chronic bloating, for example. While it has many causes, bloating is often linked to food sensitivities, especially dairy, wheat and gluten. (2) If you're unaware that you have a food sensitivity, you're more likely to keep eating the offending food – which causes inflammation in your digestive tract. When left untreated, this inflammation can prevent you from absorbing essential nutrients such as amino acids, vitamins and minerals. (3)
Digestive symptoms are also a sign of sluggish digestion. This can suggest your body isn't eliminating toxins efficiently, allowing them to accumulate in your GI tract. Not only do these toxins cause symptoms such as brain fog, headaches, low energy and frequent colds or infections, but they also leave you more prone to serious illnesses such as colon cancer. (4)
These digestive symptoms are often part of a bigger picture and shouldn't be ignored. Luckily, the road to better digestive health can be made easy (and delicious) by kickstarting your day with the foods found in these 11 Paleo breakfast foods.
---
11 Paleo Breakfast Recipes for Smooth Digestion
1. Chia Seeds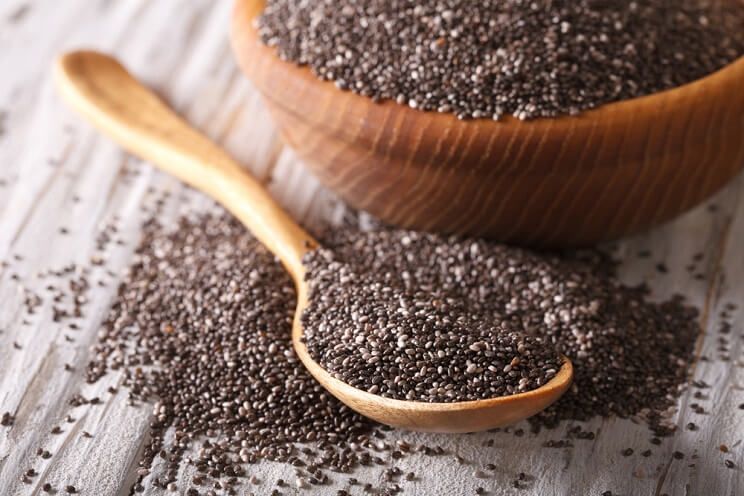 The benefits of chia seeds have recently exploded in the health blogosphere, but they're far from being a new superfood. In fact, it's said that thousands of years ago, the Mayans and Aztecs used chia seeds as a form of currency and as a sacred food for supernatural powers. Today, those supernatural powers translate to better digestion.
Chia seeds can help promote bowel regularity because they're a rich source of magnesium, which helps promote muscle contractions. Since your GI tract is one big muscle, it can tense up during times of stress. Magnesium helps relax the smooth muscle tissue found in your intestinal wall, so food and waste can move through your system easier.
Chia seeds are also an excellent source of soluble fiber. Soluble fiber digests slowly and helps keep your appetite satisfied for longer – which is why they're one of the best breakfast foods. Soluble fiber also binds to toxins in the digestive tract to safely remove them. (5)
For optimal digestion, chia seeds are best eaten after they've been soaked, which helps soften their protective coating (called phytic acid). Phytic acid is considered an antinutrient because the body has a hard time breaking it down.
This Chia Banana Mango Trifle recipe features soaked chia seeds, making it one of the more ideal breakfast foods for better digestion.
2. Flaxseed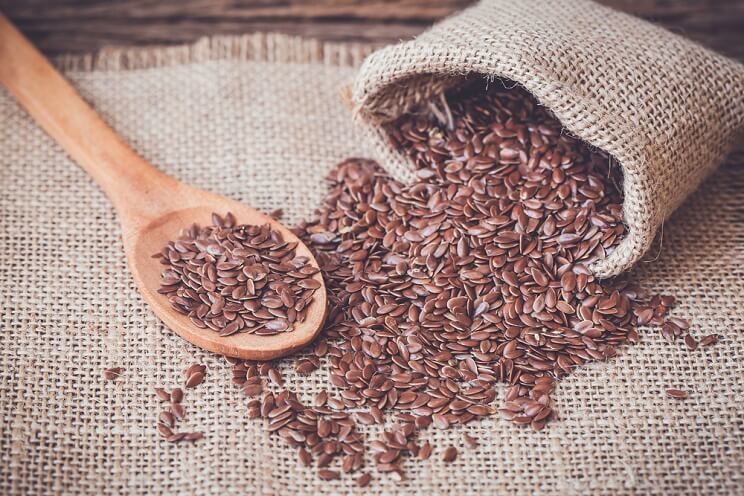 Flaxseeds are known for having a mild laxative effect, which can help relieve constipation and promote bowel regularity. Like chia seeds, flax contains soluble fiber, which helps removes the toxins from the GI tract that can impair digestion. And as mentioned above, soluble fiber helps keep your appetite satisfied for longer.
Since flaxseed also contains phytic acid, it's best to eat flax ground or as flax oil to receive the health benefits – like in this savory breakfast recipe for Paleo Zucchini Bread.
3. Papaya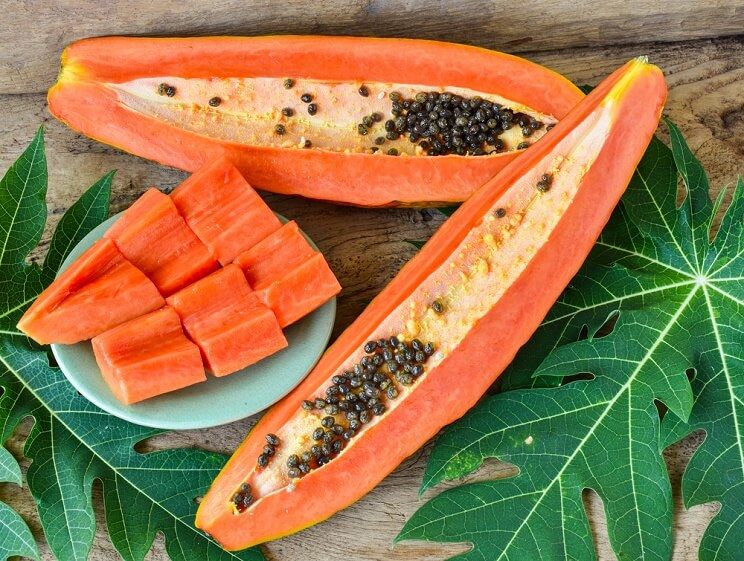 Papaya contains a digestive enzyme called papain. Papain is often the main ingredient in digestive enzyme supplements because it's so powerful for digestive health. While papain helps digest all nutrients, it's been shown to be especially useful for protein digestion. For this reason, starting your morning off with digestive enzymes from papaya can help boost your digestive function throughout the day.
Papaya tastes amazing on its own or drizzled with a bit of lime juice, like in this Papaya Boat with Honey Lime Dressing. Since papaya has a thick, creamy texture when it's blended, it also makes a satisfying Papaya Smoothie.
4. Wild Salmon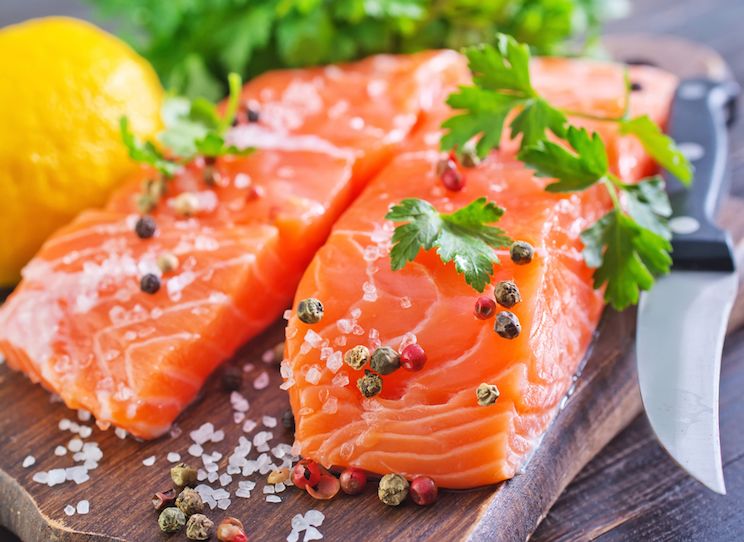 Wild salmon is one of the best sources of omega-3 essential fatty acids, which are a natural anti-inflammatory. As mentioned above, inflammation in your digestive tract can promote digestive symptoms such as bloating as well as abdominal pain and cramping. Some studies have also found the omega-3's in wild salmon to be useful for preventing colon cancer. (6)
In addition to improving digestion, salmon is one of the most ideal breakfast foods because it's rich in protein. Having protein in the morning stabilizes your blood sugar levels, which in turn promotes consistent energy throughout the day. A high protein diet has also been shown to promote sustainable weight loss. (7)
Forget about the lox and cream cheese, these Salmon Bites with Sweet Potato "Buns" make the perfect salmon breakfast recipe.
5. Coconut Oil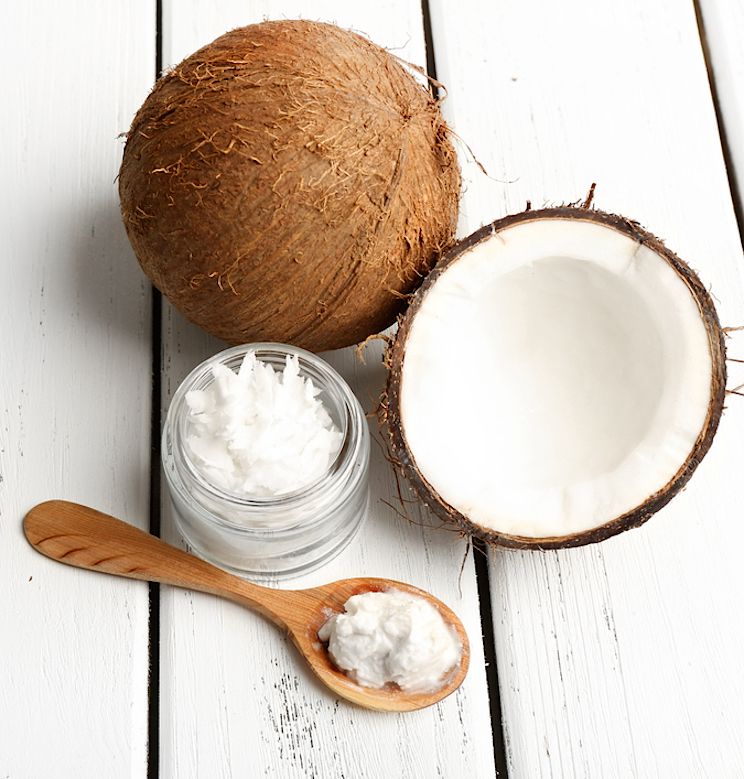 Like wild salmon, coconut oil contains fatty acids that help improve digestion. Coconut oil contains a fatty acid called lauric acid, which acts as a natural antimicrobial to help destroy bacteria and yeast in the GI tract. (8)
Since fat is the slowest nutrient to digest, it keeps your appetite full and satiated for longer periods of time. You can easily blend coconut oil into your coffee; try this Coconut Cowgirl recipe with cocoa powder to kickstart your morning.
6. Pineapple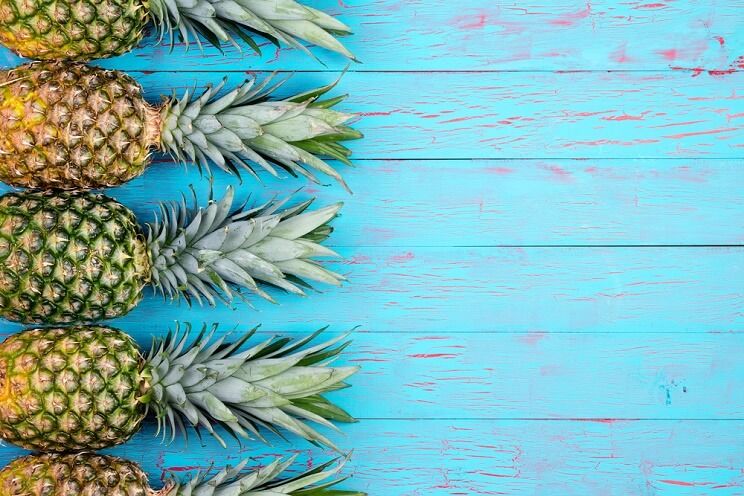 Like papaya, pineapple also contains a unique digestive enzyme called bromelain, which helps aid in protein digestion. Pineapple juice has also been shown to help reduce GI tract inflammation in studies done on mice. (9) And while there's a lack of scientific evidence that pineapple can help kill intestinal parasites, it's often used as a natural remedy for parasite cleanses.
Since pineapple is rich in enzymes, it can help promote better digestion throughout the day. If you're looking for a way to eat pineapple on the go, whip up this Paleo Rainbow Smoothie.
7. Kombucha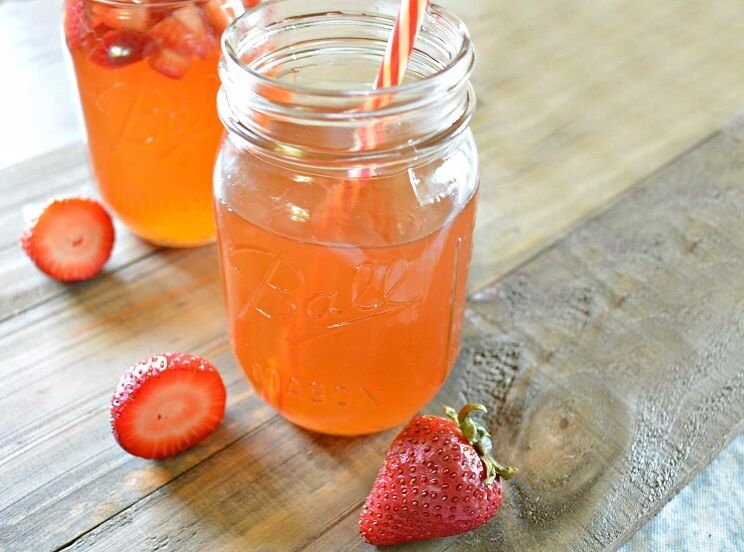 Probiotics, or friendly bacteria, are an essential nutrient for improving digestive health and relieving digestive symptoms (10) Probiotics, which occur naturally in the digestive system, can also be found in fermented foods. They help prevent the overgrowth of yeast and other bacteria while promoting regular elimination and nutrient absorption.
Homemade kombucha is a great way to get a healthy dose of probiotics. When fermented, kombucha becomes carbonated and packs an array of friendly bacteria.
8. Leafy Greens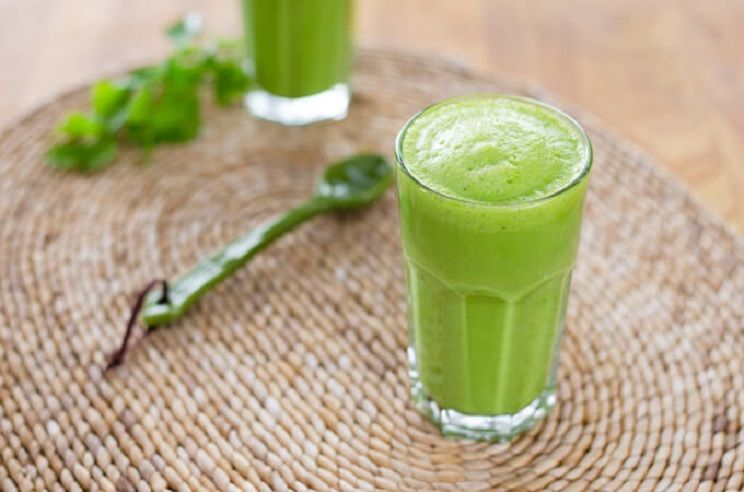 Leafy greens are an excellent source of insoluble fiber, adding "bulk" to your stool and moving food through your digestive tract quicker. (11) Leafy greens are also a good source of magnesium. And as you now know, magnesium can help relieve constipation by improving muscle contractions in your GI tract.
If you experience digestive issues, it's best to avoid eating leafy greens raw. This is because their tough fiber can be difficult to break down. Instead, blending or lightly steaming your leafy greens makes them easier to digest, and allows you to absorb their nutrients better.
Leafy greens are an ideal food to include in your morning routine not only because they improve digestion, but they also contain chlorophyll – an all natural energy booster. Chlorophyll, found in all green plant foods, allows plants to convert sunlight to energy through photosynthesis. Chlorophyll also helps the body synthesize ATP, the primary molecule that transports energy between our cells. (12)
If you're in search of a new green smoothie recipe, this Green Smoothie for Healthy Skin is full of flavor and fiber for better digestion.
9. Apples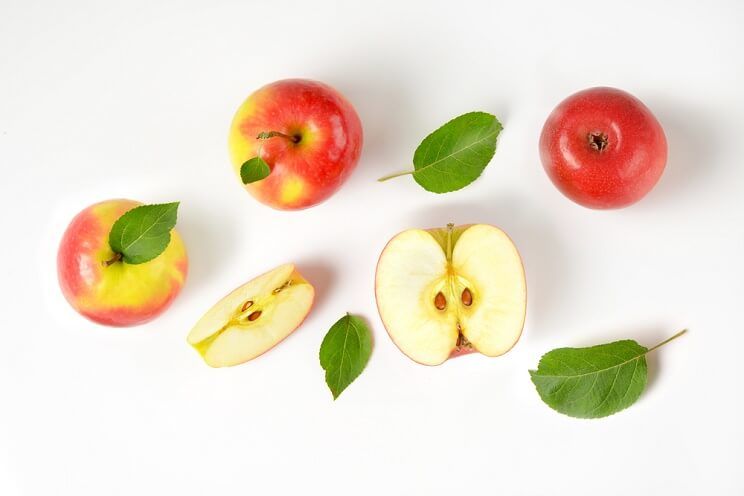 Apples are a rich source of pectin, a type of insoluble fiber. When you think of pectin, you might think of Granny's homemade jam or marmalade. But pectin has also been a natural remedy for relieving constipation for hundreds of years. This is because it helps move stagnant waste through your digestive tract.
Having an apple on an empty stomach may be enough to kickstart your digestion throughout the day.
10. Bananas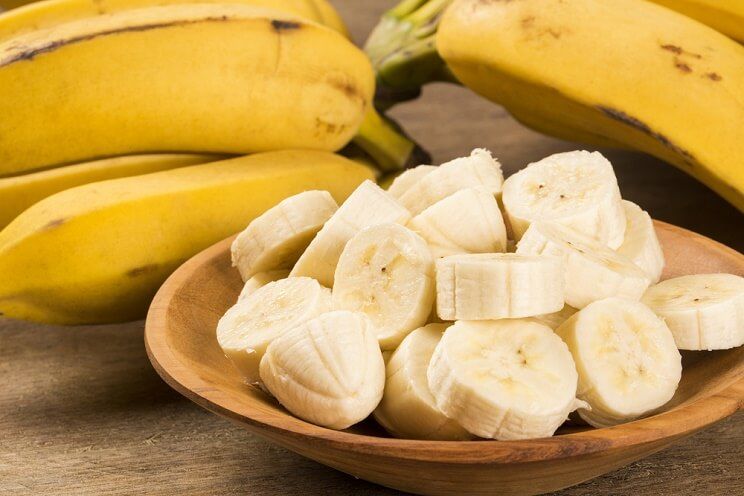 Unripe bananas contain a unique type of starch called resistant starch, which act as a prebiotic by feeding the friendly bacteria in your large intestine. (13) Resistant starch can't be digested by the human body, which is how it gets its name. Since it's resistant to digestion, this starch passes through your intestinal tract undigested, where the friendly bacteria in your colon begin to break it down.
Prebiotics such as resistant starch help keep your gut populated with good bacteria, which is why it's an essential nutrient for improving digestion.
Now, unripe bananas aren't exactly appetizing. And unfortunately, the body can digest all of the starch in bananas once they've ripened – which means the resistant starch no longer exists. Luckily, you can get resistant starch from green banana flour instead. (14) Unlike green bananas, green banana flour has a mild taste and can be used in baking recipes like muffins and pancakes.
11. Berries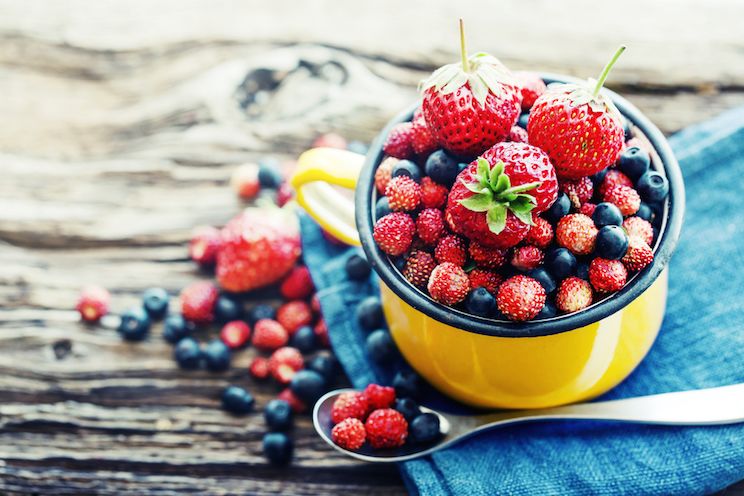 Like apples, berries can also help relieve bloating and constipation because they contain pectin. You're likely starting to see the pattern here: the more fiber you get from plant foods, the better your digestion will be.
Since berries are a low sugar fruit, they're ideal to add to breakfast recipes because they don't rapidly spike blood sugar levels. And keeping your blood sugar levels stable is key for preventing the infamous energy crashes and sugar cravings that can surface later in the day.
While improving your digestion depends on eating specific nutrients, such as healthy fats, enzymes and fiber, it should be noted that digestive symptoms aren't just a dietary issue. Stress, dehydration, and a lack of sleep and exercise can also worsen digestive symptoms. Therefore, certain lifestyle adjustments can also help eliminate tummy troubles for good.
Read This Next: The Wrong Probiotics Could Lead to These 6 Gut Problems