Nothing says comfort food like Paleo beef stew. It's rich, hearty, and perfect for a one-pot dinner with lots of leftovers. With fresh stew meat and lots of chopped veggies, this filling stew will warm you from the inside out.
Wine or dark beer can add extra flavor dimensions, making this hearty stew even more craveworthy. And the best part? All you have to do is take a few minutes to throw everything into a crockpot in the morning, and come home to a prepared meal that fills your house with its delicious aroma.
Love slow cooker recipes? Get our free slow cooker recipe cookbook here!
The best thing about our crockpot recipes is that there's barely any work involved. This recipe doesn't require you brown your meat beforehand, but you can if you feel the urge. I never do, and it always works out perfectly.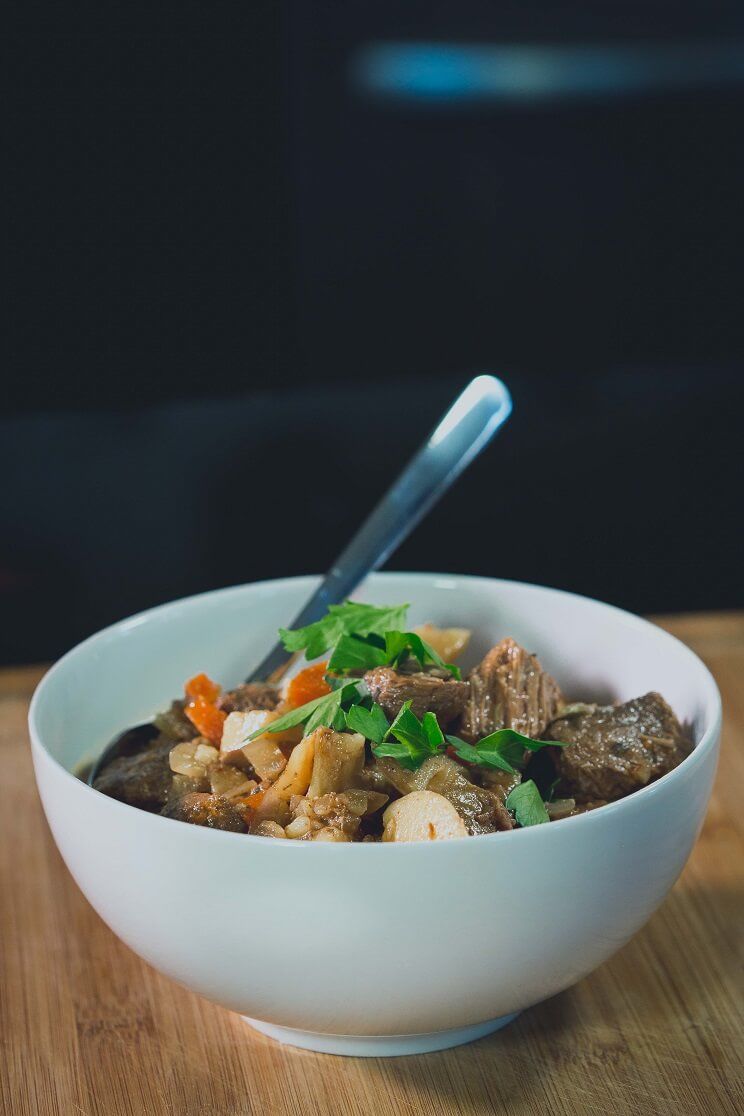 To make this 100 percent Paleo, leave out the potatoes. I personally don't have an issue with potatoes, as long as they're organic. If you want a super-rich flavor, the addition of one cup of red wine or gluten-free dark beer (or regular dark beer, if you don't have a problem with gluten) adds a fantastic depth you can't get anywhere else. But that's up to you.
PaleoHacks Team
Paleo Crockpot Beef Stew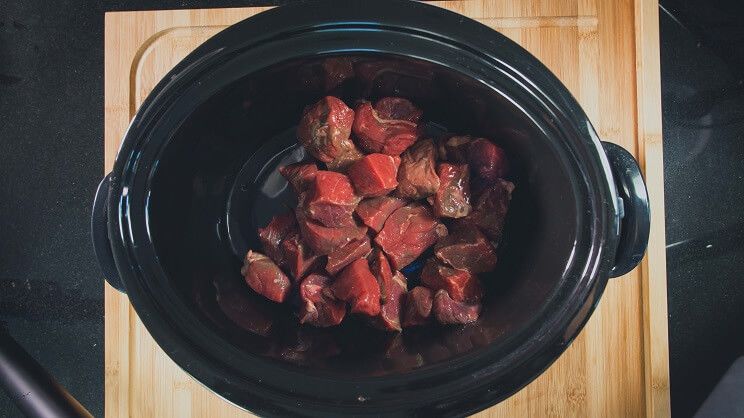 Prep Time:
10 mins
10 minutes
Paleo Crockpot Beef Stew
Nothing says comfort food like this rich and hearty beef stew. Great by itself or with a nice green salad!
Ingredients
2 pounds pastured stewing beef

2 cups of beef or chicken stock (or 1 cup stock and 1 cup wine or beer)

1 T balsamic vinegar

1 medium onion, chopped

2 stalks of celery, roughly chopped

2 large carrots, peeled and chopped

3-5 small potatoes, cubed (optional)

1 to 3 cloves of garlic, minced (adjust according to your taste)

1 T paprika

3 bay leaves

1/2 t salt

1/2 t black pepper

1 t each dried rosemary, basil, and oregano

1/8 cup arrowroot powder (if you want to thicken your stew)
Instructions
Place meat into crockpot.

Add liquids then all other ingredients except for arrowroot powder on top.

Cover and cook on low for eight hours.

To thicken: Just before you're ready to eat, use a ladle to spoon out most of the liquid into a small saucepan and bring to a boil.

Stir a small amount of the liquid into a small bowl and sprinkle in the arrowroot flour, whisking as you add it. Make sure there are no lumps.

Slowly pour the arrowroot mixture into the boiling liquid in the pot and remove from heat as you whisk continuously. Do not reheat, as this will break the bonds of the thickener.

If it's not thick enough, use water and some more arrowroot powder in your small bowl, whisk to mix, then slowly add into the gravy.

Pour thickened gravy back into slow cooker, stir gently, and serve.
Watch the Recipe Video Below!


(You'll Also Love: 20 Easy Paleo Crock Pot Recipes)