Combine two of the greatest desserts ever invented and create this uber-sweet Cinnamon Roll Apple Pie!
There's nothing better than a good 'ole apple pie baked with soft cinnamon rolls! Enjoy the best of both worlds by whipping up this indulgent dessert you can enjoy anytime. Made with gluten-free flours and natural sweeteners, it's a wholesome dessert that's both hearty and guilt-free!
Paleo cinnamon rolls are turned into a pie crust using a combination of almond flour and tapioca flour. Fill the inside with juicy red apples and tuck natural sweetness into the pie crust using cinnamon and coconut sugar. If you want to take it up a notch, add a homemade caramel sauce for extra richness (it's easy to make)!
Love Paleo Desserts? Then you'll love our FREE Paleo Dessert Cookbook.
Click here to get your FREE copy of our delicious Dessert Recipes!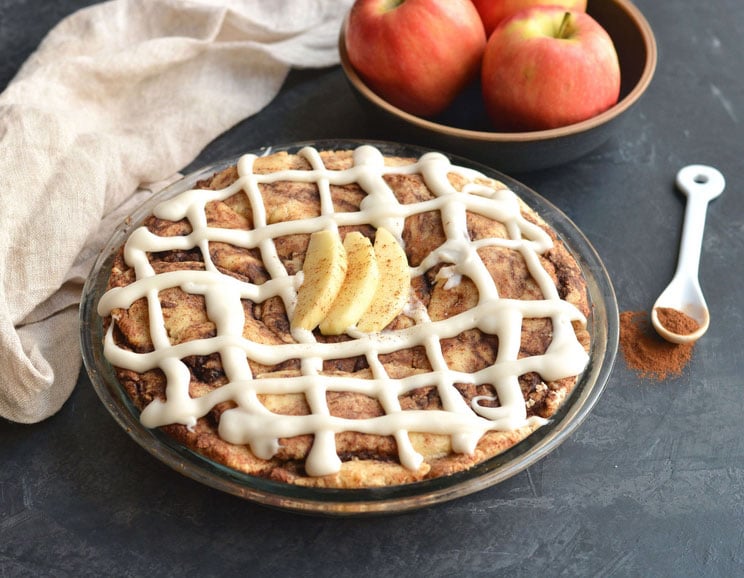 Because the crust is made Paleo and without gluten, the dough will be delicate. The trick is to chill the dough until it feels slightly sticky and liberally coat it with tapioca flour to make it easier to work with.
Make sure to sift the flours first and lightly spoon the contents into a measuring cup. Note: Avoid directly scooping with a measuring cup, since this tends to pack in too much flour and will alter the end-results of the recipe.
Serve your Cinnamon Roll Apple Pie with whipped coconut cream and a sprinkle of cinnamon on top for ultimate indulgence.
Megan Olson
Cinnamon Roll Apple Pie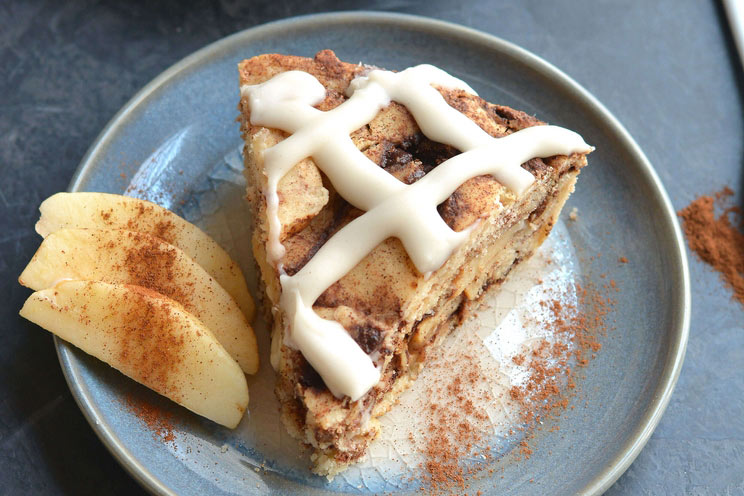 Inactive Time:
1 hr
1 hour
Cook Time:
25 mins
25 minutes
Prep Time:
30 mins
30 minutes
Cinnamon Roll Apple Pie
Combine two of the greatest desserts ever invented and create this uber-sweet Cinnamon Roll Apple Pie.
Tools
9-inch pie dish

Baking sheet

Large mixing bowl
Ingredients
2 large eggs, room temperature

6 T coconut oil, melted

4 t apple cider vinegar, raw

2 cups almond flour, sifted

3 cups tapioca flour, plus more for prepping dough

2 t baking powder

½ t sea salt

2/3 cup warm water

3 apples, peeled + cored

½ cup coconut sugar

¼ cup cinnamon, plus more for garnishing
Instructions
Preheat oven to 350°F and grease a pie dish.

In a large mixing bowl, mix together the almond flour, tapioca, baking powder, and salt.

Make a well in the center and add the eggs, water, apple cider, and coconut oil.

Stir the liquids in with the flours. Continue mixing until dough is spongy and then refrigerate for 30 minutes.

Line a baking sheet with parchment paper and sprinkle a liberal amount of tapioca flour on top. Transfer the dough onto the baking sheet and press it into an even layer (about ¼-inch in thickness). Place dough back inside the fridge for 15 minutes.

Remove the tray from refrigerator and sprinkle an even layer of coconut sugar and cinnamon on top. Press the mixture into the dough using your fingers.

Gently roll the dough off the parchment paper and into a lengthwise log. Transfer back to the refrigerator for 15 minutes.

Remove from refrigerator and slice log into 16 rolls (about ½-inch in thickness).

Place one roll between your hands and press together to flatten. Repeat with remaining rolls and use a fork to pierce each one liberally (this will prevent it from puffing up when baking).

Line the bottom of the pie dish with eight cinnamon rolls, slightly overlapping them to form a single layer. Add the apples on top as the second layer.

Layer the remaining eight cinnamon rolls over of the apples and bake for 23 minutes.

Remove from oven and let cool for 25 minutes. Serve with whipped coconut cream and cinnamon on top.
Looking for Paleo ingredients? Here are a few we'd recommend:
Cold pressed coconut oil (Viva Naturals)
Apple cider vinegar (Bragg)
Almond flour (Bob's Red Mill)
Tapioca flour (Authentic Foods)
Coconut sugar (Wholesome)

(You'll Also Love: Sweet Potato Pecan Pie Recipe
)