It's no secret that gluten-free food is wildly popular in the health industry. As a Paleo community, this is great news, as it symbolizes a definite turn in the right direction.
However, even though gluten-free options for breads, noodles, and other grain favorites line the shelves, they're often still heavily processed.
They're also usually packed with non-gluten grains that contain hefty amounts of simple carbs (aka sugars) and empty calories.
Can you spare 10 minutes a day? Then you can do this 7-Day Paleo Weight Loss Bodyweight Workout Challenge!
Click here to get your FREE copy!
The Benefits of Whole Food Alternatives
Making food swaps in favor of whole food-based alternatives has several benefits. Check them out below.
Nutrient Density
Unlike the processed "gluten-free" options in stores, vegetables offer tons of nutrition for very few carbs and calories. This opens up more room in our diets for nutrient-dense foods while also upping our micronutrient intake.
Low Glycemic Index
Unfortunately, most grains and gluten-free packaged products still contain large amounts of carbohydrates. While moderate carb intake is fine on a Paleo diet, you really want to get your carbs from whole food, nutrient-dense sources such as beets and squashes, which have a low glycemic index, rather than from empty simple sugars. This will help keep your blood sugar stable while also possibly improving mood and lowering inflammation. (1, 2)
Weight Loss
Vegetables add tons of volume to dishes for very few calories. For example, one cup of broccoli contains only 31 calories and six grams of carbs, while just one slice of gluten-free bread contains roughly 60-70 calories and 15 grams of carbs a slice. (3, 4) This is why you may also experience weight loss when making a food swap in favor of veggie alternatives.
---
10 Gluten-Free and Paleo Food Swaps
Now, on to the good stuff. Below are some ingenious ways to create wraps, buns, noodles, and more, all using whole, gluten-free foods:
1. Swiss Chard Tortillas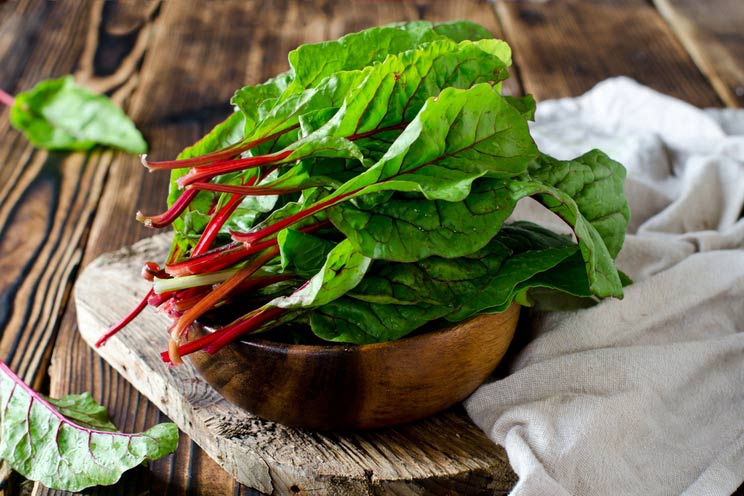 While gluten-free, most tortillas on the market still contain a hefty dose of carbohydrates and processed grains. Various lettuces sometimes make decent alternatives, but it can be hard to find one that holds together well enough to qualify as a tortilla or wrap.
Enter Swiss chard. Its leaves are sturdy enough to hold and wrap various meats and veggies (plus the genius "rice" alternative found below) and can be dipped into homemade sauces without crumbling. Plus, they contain only seven grams of carbs per cup and are high in vitamin K, A, C, as well as an array of essential minerals. (5)
2. Cauliflower Rice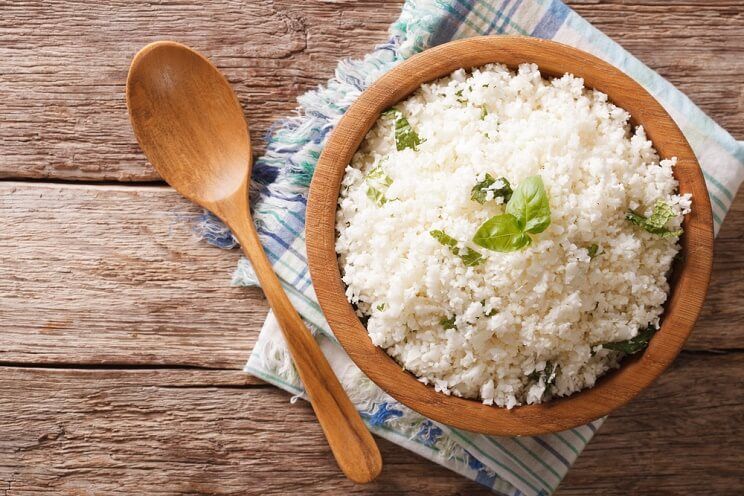 Cauliflower rice is a life-saver for Paleo folks looking to add "bulk" to a meal without adding carbohydrate-dense grains. It can be made into a fried rice dish by sautéing with meats and veggies, or even used in Paleo sushi rolls in place of high-carb sticky rice.
Making a gluten-free food swap from rice to cauliflower will save you about 30 grams of carbs per cup. (6, 7)
3. Zucchini Lasagna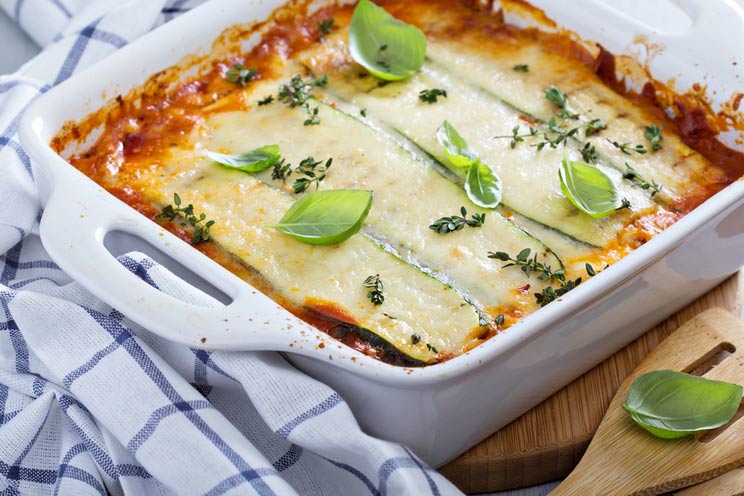 Many of us crave comfort food without the uncomfortable effects of eating grains. Slicing zucchini into sheets that mimic pasta layers saves you the discomfort that can result from grain-based versions.
Zucchini contains about four grams of carbs per cup, which is a far cry from the average 35 carbs for every two ounces of pasta. (8, 9)
4. Mashed Cauliflower Potatoes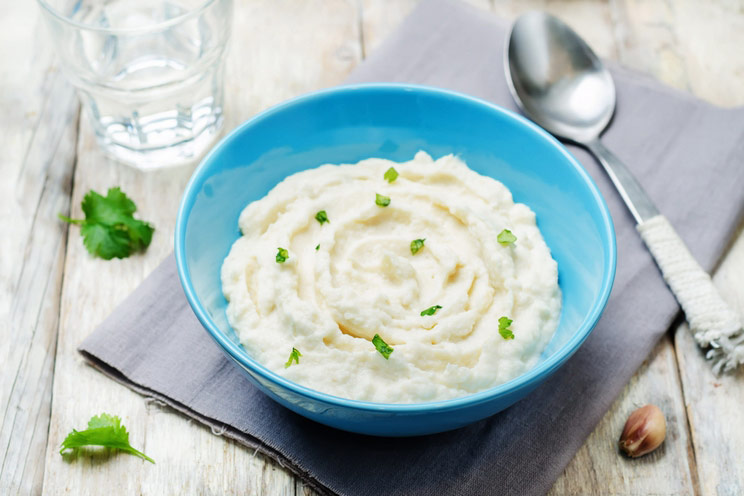 Cauliflower steps in once again to remind us that indulging in comfort food can be perfectly Paleo. Here, instead of mashing high-carb, high-calorie potatoes with butter at Thanksgiving (or any day of the week, really), we can boil or steam cauliflower and mash it up with a dash of olive oil or coconut spread.
Cauliflower contains only five carbs per cup as compared to mashed potatoes, which contain roughly 30 grams. (10, 11)
5. Portobello Mushroom Buns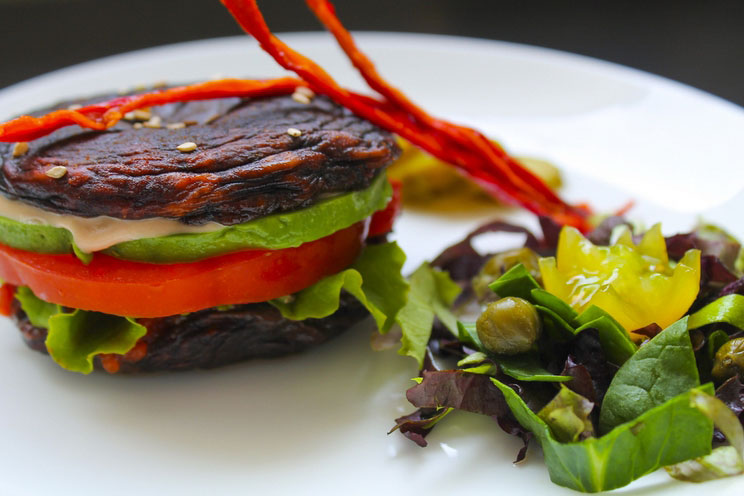 Many struggle trying to enjoy hamburgers without the bun. Lettuce is okay, but tends to lack the thickness associated with grain-based buns. Even the gluten-free varieties contain high amounts of grain-based carbs (roughly 15 a slice) and calories. (12)
Portobello mushroom caps alleviate bun deprivation by providing a sturdy place to rest your burgers. They're also a great source of B vitamins and a range of minerals as well as being low in carbs and calories. (13)
6. Zucchini Pasta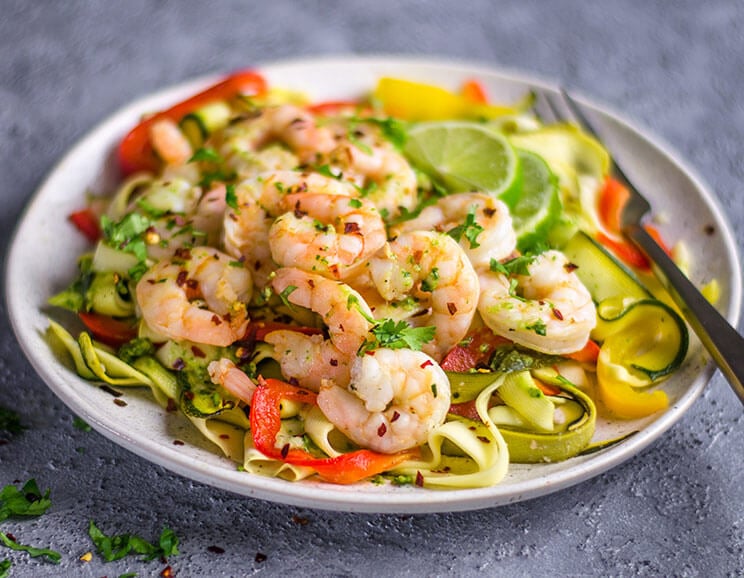 A single zucchini and a spiralizer can bring pasta back into your diet in as little as 10 minutes. These "noodles" hold together well, and can be eaten raw in a light "pasta" salad or sautéed and covered in marinara for a comforting bowl of Paleo spaghetti.
Zucchini pasta will also save you an average of 30 grams of carbs per cup. (14, 15)
Pro tip: If you're looking to make thicker noodles, beets are another pasta alternative. While beets are slightly starchy, they're also packed with phytonutrients, folate, manganese, potassium, and copper. (16)
Simply run slices through a spiralizer and sauté with veggies and ground beef, or use them in a noodle soup.
7. Spaghetti Squash Hash Browns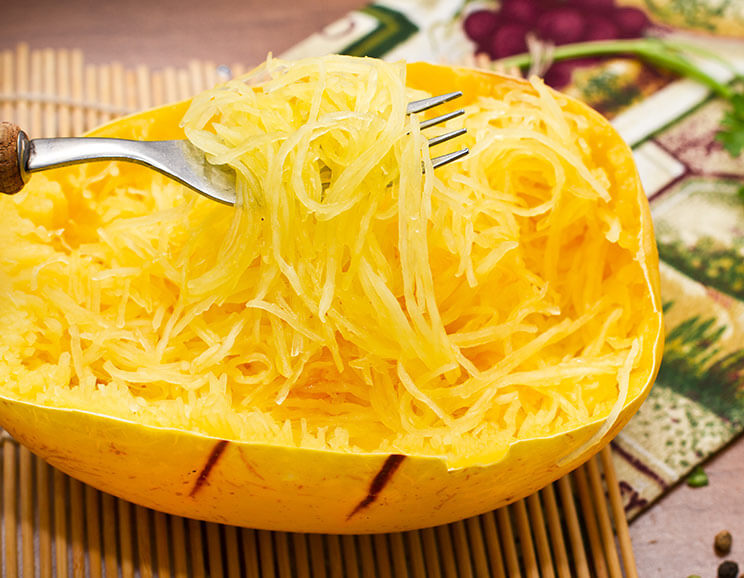 While spaghetti squash has earned its reputation as a low-carb spaghetti alternative, it also works wonders as a hash brown substitute. You can easily fill the hash brown vacancy alongside your eggs and bacon by forming baked squash "patties" and cooking them in coconut oil over medium heat until brown on both sides. Add a little salt and you'll quickly forget about the heavily processed version.
To compare, spaghetti squash has only 10 grams of carbs per cup, while regular hash browns contain 18 grams per cup. (17, 18)
8. Almond Meal Breadcrumbs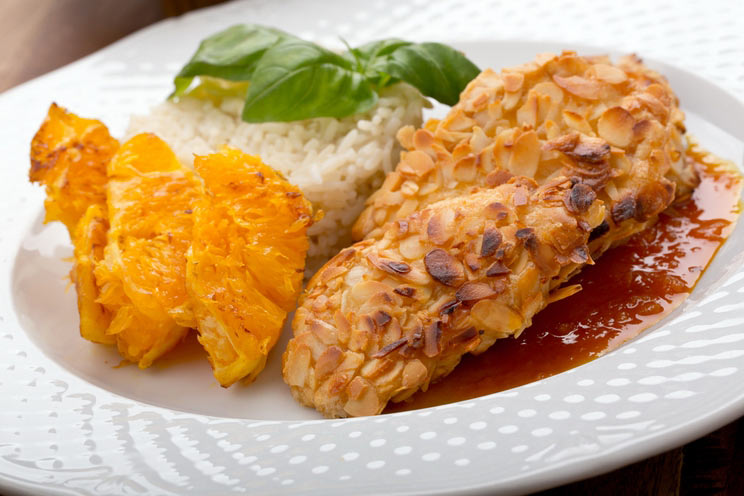 It's taken a while to find a breadcrumb alternative for the simple fact that, well, bread is bread and it's not Paleo. Now, however, the days of breadcrumb-free casseroles are over: almond meal makes a hearty and, when toasted, crunchy breadcrumb alternative without the gluten or grains. It also gives you a nice dose of healthy fats, vitamin E, plant protein, and only 10 grams of carbs per half cup. (19)
9. Baked Zucchini Fries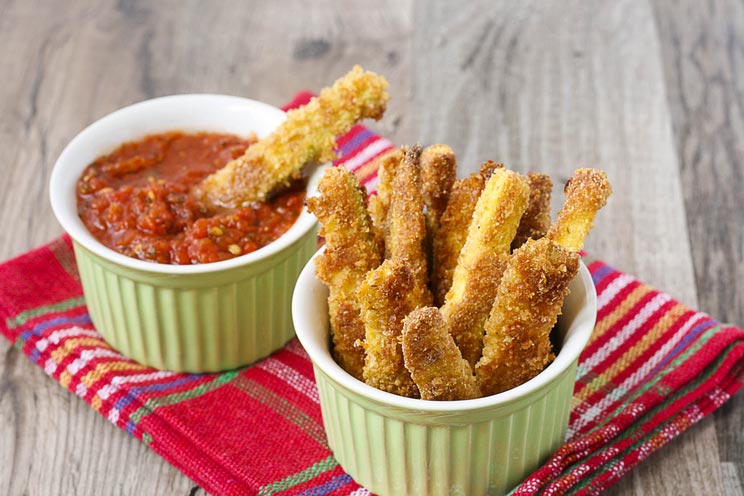 Fries are the quintessential burger side. And, as Paleo foodies agree, we eat a lot of grass-fed burgers. Swapping out potato fries – which are often fried in highly inflammatory vegetable oils – with baked zucchini fries as a side will save you calories, carbs, and inflammation. (20, 21)
Simply preheat your oven to 425ºF, slice zucchini and remove the seeds, toss with a dash of olive or coconut oil and almond meal breadcrumbs, and bake until golden for 15 minutes.
10. Apple Chips and Nachos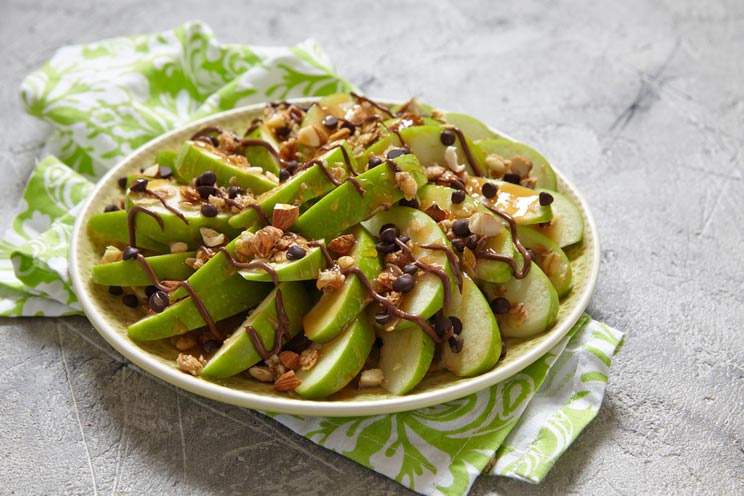 Dehydrating apple slices to make chips will spare you calories and inflammatory vegetable oils, while also curbing even the strongest crunch craving.
The versatility of apples doesn't stop there, however. Try making apple "nachos" using horizontally sliced apple slices topped with almond butter, dark chocolate chips, and coconut shreds for a sweet movie snack.
Apple slices contain 15 grams of carbs, as compared to roughly 60 grams in four ounces of chips. (22, 23)
---
Bottom Line
Swapping grain-based breads, wraps, and pastas for vegetable alternatives can save you dollars, excess carbs, calories, and inflammation, while also upping your nutrient intake. Not to mention, they'll surely have you fantasizing about tortillas and pasta without guilt.


(Read This Next: 10 Foods To Eat for Natural Sun Protection
)