Get ready to sink your teeth into these chewy and sweet cinnamon apple cookies!
Why should chocolate chip cookies get all the attention? These baked cinnamon apple cookies taste like a little piece of heaven. Enjoy them for breakfast or serve as a fun treat for lunch or dinner!
Made with a combination of almond and coconut flours, these cinnamon apple cookies pack in a nutty and hearty flavor (without the gluten). They're naturally sweetened with grated apples, softened dates, and a touch of cinnamon for a taste you're sure to love!
Making this cinnamon apple cookie recipe is easy. Simply combine the wet ingredients in a food processor, then add the flours and cinnamon. Process until you get a wet batter and fold in the coconut oil with the grated apples.
Love Almond Flour Recipes? Then you'll love our FREE Almond Flour Recipes.
Click here to get your FREE copy of our delicious Almond Flour Recipes!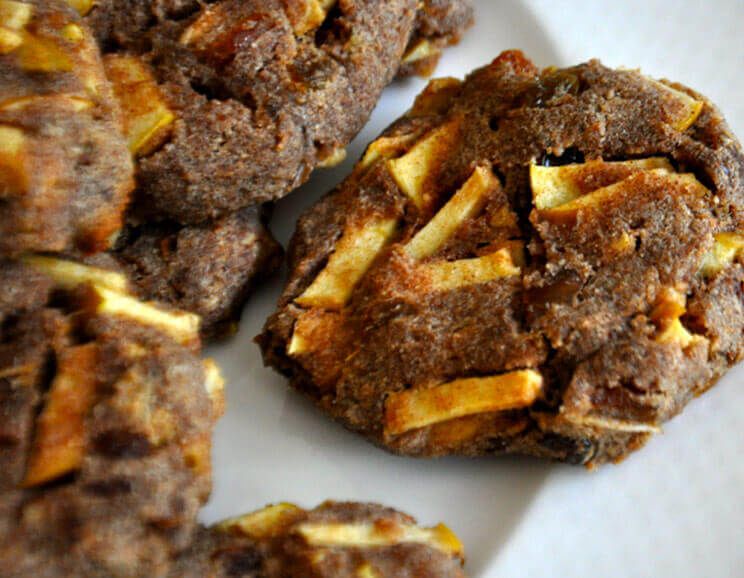 When shaping the cookies, you'll need to keep your fingers damp with water to prevent them from sticking to the batter. Since this recipe doesn't use baking soda or baking powder, you won't have to worry about the cookies rising or spreading in the oven.
To bake, place your cinnamon apple cookies in the oven for about ten minutes, or until they're golden brown. After removing from the oven, leave them on the baking sheet for a few extra minutes to set. This will help them firm up in the center and create the perfect cookie texture!
Enjoy your thick and chewy cookies warm with a cup of tea or coffee in the morning. You can refrigerate leftovers in an airtight container for up to one week, or in the freezer for up to one month.
Megan Olson
Cinnamon Apple Cookie Recipe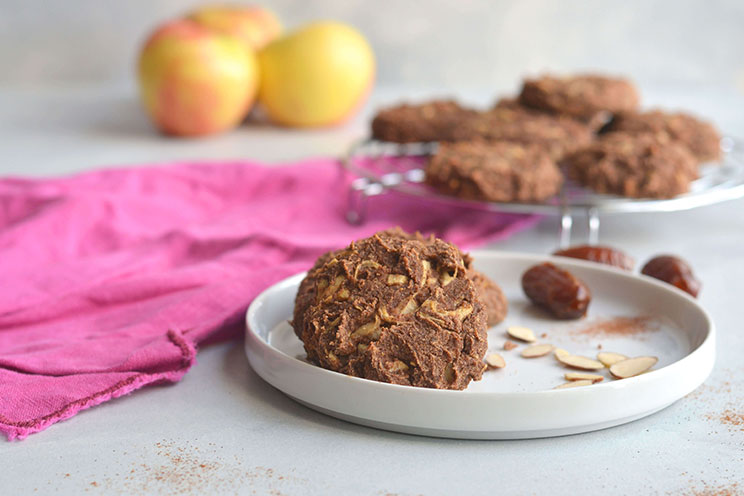 Cook Time:
10 mins
10 minutes
Prep Time:
10 mins
10 minutes
Cinnamon Apple Cookie Recipe
Get ready to sink your teeth into these chewy and sweet cinnamon apple cookies.
Tools
Baking sheet

Parchment paper

Food Processor

Medium mixing bowl
Ingredients
24 dates, soaked in water for 20 minutes and drained

4 large eggs

1 t vanilla extract

¼ t salt

1 cup almond flour

4 T coconut flour

1 ½ T ground cinnamon

¾ cup grated apple, peeled

2 T melted coconut oil
Instructions
Preheat the oven to 350°F and line a baking sheet with parchment paper.

Add the soaked dates to a food processor along with eggs, vanilla extract, and salt. Process on high until smooth.

Add the almond flour, coconut flour, and cinnamon to the food processor and continue pulsing until smooth.

Transfer the batter to a mixing bowl and fold in the grated apples and melted coconut oil.

Drop 1-2 large tablespoons of the batter onto the prepared baking sheet, and press down gently to shape into a cookie.

Bake for 10-15 minutes, or until they turn golden brown.

Let them cool on the baking sheet for about 3 minutes, then serve warm and enjoy!
Looking for Paleo ingredients? Here are a few we'd recommend:
Vanilla extract (Frontier)
Almond flour (Hodgson Mill)
Coconut flour (Nutiva)
Ground cinnamon (Simply Organic)
Cold pressed coconut oil (Viva Naturals)
(You'll Also Love: Coconut Flour Everything Cookies)