Fluffy Apple Cinnamon Fritters are fried in coconut oil for a golden brown crust!
Crispy on the outside and tender on the inside, these lightly sweetened apple cinnamon fritters are a fun alternative to pancakes!
The key to making these fritters hold up during frying is to finely shred a medium-sized apple in a high-speed blender, then squeeze out the excess moisture. That way, just enough liquid is remaining in the apples to keep the fritters moist, but not heavy. Sweet, soft red apples (like Galas) work best.
Love Paleo Breakfasts? Then you'll love our FREE Paleo Breakfast Recipes.
Click here to get your FREE copy of our delicious Breakfast Recipes!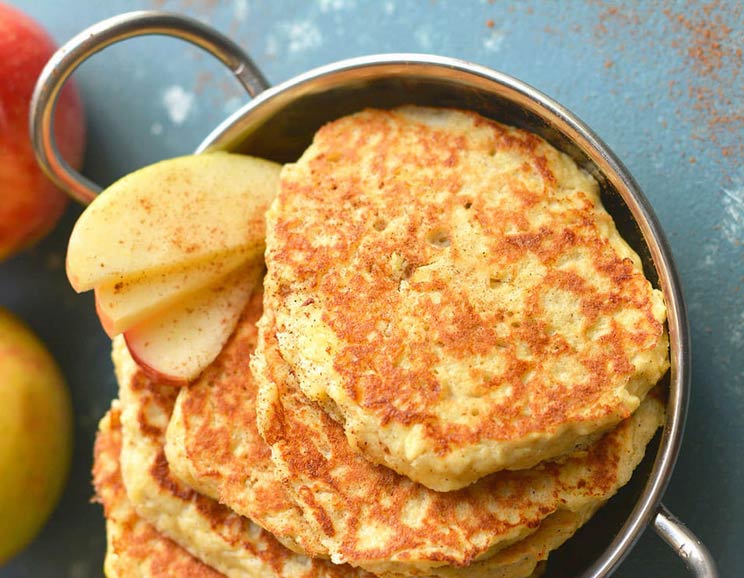 Mix the shredded apple with eggs, dairy-free milk, almond flour and a little honey and cinnamon until well combined. Scoop the batter onto a skillet greased with coconut oil and fry 3-4 minutes per side, or until golden brown and crunchy on the outside.
Serve as a brunch treat topped with freshly sliced apples sprinkled with cinnamon. You can also top these apple cinnamon fritters with coconut ice cream and have them for dessert!
Tip: These apple cinnamon fritters are great for meal prep. Keep them in an airtight container in the freezer up to a month.
Megan Olson
Apple Cinnamon Fritters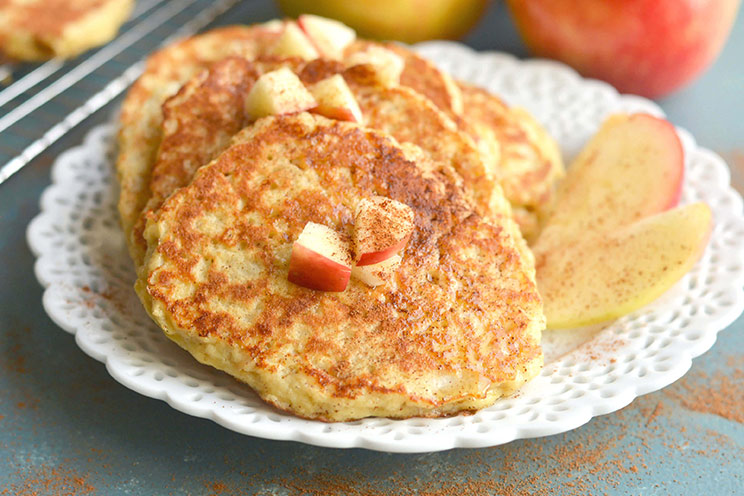 Cook Time:
15 mins
15 minutes
Prep Time:
10 mins
10 minutes
Apple Cinnamon Fritters
Fluffy Apple Cinnamon Fritters are fried in coconut oil for a golden brown crust.
Tools
Large skillet

Blender

Mixing bowl
Ingredients
Coconut oil, for frying

1 medium Gala apple, peeled and cored (about ½ cup when shredded)

5 large eggs

1/3 cup unsweetened, dairy-free milk

1 ¼ cups almond flour

1 t cinnamon, plus more for dusting

1 T honey

Sliced apples, for serving
Instructions
Preheat a large skillet on medium heat and grease with coconut oil.

Shred the apple in a blender by pulsing several times.

Transfer the apple to a towel and squeeze out moisture.

Place the shredded apple in a bowl with the remaining ingredients and mix well.

Scoop ¼ cup of the batter and place onto the heated skillet. Cook 3-4 minutes until the batter begins to bubble, then flip and cook another 3-4 minutes until golden brown.

Repeat with the remaining batter.

Serve immediately with sliced apples sprinkled with cinnamon.
Looking for Paleo ingredients? Here are a few we'd recommend:
Cold pressed coconut oil (Viva Naturals)
Coconut milk (Native Forest)
Almond flour (Bob's Red Mill)
Raw honey (Bee Farms)

(You'll Also Love: Hot & Crispy Cauliflower Fritters)