No baking skills needed for these layered cheesecake bars with a brownie base and a beautiful raspberry swirl!
Take a break from your oven and make this freezer-friendly dessert instead. It's made with simple, wholesome ingredients that sneak in plenty of heart-healthy fats and protein.
Start With The Brownie Layer
These cheesecake bars start with a brownie bottom made with raw cacao, dates, and blanched almond flour. This moist and chewy base also serves as the sticky-sweet glue that holds everything together.
Love Almond Flour Recipes? Then you'll love our FREE Almond Flour Recipes.
Click here to get your FREE copy of our delicious Almond Flour Recipes!
You get plenty of chocolatey flavor from the raw cacao powder, while medjool dates sweeten things up with no need for refined sugars. Both provide plenty of antioxidants and essential vitamins to make this a guilt-free indulgence.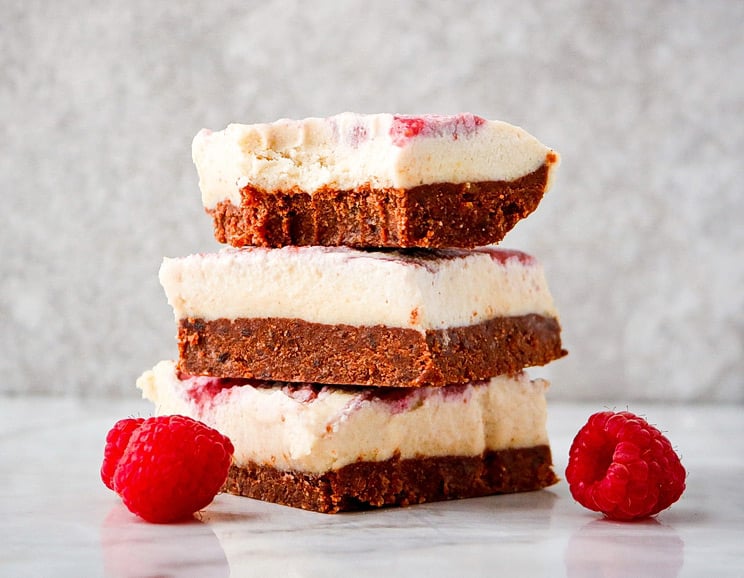 Whip Up The Cheesecake Filling
For the velvety cheesecake layer, we blend cashews with coconut cream, coconut oil, lemon juice, and maple syrup. If you can't find canned coconut cream, you can also use the solid portion of full-fat coconut milk instead.
To achieve ultra-creamy texture, you'll need to soak the cashews in hot water for five minutes ahead of time. This allows them to soften and easily blend with the other ingredients.
Finish With The Raspberry Purée
Our final step is to add a swirl of tangy-sweet raspberry on top of our cheesecake bars. To do this, scatter dollops of raspberry purée over the top, then use a sharp knife to swirl the purée in a figure eight pattern while avoiding the brownie layer underneath.
If you prefer to tone down the sweetness, omit the maple syrup from the purée. You can also sub in strawberries instead of raspberries for a completely different take.
Helpful Tips To Get Started:
Prevent the bars from crumbling. Make sure to press the brownie layer firmly into the pan to keep things snug and dense.
Store bars in the freezer. When ready to serve, let them thaw for 15 minutes to soften.
Serve them like a pro. Before slicing, rinse a sharp knife with warm water to create clean, smooth cuts.
Jennafer Ashley
No-Bake Raspberry Swirl Cheesecake Bars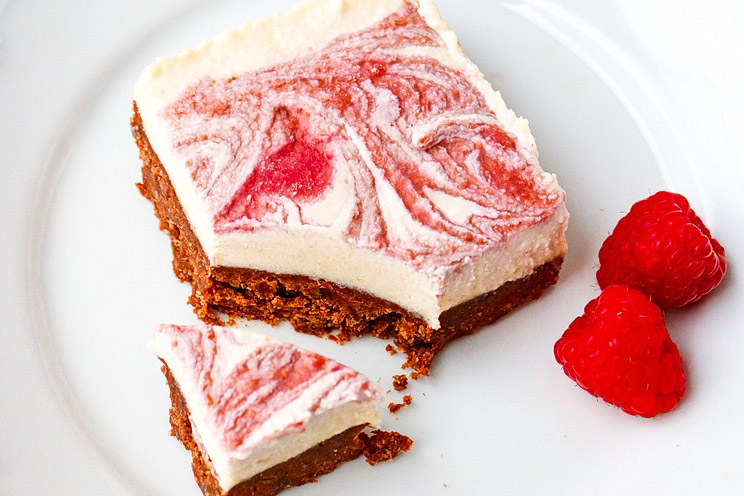 Inactive Time:
3 hrs
3 hours
Prep Time:
15 mins
15 minutes
Nutrition facts:
11 grams of protein
44 grams of carbohydrates
38 grams of fat
No-Bake Raspberry Swirl Cheesecake Bars
No baking skills needed for these layered cheesecake bars with a brownie base and a beautiful raspberry swirl.
Tools
8-by-8-inch baking pan

Parchment paper

Food processor
Ingredients
For the Brownie Layer:
1 cup pitted medjool dates

2 cups blanched almond flour

1/3 cup raw cacao powder

¼ cup melted coconut oil

1/8 t sea salt
For the Cheesecake Layer:
2 cups raw cashews, soaked in water overnight

1 cup unsweetened coconut cream

1/3 cup pure maple syrup

2 T coconut oil

1 T lemon zest

1 T lemon juice

1 t vanilla extract
For the Raspberry Purée:
2/3 cup fresh raspberries

1 T filtered water

1 T maple syrup
Instructions
Line a square baking pan with parchment paper, overlapping the sides.

To Make the Brownie Layer: Soak the dates in 1 cup hot water for 5 minutes to soften. Drain and transfer to a food processor, then blend for about 15 seconds.

Add the rest of the brownie ingredients into the food processor and continue pulsing for another 15 seconds.

Transfer and press the mixture into the bottom of the pan. Set aside and rinse out the food processor.

To Make the Cheesecake Layer: Add the cheesecake ingredients to the food processor and blend until smooth and creamy, about 3 minutes. Scrape down the sides with a spatula as needed.

Pour the cheesecake layer over the brownie layer and spread evenly. Set aside and rinse out the food processor.

To Make the Raspberry Purée: Blend the purée ingredients for about 5 seconds or until smooth.

Pour the mixture into a small bowl, then use a teaspoon to add dollops across the cheesecake layer. Use a sharp knife to create a swirl pattern, making sure to avoid the brownie layer underneath.

Cover and freeze for 2 hours to set, then slice into 9 bars and serve.
Looking for Paleo ingredients? Here are a few we'd recommend:
Almond flour (Anthony's)
Raw cacao powder (Healthworks)
Cold pressed coconut oil (Viva Naturals)
Sea salt (REDMOND)
Raw cashews (Terrasoul Superfoods)
Coconut cream (Native Forest)
Vanilla extract (Frontier)
If you have a sweet tooth that just won't quit, you'll love our Paleo Sweets cookbook! You'll get 70 delicious and nutritious desserts that you'd swear came from your local bakery. Bake your family mouth-watering brownies, whip up decadent cakes and churn out creamy dairy-free ice creams. Get your FREE copy HERE (just pay for shipping)!