Creamy. Decadent. Delicious. These Raspberry Cashew Bars come together with just four ingredients, and they require zero baking!
I have a confession to make: I'm kind of obsessed with cashew butter. Almond butter may be all the rage these days. But in my opinion, cashew butter is much more DELICIOUS than its almond cousin. It's silky, smooth, and oh-so-very rich.
With summer right around the corner, I've been making easy, homemade, no-bake snacks to stock my freezer for busy days. Call me lazy, but I'm always looking for ways to avoid turning on the oven. It's just too hot! And less time in the kitchen means a cooler house and more time for fun, right?
Want to snack smarter and curb cravings? Get your FREE 25 Healthy Paleo Snacks Cookbook here.
Click here to get your FREE copy of our Snack Recipes Cookbook!
Of course, the star ingredient of my no-bake snacks is my beloved cashew butter! While this butter is entirely glorious on its own, there's just something magical about combining it with the tart sweetness of fresh berries. It's like nature's candy!
These Raspberry Cashew Bars could not be easier to make! You can put them together in five minutes, and they only have four ingredients. Just blend and freeze. What could be easier than that? They're also completely customizable, so feel free to use other berries or nut butters. When you're short on time or just don't feel like baking, they make a delicious treat!
Megan Olson
Buttery No-Bake Raspberry Bars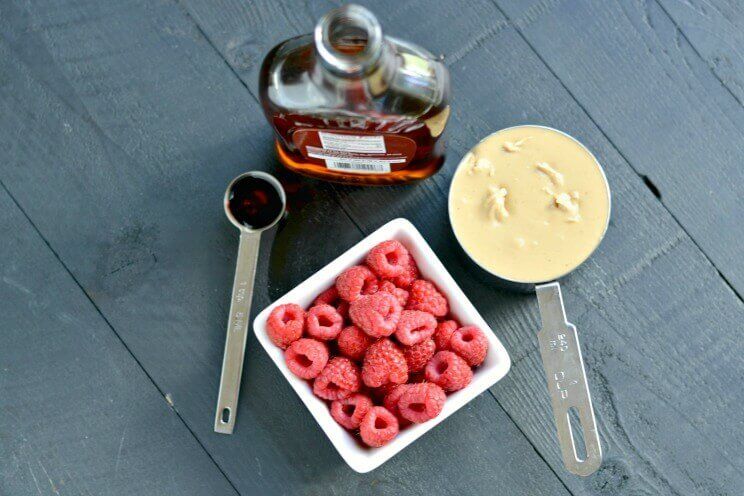 Prep Time:
5 mins
5 minutes
Buttery No-Bake Raspberry Bars
These Raspberry Cashew Bars come together with just four ingredients, and they require zero baking!
Ingredients
2 cups cashew butter

2 cups frozen or fresh raspberries

¼ cup maple syrup

2 t vanilla extract
Instructions
Place all ingredients in a food processor or blender, and blend it on high for a few seconds—just until the mixture is smooth.

In an 8x8 baking pan, layer parchment paper in a crisscross pattern. Allow the paper to hang over the baking dish for easy removal.

Place the batter into the baking pan. Then use a spatula to spread the batter evenly across the entire pan.

Place the baking dish in the freezer overnight (or at least 8 hours) to set firm.

Remove from the freezer. Lift the sides of the parchment paper to remove it from the baking pan.

Using a pizza cutter, cut it into 8 bars.

You can keep the bars in a storage container in the freezer for up to a week.


(You'll Also Love: No-Bake Strawberry Bars)