Bringing a whole new meaning to date night.
Dried dates are more than just another fruit or natural sweetener. They're one of the oldest fruits cultivated by humans, adding decadent caramel flavor to anything they touch.
Dates are a powerhouse of benefits – with more disease-fighting antioxidants and minerals than many other natural sweeteners. These tiny gems also contain the highest antioxidant content of dried fruits, and have the power to fight inflammation. (1)
Love Almond Flour Recipes? Then you'll love our FREE Almond Flour Recipes.
Click here to get your FREE copy of our delicious Almond Flour Recipes!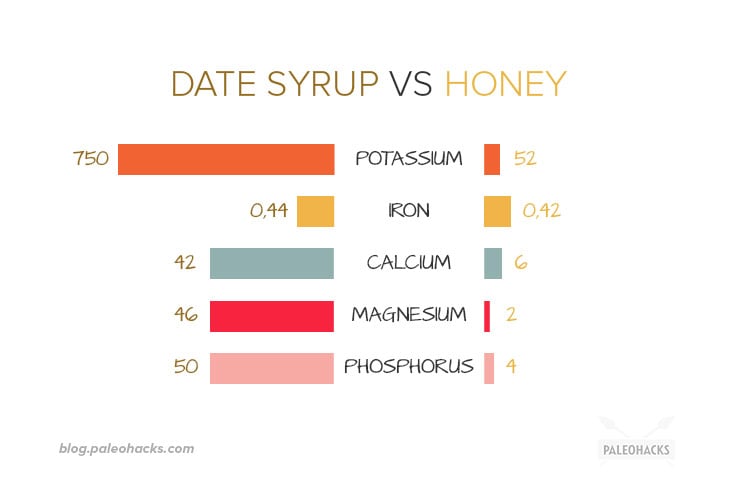 In fact, the nutritional content of dates is comparable to Manuka honey. Both contain B vitamins and minerals like copper, iron, and potassium. Dates can even fight bacteria like staph and E. coli faster than Manuka honey! (2) This makes for an indulgent sweetener you can actually feel good about.
Let's delve into the ancient history of dates, plus tasty ways you can incorporate this mineral-rich fruit into your diet.
---
Dates: An Ancient Cure
When you indulge in one of these chewy fruits, know that you're also indulging in an ancient piece of history. The date palm is one of the oldest plants cultivated by humans, with researchers estimating that dates have been used as a food for over 6,000 years.
The exact origin of dates is still uncertain, but the general consensus is that they're native to the Arabian Peninsula and the Middle East. Ancient texts and dating tools have narrowed this down to the area of modern-day Iraq, but other texts have suggested they could be native to prehistoric Egypt or even western India. (3)
Regardless of their exact origin, dates have played an important role in all of these regions throughout history. They were used as a food source as well as in religious ceremonies and medicinal systems.
In Islam, dates are used to break the day-long fast during the holy month of Ramadan, while dates are one of the seven holy fruits in the Hebrew Bible. Researchers have also found the date palm within Egyptian hieroglyphics, where it was used to symbolize a year.
They are featured on ancient Assyrian and Babylonian tablets as well, including the Code of Hammurabi, which discusses laws of date culture and sales. (4, 5)
Dates were also prized for their disease-fighting effects. In Islamic culture, they were praised as a cure for stomach problems, sore throats, colds, fevers, edema, and even as a hangover remedy.
---
Where Do You Find Dates?
Dates grow on the date palm tree that's akin to a coconut palm tree, but a different palm species with smaller fruit. They are mostly found in deserts and arid regions such as the Middle East and Northern Africa, but also in American deserts like those in southern California.
You've probably seen Medjool dried dates at your local health food store, but there are actually over 200 varieties available worldwide. (6) Many are still important staple crops in and around the Middle East, where they are a concentrated nutrition source of many vitamins and minerals.
The Medjool and Deglet Noor are the most common varieties here in America, and are always sold dried for natural preservation on their journey to our shelves. They are soft and chewy, with a caramel-like flavor that can be either be bold and chocolatey or light with a tinge of vanilla, depending upon the variety.
---
The 10 Most Important Benefits of Dates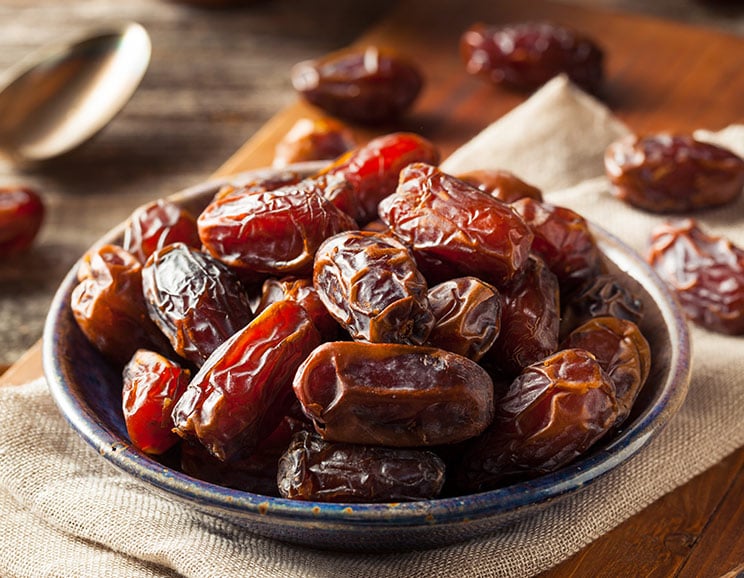 So what does research have to say about this worshipped fruit? It turns out many of the ancient benefits may be backed by modern science, with researchers regularly discovering more benefits.
1. Dates Are High in Nutrients
Dates provide a high dose of many essential nutrients. Many of these nutrients are commonly at the root of deficiencies. Dates contain moderate doses of potassium, magnesium, copper, fiber, manganese, and iron. (7)
Interestingly, many of these minerals are lost through sweat, which may be one of the reasons dates were so valued throughout desert regions. They provide a concentrated source of these minerals to help keep your levels balanced, which also makes them an excellent pre – or post -workout snack. (8)
2. Dates Pack in Antioxidants
Dates are extremely high in antioxidants. These are compounds that help neutralize free radicals, which are molecules we are exposed to from environmental pollution, stress, or a bad diet that can damage our DNA and cause aging and disease.
Studies show that dates have one of the highest concentrations of polyphenols (a class of anti-aging antioxidants) of any dried fruit. (9)
3. Dates Can Improve Digestion
Dates can also help keep things moving in your tummy. They're a rich source of fiber, which helps keep your bowel movements regular.
One study found a group of people who ate seven dates per day for 21 days experienced improvements in stool frequency. They also had a significant increase in bowel movements compared to before they began eating dates. (10)
4. Dates Fight Inflammation
Research shows chronic inflammation is at the root of many diseases such as colitis, asthma, and even cancer. (11) Antioxidant compounds like flavonoids and polyphenols found in dates help combat widespread inflammation by neutralizing free radicals and repairing damaged DNA.
Flavonoids in particular can even help protect against diseases like Alzheimer's, where inflammation might play a role. (12)
5. Dates Promote Brain Health
If you're looking to maintain a good memory and nourish your brain cells, you might want to pop a couple of dates a day.
Studies show the antioxidants in dates can reduce inflammatory markers in your brain that can contribute to brain disorders and impair memory. (13)
Other animal studies also show mice that eat dates have significantly better memories and learning abilities, along with less anxiety than those that don't eat them. (14)
6. Date Might Help Induce Labor
Interestingly, dates may also help women go into labor. Research shows dates may promote cervical dilation in the last few weeks of pregnancy, which could help reduce labor time and the need to induce labor.
One study found that women who consumed six dates per day, four weeks prior to their due date, were 20 percent more likely to go into labor naturally. They were also in labor for significantly less time than the women who didn't eat them. (15)
7. Date Improve Blood Sugar
While dates are high in natural sugars, they are low on the glycemic index. The glycemic index measures how much a food spikes your blood sugar. Generally, and especially if you're dealing with blood sugar issues, you want to consume foods low on this index.
Dates' naturally high fiber content helps slow the release of sugars into your bloodstream, keeping them low on the glycemic totem pole.
8. Dates Help Fight Cancer
Dates are high in polyphenols, a class of antioxidants found in fruits and vegetables that can help slow and even stop cancer cell growth.
This is because they not only help fight free radical damage that can lead to cancer, but also because they interact with the enzymes and membranes of cancer cells to stop them from spreading. (16)
9. Dates Boost Eye Health
You can also help your vision by indulging in this sweet fruit. Dates contain another class of antioxidants called carotenoids. Specifically, they are high in two carotenoids, lutein and beta-carotene, which are known to be excellent for protecting and preserving eye health. (17)
10. Dates Are Truly Naturally Sweet
Date are naturally very sweet, with a rich caramel-like flavor. You can use them in place of sugar easily, gaining all their minerals, vitamins, antioxidants, and fiber.
Although they are still high in sugars, they contain many, many more nutrients than standard table sugar. They even beat out natural sweeteners like agave and maple syrup, which still undergo a bit of processing.
---
How to Enjoy Dates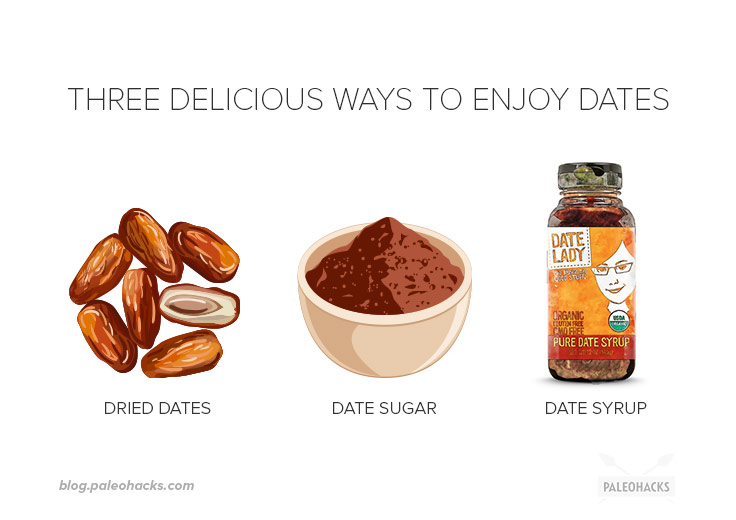 There is a saying that goes: "There are as many uses of dates as there are days in a year." (18) With the variety of date products available today, you'll know this is true.
The best thing about date products is that they can be used as a nutrient-rich sugar replacement. Here are a few ways:
Dried dates
Dried dates are a classic way to consume the fruit. They can be eaten plain as a sweet snack, or even added to smoothies or chopped into Paleo baked goodies.
Tip: When buying dried dates, make sure to look for ones that are organic with no added preservatives, like this one.
Date sugar
This sugar, made from dried dates, can replace regular sugar with a boost from many vitamins and minerals. It's best used as a sugar replacement in baking because unlike regular sugar, it doesn't melt or dissolve into water when heated.
Tip: Note, while some dates sugars are mixed with oat flour (yikes), true date sugar is made from only whole dates, like this one.
Date syrup
Date syrup, or silan, is one of the best sugar alternatives. It contains the same minerals and antioxidants found in whole dates, but also blends and dissolves well in recipes because it's liquid. This makes date syrup a great high-antioxidant replacement for maple syrup or sugar in baking. You can even add a dash of syrupy, mineral-rich goodness to your coffee without dealing with granules from date sugar.
Tip: If you truly want to get the full benefits of date syrup, make sure you get a high quality brand without any added sugars. We recommend Date Lady, as it's the original supplier of organic date syrup, sourcing high-quality dates from Tunisia and the Coachella Valley desert in California.
---
Coconut Flour Blueberry Pancakes
Ready to start baking with dates? These fluffy coconut flour blueberry pancakes are naturally sweetened with just blueberries and date syrup for a deliciously nutritious breakfast you can feel good about. Plus, just one tablespoon of syrup contains a concentrated dose of minerals like magnesium, potassium, and calcium! So, go ahead and slather your pancakes in caramel-y date syrup.
Jennafer Ashley
Coconut Flour Blueberry Pancakes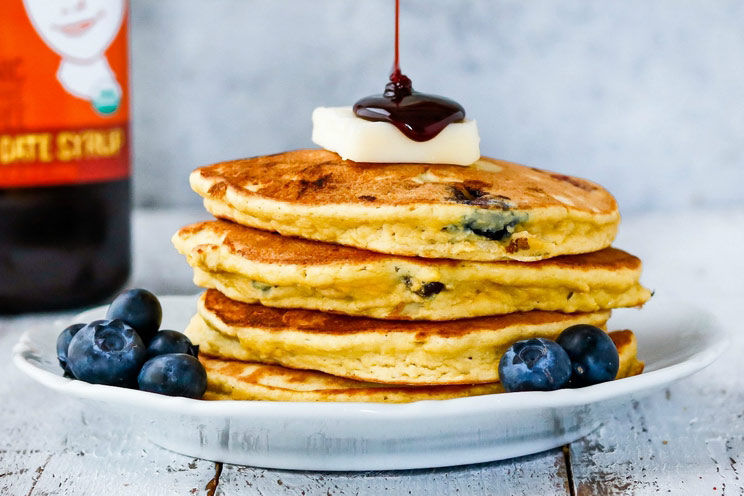 Cook Time:
20 mins
20 minutes
Prep Time:
5 mins
5 minutes
Nutrition facts:
19 grams of protein
34 grams of carbohydrates
39 grams of fat
Coconut Flour Blueberry Pancakes
These fluffy coconut flour blueberry pancakes are naturally sweetened with just blueberries and date syrup for a deliciously nutritious breakfast you can feel good about.
Tools
Small mixing bowl

Medium mixing bowl

Large cast-iron skillet
Ingredients
2/3 cup coconut flour

1/2 t baking powder

1/8 t salt

4 large eggs

2/3 cup unsweetened almond milk

2 t date syrup, plus more for serving

3 T melted ghee, divided

1 t vanilla extract

1/2 cup blueberries
Instructions
In a small bowl, whisk together the coconut flour, baking powder, and sea salt. In a separate medium mixing bowl, whisk together the eggs, almond milk, date syrup, 2 tablespoons of ghee, and vanilla extract until smooth.

Mix the dry ingredients into the wet and fold in the blueberries. The batter will be thick.

Heat a large cast-iron skillet over medium heat for 2 minutes. Grease with the remaining 1 tablespoon of ghee. Scoop 1/3 cup of pancake batter onto the skillet and shape into a circle, using a measuring scoop. Cook only 1 to 2 pancakes at a time.

Cook for 4 to 5 minutes a side, until bubbles form on the pancakes and pop. Repeat with the remaining batter. Serve hot, topped with butter and extra syrup.
Note: Look for small blueberries. They will blend into the batter easily and there will be more blueberries in each pancake.
Looking for Paleo ingredients? Here are a few we'd recommend:
Date Syrup (Date Lady)
Coconut flour (Nutiva)
Ghee (Pure Indian Foods)
Baking powder (Hain)

Check out dates' more savory side with these bacon-wrapped dates – they're the ultimate appetizer or snack.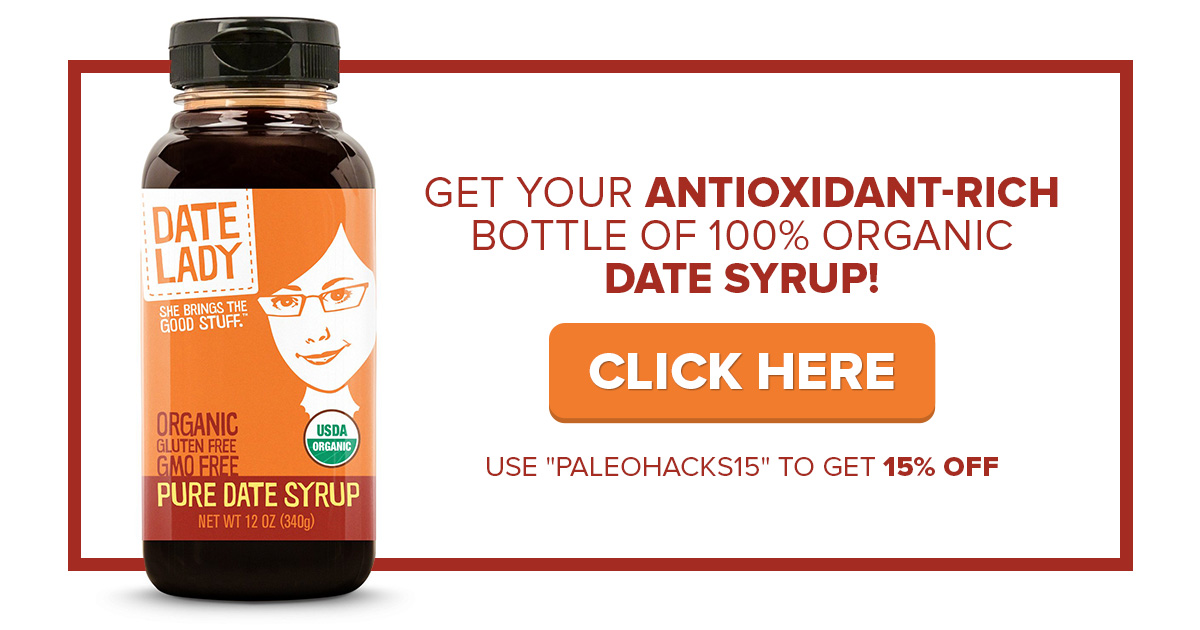 This post is sponsored by our friends at Date Lady. Our goal is to always bring you healthy, Paleo-friendly articles that we know you'll love. We only feature trusted brands approved by the PaleoHacks team.