Craving cheesecake? Make these cookies instead! These cheesecake cookies have a perfect Paleo cheesecake filling, sweet coconut for texture, and an indulgent chocolate coating.
When it comes to cheesecake, what's not to love? It's creamy, sweet, goes great with a cup of coffee, and adapts to every flavor or topping you fancy.
While most cheesecake recipes are filled with refined sugar, low-quality dairy, and grains, making your own Paleo cheesecake is easy!
However, sometimes you just don't want to make a whole cake. Luckily, these Paleo cheesecake cookies taste like a mini slice of the dessert and keep quite well in the freezer. It's easy to grab just one when you're craving something sweet—no need to cut into an entire cake.
Love coconut flour recipes? Get our free coconut flour recipe cookbook here!
The coconut-macadamia filling is naturally sweetened with dates and makes the creamy, rich center. You can substitute cashews for the macadamia nuts; both have great health benefits. The texture of the crust is mimicked by a date-coconut mixture pressed into the filling. All this deliciousness is enrobed in high-quality dark chocolate.
While this recipe is definitely considered a treat, it is much more nutritious than a traditional cheesecake. Each component is packed with healthy fats from coconut, dark chocolate, and macadamias. There's also no dairy or eggs involved with the recipe, so those who are sensitive to those foods can enjoy worry-free.
So the next time you have a hankering for cheesecake, make these cookies! You'll love them, and the recipe makes a large batch so you will have enough to share with friends and family.
Heather Resler
No-Bake Cheesecake Cookies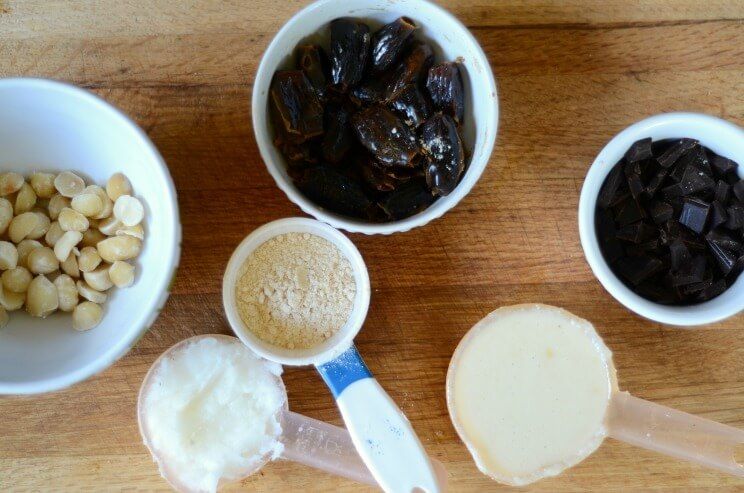 Prep Time:
30 mins
30 minutes
No-Bake Cheesecake Cookies
These cookies have a perfect Paleo cheesecake filling, sweet coconut for texture, and an indulgent chocolate coating.
Ingredients
½ + 1/4 cup pitted dates, divided

½ cup of water

½ cup raw macadamia nuts, soaked overnight and drained

⅓ cup plus 3 T softened coconut oil, divided

½ cup plus 1 T softened coconut butter, divided

1 cup thick, canned, full-fat coconut milk

½ t lemon juice

Pinch salt

⅓ cup coconut flour

1/4 cup unsweetened coconut flakes

1½ cups chopped dark chocolate
Instructions
In a small saucepan over low heat, add dates and water. Heat for 10 minutes. Cool and drain. Place ⅔ of the dates in a food processor

Add the macadamia nuts, ⅓ cup coconut oil, ½ cup coconut butter, coconut milk, lemon juice, and salt. Process until extremely smooth.

Add the coconut flour and process until smooth.

Transfer to a separate container and pop in the freezer to firm up while you prepare the other ingredients.

In the food processor, combine the coconut flakes, the remaining ⅓ of the dates, and 1 tablespoon coconut butter. Process until mixed and a bit sticky.

When the date and coconut milk mixture in the freezer has firmed up a little, use a cookie scooper to drop heaping tablespoons of it onto a baking sheet.

Make little balls from the heaping teaspoons of the coconut flake and date mixture and carefully press into the tops of the cheesecake filling balls on the baking sheet. Freeze until firm.

Heat the chocolate with 3 tablespoons coconut oil until just melted but not hot.

Coat the cheesecake cookies in chocolate; freeze until set.

Store cookies in an airtight container in the fridge or freezer.


(You'll Also Love: Caramel Cheesecake Bites)