For a low-carb, taco-inspired meal, swap tortillas for light, crunchy zucchini with these Taco-Stuffed Zucchini Boats! 
Tacos have long been a favorite dish in my household. Every once in awhile, I love making minced beef tacos to satisfy my craving for Mexican food. I wanted to play around with my usual taco recipe, and today we're replacing the tortillas with zucchini.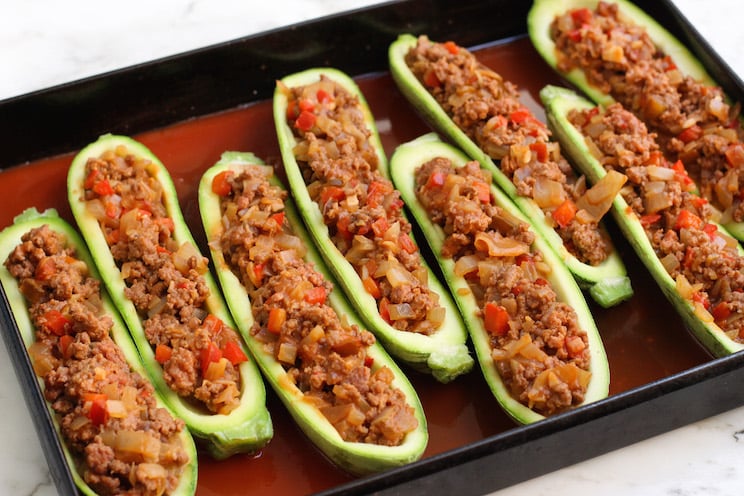 This zucchini boats recipe is simple, and for the taco fixings, we're using minced beef, onions, garlic, and red bell pepper.
Love slow cooker recipes?
Click here to get your FREE copy of our delicious Slow-Cooker Recipes!
First, slice the zucchini in half lengthwise, then use a melon baller or a small spoon to scrape out the flesh. I like to blanch the zucchini halves in boiling water for about minute. Then I fill them, so the zucchini is pre-cooked before I stuff and bake it.
For the filling, sauté the vegetables and beef in a skillet (until the beef is browned and cooked through). Then add a bit of tomato sauce. Fill the zucchini halves with the mixture, then bake them in the oven for 20 minutes (until the zucchini is cooked). For an extra pop of color and taste, I also like to garnish the zucchini boats with chopped parsley!
Felicia Lim
Taco-Stuffed Zucchini Boats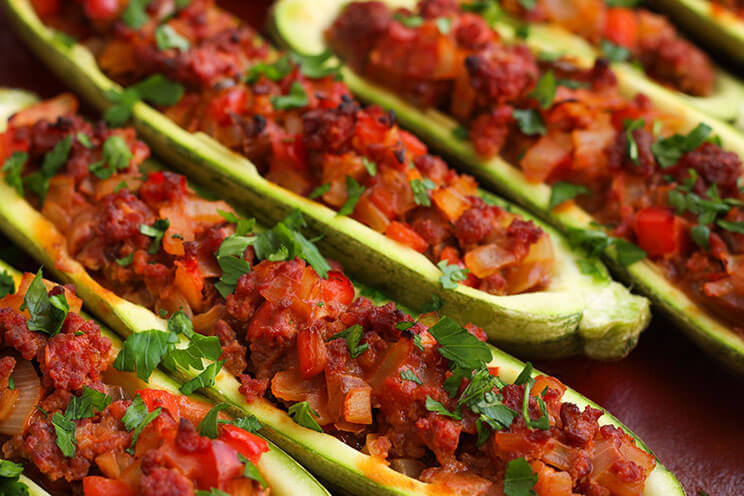 Cook Time:
45 mins
45 minutes
Prep Time:
15 mins
15 minutes
Taco-Stuffed Zucchini Boats
For a low-carb, taco-inspired meal, swap tortillas for light, crunchy zucchini!
Tools
Large pot

Large skillet

Rimmed baking sheet
Ingredients
4 large zucchini (halved and flesh scraped out)

1 T extra-virgin olive oil

½ lb minced beef

1 yellow onion (diced)

1 large red bell pepper (diced)

3 large garlic cloves (minced)

2 cups tomato sauce (divided)

Salt to taste

½ cup fresh parsley (chopped)
Instructions
Bring a large pot of water to a boil.

When water is boiling, blanch the zucchini halves for 1 minute in the hot water to cook them slightly. Remove and set aside.

Heat extra virgin olive oil in a large skillet over medium heat.

Sauté the onions, bell pepper, and garlic until onions are tender (about 10 minutes).

Add the beef and sauté until beef is browned.

Stir in 3/4 cup of tomato sauce.

Add salt to taste, and turn off heat.

Preheat the oven to 350°F.

Cover the bottom of a rimmed baking sheet with remaining tomato sauce.

Fill blanched zucchini halves with beef mixture.

Place stuffed zucchini on the prepared baking sheet, and bake for 20 minutes.

Garnish with fresh parsley and serve.
Tip: Feel free to use minced chicken, turkey, or pork instead of beef. These stuffed zucchini will still taste just as good!


(You'll Also Love: Cozy Taco Soup with Group Beef)