If your lunch is missing some ooey-gooey goodness, look no further than this baked cauliflower grilled cheese sandwich oozing with melted dairy-free cheese.
Everyone loves an oozing grilled cheese sandwich, but all too often these lunchtime favorites are weighed down with unhealthy carbs and gut-wrecking dairy. The solution? Crispy cauliflower bread and shredded Paleo mozzarella!
Believe it or not, cauliflower makes a chewy, moist bread that's hearty enough to withstand any fillings you can think up! To make it even better, this recipe adds thyme and basil for a savory herb flavor. Then, Paleo mozzarella cheese made from cashews, nutritional yeast and grass-fed gelatin, melts between two warm slices of herb "bread" for the ultimate Paleo cauliflower grilled cheese!
Love Paleo Breakfasts? Then you'll love our FREE Paleo Breakfast Recipes.
Click here to get your FREE copy of our delicious Breakfast Recipes!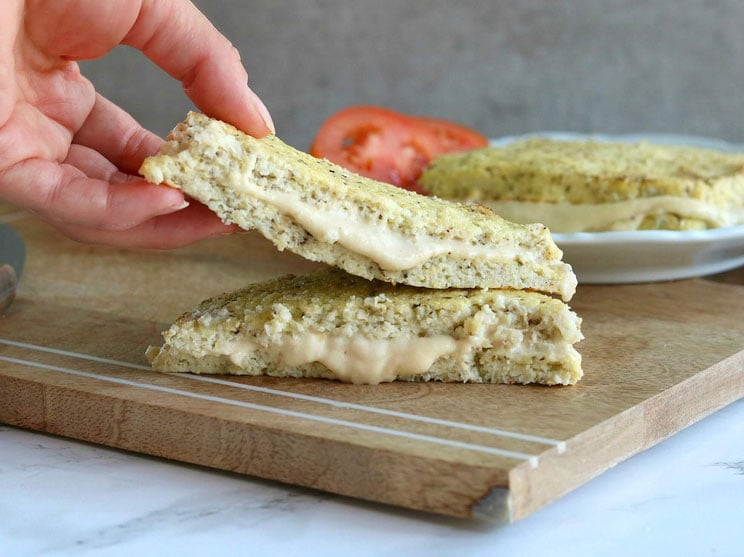 Begin by combining finely riced cauliflower, eggs, almond meal and herbs in a large mixing bowl, stirring well to incorporate the eggs. Use a measuring cup to scoop equal amounts of dough onto a parchment paper lined baking sheet and shape into squares about ¼ inch thick. Bake for 20 minutes to cook the bread through or until lightly golden around edges. Allow the bread to cool slightly before topping with cheese, allowing the warmth from the bread to melt the cheese. Enjoy immediately!
Tips:
Make the cheese the day before to save time!
This recipe can also be used to make one large cauliflower pizza crust. Just form the bread dough into a large circle on a baking sheet and bake at 400°F for 20 minutes.
Jennafer Ashley
Cauliflower Bread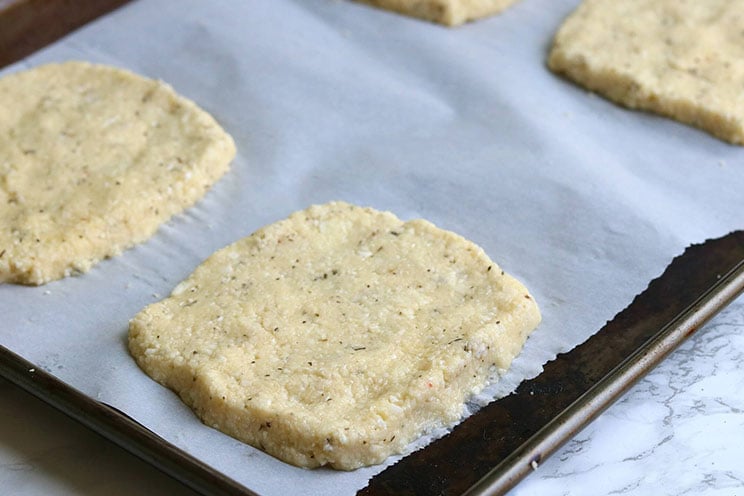 Cook Time:
20 mins
20 minutes
Prep Time:
10 mins
10 minutes
Cauliflower Bread
Tools
Baking sheet

Parchment paper

Mixing bowl

Measuring cups

Spatula
Ingredients
2 cups finely riced cauliflower

2 large pasture-raised eggs

1/2 cup almond meal

1/2 t dried basil

1/4 t dried thyme

1/2 t sea salt
Instructions
Preheat the oven to 400°F and line the baking sheet with parchment paper.

In a large mixing bowl, combine riced cauliflower, eggs, almond meal, herbs and sea salt. Stir until well combined and moistened.

Using a 1/2 cup measuring cup, scoop the dough onto the baking sheet. Using your hands or a spatula, form four squares and bake for 20 minutes.

Remove the baking sheet from the oven and cool the bread for 2-3 minutes.

Top two of the cauliflower bread slices with four Paleo cheese slices, and cover with the remaining bread slices. Enjoy warm.
Jennafer Ashley
Dairy-Free Mozzarella Cheese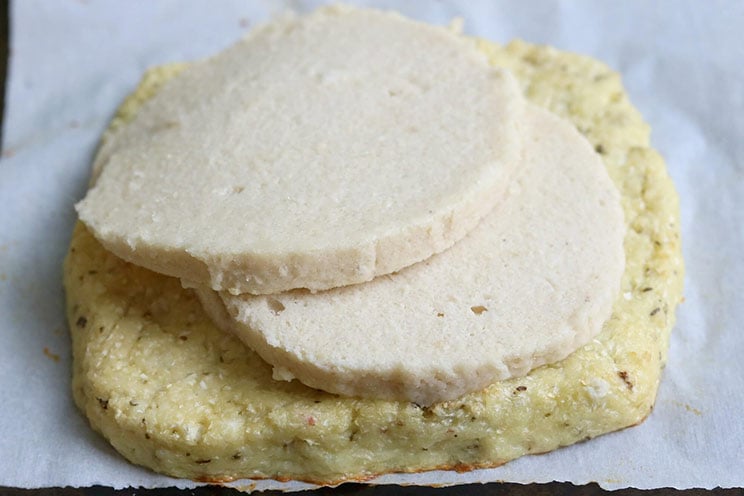 Prep Time:
10 mins
10 minutes
Dairy-Free Mozzarella Cheese
Tools
Small saucepan

Food processor or blender

Airtight container
Ingredients
1 cup water

1 t nutritional yeast

1 cup raw cashews

1 T grass-fed gelatin

1/4 t sea salt
Instructions
Bring the water to a boil in the small saucepan. Sprinkle the gelatin into the water while stirring. Combine all the ingredients for the cheese in a food processor or blender. Blend until smooth.

Pour into the airtight container. Refrigerate for at least 4 hours until solid enough to slice.
Looking for Paleo ingredients? Here are a few we'd recommend:
Almond meal (Barney)

For more unique ways to use cauliflower, try these recipes…