Mashed cauliflower stands in for the potatoes in this bacon-loaded munchie!
If you crave the satisfying flavor of a baked potato with all the fixings, then this is the recipe for you. Bacon is vital to any loaded baked "potato." For this recipe, use thick cut, pasture-raised bacon for lots of crispy, smoky flavor. Nutritional yeast adds a cheddar-like taste to these loaded cauliflower bites, while chives add brightness and color (you can also use finely chopped scallions instead.)
Make sure to remove all excess moisture from the cauliflower florets after they've been boiled and mashed. This ensures cohesive cauliflower bites that don't fall apart! Use a few paper towels or a clean kitchen towel to wring out the mashed cauliflower as many rounds as it takes to get out all the moisture.
Want to snack smarter and curb cravings? Get your FREE 25 Healthy Paleo Snacks Cookbook here.
Click here to get your FREE copy of our Snack Recipes Cookbook!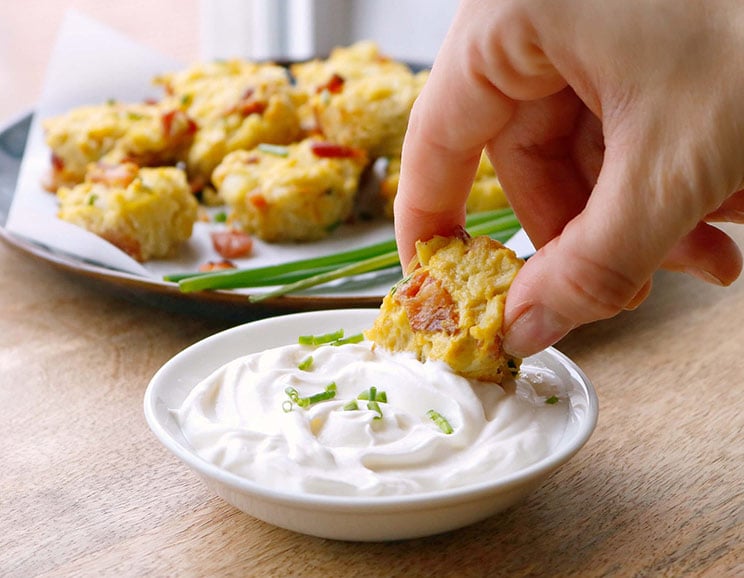 Add the cauliflower to a mixing bowl along with an egg, cooked bacon, nutritional yeast and chives. Mix well to combine. If you still find that there is too much moisture in your batter, add an extra tablespoon of nutritional yeast to absorb some liquid. Scoop the mixture into mini muffin tins greased with ghee and gently press with the bottom of a spoon to compress the mixture. Bake at 350°F for 20 to 25 minutes, or until the edges are lightly browned.
Serve your cauliflower bites hot with Paleo sour cream for full-on goodness!
Jennafer Ashley
Bacon-Loaded Cauliflower Bites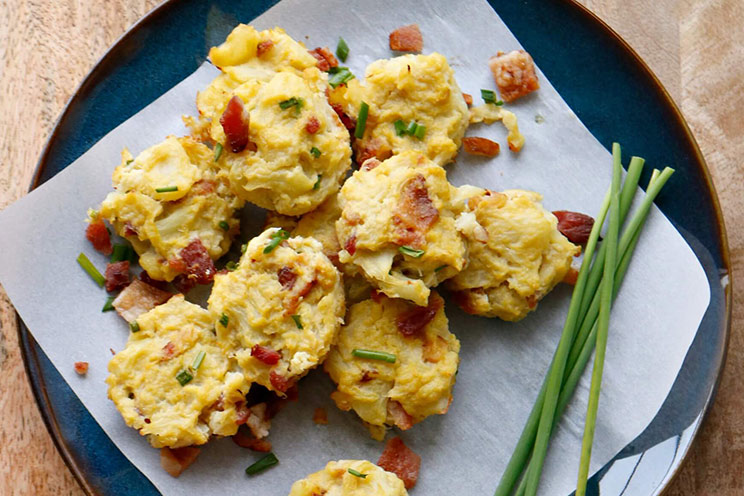 Cook Time:
30 mins
30 minutes
Prep Time:
15 mins
15 minutes
Bacon-Loaded Cauliflower Bites
Mashed cauliflower stands in for the potatoes in this bacon-loaded munchie.
Tools
2 mini muffin tins

Large pot

Mixing bowl

Potato masher
Ingredients
Ghee, for greasing

4 cups cauliflower florets

1 egg

2 strips pasture-raised bacon, cooked + chopped

2 T nutritional yeast

1 T fresh chives, minced

¼ t sea salt
Instructions
Preheat the oven to 350°F and grease the 16 mini muffin tins with ghee.

Place the cauliflower florets into a pot of boiling water and boil for 5-7 minutes. Strain.

Add the cauliflower to a large mixing bowl and mash using a potato masher. Transfer the mashed cauliflower to a clean kitchen towel or paper towel and wring over the sink to remove excess moisture.

Return the cauliflower to the bowl and stir in the egg, bacon, nutritional yeast, chives and salt.

Scoop 1 tablespoon of mixture into the muffin tins and gently smooth the tops to help press the mixture together. Bake for 20-25 minutes, until the edges are golden.
Looking for Paleo ingredients? Here are a few we'd recommend:
Ghee (Pure Indian Foods)
Nutritional yeast (Sari Foods Co)

(You'll Also Love: The Best Cauliflower Nachos (Gluten Free, Paleo))