The fast food breakfast sandwich you hate to love gets a Paleo upgrade with turmeric-spiced cauliflower "McMuffins" stuffed with fresh eggs, bacon and slices of avocado.
You can head to the local drive-thru and give in to the craving for a fast food breakfast, or you can whip up a batch of these hunger-busting, cauliflower "McMuffins" piled with a pasture-raised eggs, crisp bacon and creamy avocado. We choose the latter. This breakfast offers a delicious mix of protein, healthy carbs and fat to sustain energy throughout a busy day.
Finely-riced cauliflower and almond meal is the key to creating a smooth and hearty grainless muffin. When blending the cauliflower florets in a food processor, look for a consistency similar to couscous. The moisture from the cauliflower will help it combine nicely with the almond meal. Then, mix in two pasture-raised eggs and add a little turmeric and black pepper for a dose of anti-inflammatory properties baked right into each muffin. Use your hands to form the dough into discs and place on a lined baking sheet. Bake at 400°F for 20 minutes or until edges are golden brown.
Love Paleo Breakfasts? Then you'll love our FREE Paleo Breakfast Recipes.
Click here to get your FREE copy of our delicious Breakfast Recipes!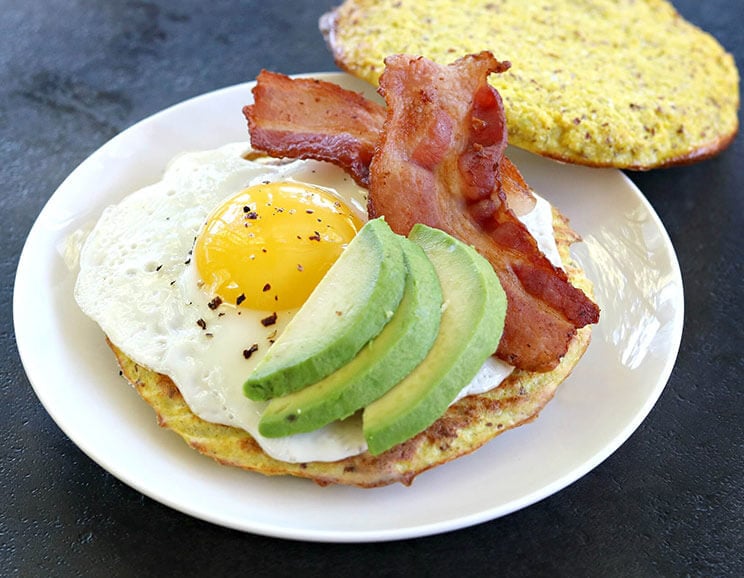 Fill your breakfast sandwich with pasture-raised pork and eggs to ensure that you are getting the most nutritional bang for your buck. Sliced avocado replaces the cheese in this recipe for a dose of healthy fat while keeping a creamy mouthfeel. Pile these ingredients on your freshly baked cauliflower "McMuffins" and start the day off on a healthy foot!
For more ways to use these versatile cauliflower muffins, try one of these toppings…
Pizza style: Pile each muffin half with Paleo mozzarella cheese, marinara sauce, and a sprinkle of oregano. Broil until cheese is bubbly.
BLT sandwich: Slather on Paleo mayonnaise, tomato, bacon and lettuce for a quick and filling lunch.
Bagel and lox: Top muffin halves with cashew cheese, smoked salmon and capers for a fancy brunch.
Jennafer Ashley
Healthy Cauliflower Egg "McMuffin"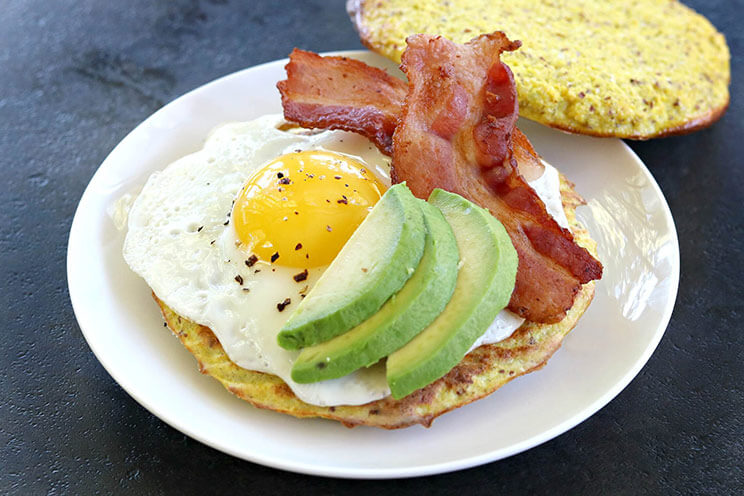 Cook Time:
20 mins
20 minutes
Prep Time:
15 mins
15 minutes
Nutrition facts:
25 grams of protein
6 grams of carbohydrates
31 grams of fat
Healthy Cauliflower Egg "McMuffin"
The fast food breakfast sandwich you hate to love gets a healthy makeover with cauliflower muffins, fresh eggs and avocado.
Tools
Food processor

Baking sheet

Parchment paper

Mixing bowl
Ingredients
For Cauliflower Muffins:
2 cups riced cauliflower (½ medium head of cauliflower)

1/2 cup almond meal

2 large, pasture-raised eggs

1/2 t sea salt

1/2 t turmeric

1/4 t black pepper
For Egg McMuffin:
1 egg per muffin

1 strip of bacon per muffin, cooked

4-5 slices of avocado per muffin
Instructions
Preheat oven to 400°F and line a baking sheet with parchment paper. In a large mixing bowl, combine riced cauliflower, eggs and almond meal until well moistened. Sprinkle in turmeric, pepper and sea salt, and stir well.

Using a 1/3 cup measuring scoop, form cauliflower mixture into 4 discs on baking sheet. Bake 20 minutes.

In the meantime, prepare toppings for Egg McMuffin. Cook the egg and the bacon to your liking, and slice the avocado.

Remove cauliflower muffins from oven and cool 5 minutes. Add toppings on one half and place another muffin on top. Serve immediately.
Looking for Paleo ingredients? Here are a few we'd recommend:
Almond meal (Barney)
Turmeric (Simply Organic)
Black pepper (Frontier)

(You'll Also Love: Bacon & Egg Sweet Potato Pancake Breakfast Sandwich)