Snack on these adorably bite-sized keto egg burgers for a protein-packed snack!
These mini keto egg burgers are super easy to make, and will keep you going when you need a boost of energy between meals. Pack a few of them as quick grab-and-go snacks throughout the week!
Stack Them With The Good Stuff
To keep things grain-free and gluten-free, we swap traditional burger buns with hard-boiled eggs. Then, we fill them up with crispy bacon, creamy avocado, and nutrient-rich Roma tomatoes.
Looking for low carb keto recipes to burn fat and lose weight?
Click here to get your FREE Keto Breakfast Recipes Cookbook!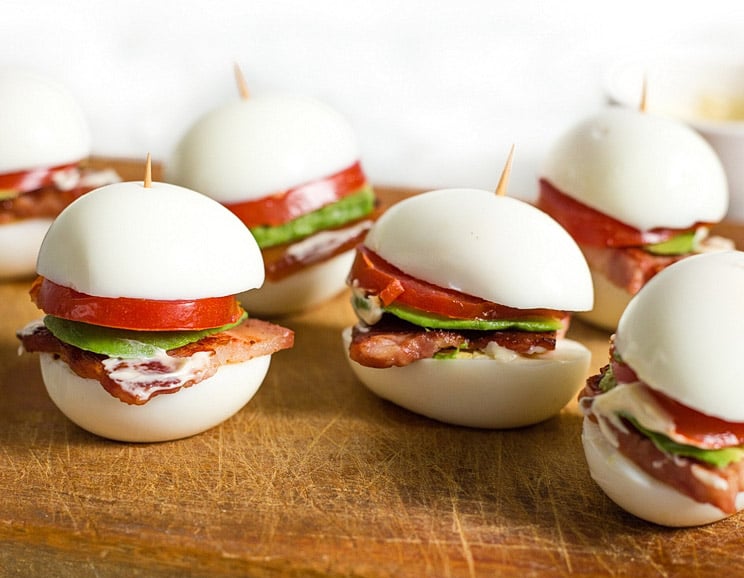 No burger is complete without a little mayonnaise. We love using this healthy homemade mayo with apple cider vinegar, but you might also be able to find Paleo brands at your local grocery store or online retailers.
Helpful Tips For Getting Started:
Customize it the way you like it. Swap out the bacon for sausage or add more veggies and sauces!
Go soft, medium, or hard. Try different variations with hard-boiled eggs by checking out this easy cooking guide.
Felicia Lim
Mini Keto Egg Burgers with Bacon and Avocado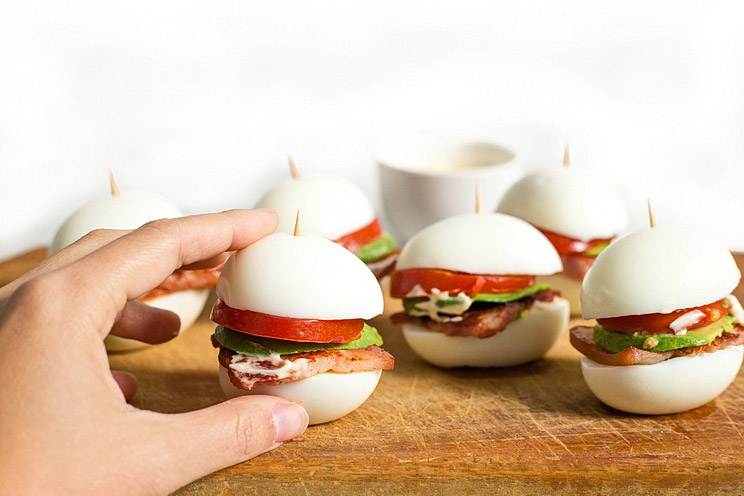 Cook Time:
20 mins
20 minutes
Prep Time:
10 mins
10 minutes
Nutrition facts:
9 grams of protein
4 grams of carbohydrates
22 grams of fat
Mini Keto Egg Burgers with Bacon and Avocado
Snack on a bite-sized keto burger made with egg buns for a protein-packed snack.
Ingredients
4 oz bacon, sliced into thin 3-inch squares

4 hard-boiled eggs

1 large avocado, sliced thinly

1 thinly sliced Roma tomato

1 T Paleo mayonnaise
Instructions
Fry the bacon slices in a large skillet over medium heat for 5 minutes on each side, or until crispy. Remove from skillet and set aside.

Remove the shells from the hard-boiled eggs and slice them in half, lengthwise.

Assemble the burgers by placing a slice of bacon, avocado, and tomato between each pair of egg halves.

Poke a toothpick in the middle of each burger to hold everything in place. Serve and enjoy!
Looking for Paleo ingredients? Here's what we recommend:
Primal mayonnaise (Primal Kitchen)
For more clever keto creations, check out our Keto Sweets cookbook and discover incredible fat-burning treats your whole family will love. Dig into mint chip ice cream, savor bacon-filled chocolate, indulge in chocolate chip cookie cake, and enjoy more delicious keto-approved desserts. Get the book shipped to your door for FREE – just pay for shipping!