Deliciously grain-free stuffing gets wrapped in savory bacon for the perfect holiday appetizer!
These crafty stuffing bites have all the herbal flavor and bready goodness of traditional stuffing, sans grains! Each bite then gets rolled up and wrapped in bacon for fancy, bite-sized hors d'oeuvres.
Almond meal stands in for bread, making for a fluffy stuffing batter when combined with pasture-raised eggs. These ingredients add an ample amount of protein and healthy fat that you don't find in classic stuffing recipes! Tender pieces of celery and onion run throughout each bite adding flavor and texture, and dried herbs like sage, thyme and rosemary give the stuffing the necessary festive aroma. Wrap smoky bacon around each mini ball of stuffing, and you'll have a healthy appetizer that no one can resist!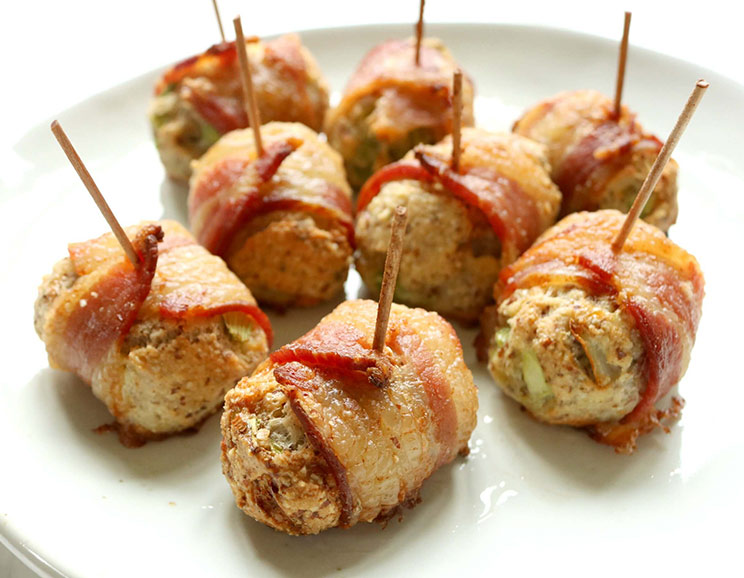 Start by combining almond meal, eggs, veggies, herbs and ghee in a large bowl until thoroughly mixed. Use your hands to form the stuffing mixture into 16 small balls. Wrap each with half a piece of bacon and secure with a toothpick. Cutting the bacon in half ensures just the right amount of bacon gets wrapped around each bite. Tip: If you aren't using toothpicks, place the bites on the baking sheet seam side down to prevent them from unraveling as they cook. Bake for 30-35 minutes on the middle rack of the oven. Allow the bacon to crisp up for a few minutes on a plate before serving. Then, get it while it's hot!
Want to snack smarter and curb cravings?
Get our FREE 25 Healthy Paleo Snacks Cookbook here!
Jennafer Ashley
Bacon-Wrapped Stuffing Bites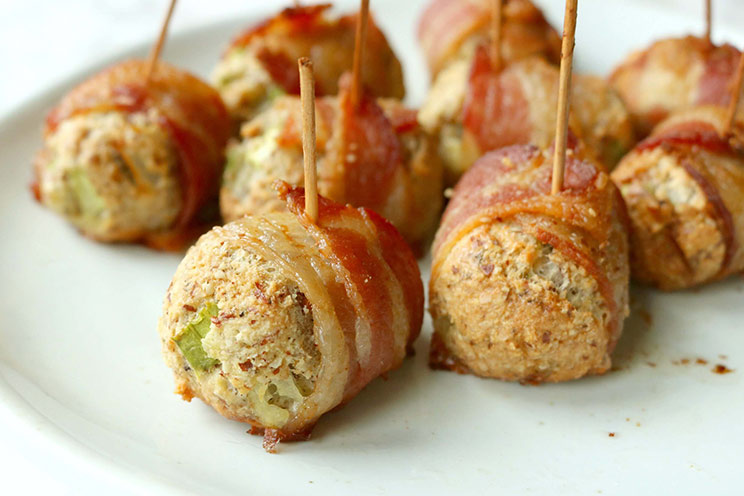 Cook Time:
35 mins
35 minutes
Prep Time:
15 mins
15 minutes
Bacon-Wrapped Stuffing Bites
Deliciously grain-free stuffing gets wrapped in savory bacon for the perfect holiday appetizer.
Tools
Baking sheet

Parchment paper

Mixing bowl

16 Toothpicks
Ingredients
3 large pasture-raised eggs

2 cups almond meal

1/2 cup celery, finely chopped

1/3 cup white onion, minced

2 T ghee, melted

1/2 t dried sage

1/4 t dried rosemary

1/4 t dried thyme

1/4 t sea salt

1/8 t black pepper

8 strips pasture-raised bacon, cut in half
Instructions
Preheat the oven to 375°F and line the baking sheet with parchment paper.

Mix all the ingredients (except the bacon) in a large mixing bowl until thoroughly combined.

Form the mixture into small balls. Wrap each ball with 1/2 a strip of bacon and secure with a toothpick.

Place on the prepared baking sheet and bake for 30-35 minutes until the bacon is fully cooked. Remove from the oven and set the bites onto a plate to crisp up for 3 minutes.
Looking for Paleo ingredients? Here are a few we'd recommend:
Almond meal (Barney)
Ghee (Pure Indian Foods)

Looking for more holiday-inspired Paleo recipe ideas?