Slices of pasture-raised bacon are wrapped around tangy pineapple before being baked to smoky sweet perfection!
If you're looking for the ideal combination of sweet and savory, this bacon wrapped pineapple is it! The tropical flavors are a nod to traditional Hawaiian Luau cooking, while its bite-sized servings are perfect as appetizers for backyard barbecues or parties. Equally delicious all year-round, it's a sure-fire hit with minimal prep!
When it comes to bacon, be sure to use a thick-cut variety that's pasture-raised and includes no added sugars or preservatives. Opting for thick-cut will also prevent the bacon from shriveling up too quickly, giving the pineapple ample time to caramelize while baking.
Trying to figure out exactly what to eat on Paleo? Look no further than our FREE 21 Day Paleo Meal Plan.
Grab Our FREE Paleo Meal Plan By Clicking Here!
For the pineapple, fresh is best and is often firmer (and less mushy) than most canned varieties. They also add a dose of anti-inflammatory benefits and are a great source of gut-healing enzymes.
The final touch is the maple-Dijon glaze on top that offers a naturally sweet and tangy flavor. If you're wanting to pair it alongside other barbecue entrées, try sprinkling on a bit of smoked paprika before tossing in the oven. You can also sprinkle on a bit of coconut sugar to bump up the sweetness or opt for something with a bit more heat like cayenne pepper.
To get started, wrap the individual bacon halves around each cube of pineapple. Secure with a toothpick and place onto a parchment lined baking sheet. The parchment paper will collect any burnt pieces for easy cleanup.
Next, whisk together the maple syrup and Dijon mustard in a small bowl, then brush it onto the top of each bite. Set the bites into the oven and let it bake for forty minutes or until the bacon is golden brown. When finished, let it cool at room temperature for five minutes so that the bacon can crisp up. Serve warm and enjoy!
Jennafer Ashley
Bacon-Wrapped Pineapple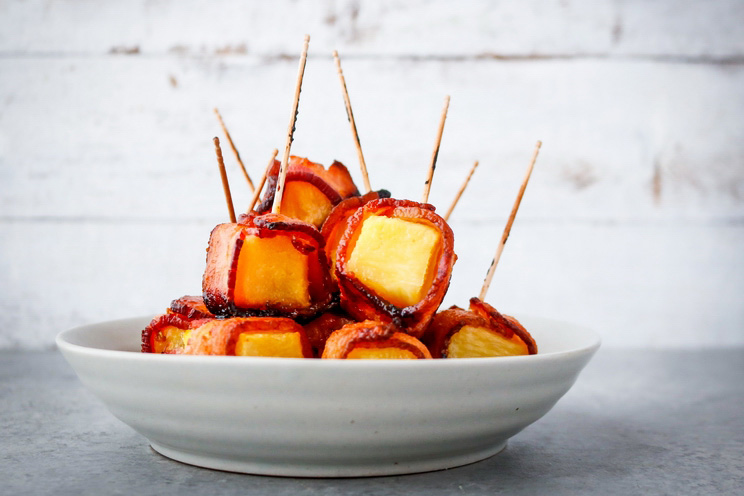 Cook Time:
40 mins
40 minutes
Prep Time:
10 mins
10 minutes
Bacon-Wrapped Pineapple
Slices of pasture-raised bacon are wrapped around tangy pineapple before being baked to smoky sweet perfection.
Tools
Baking sheet

Parchment paper

Small mixing bowl
Ingredients
12 slices thick cut pasture-raised bacon, halved

1 pineapple, cut into 24 (1 ½-inch) cubes

1 T pure maple syrup

2 t Dijon mustard
Instructions
Preheat the oven to 400°F and line a baking sheet with parchment paper.

Wrap each pineapple cube with a half slice of bacon and lay onto the baking sheet, seam side down.

In a separate bowl, whisk the maple syrup and mustard together until well combined.

Brush each bacon-wrapped pineapple cube with the maple mustard, then spear each cube with a toothpick.

Bake for 40 minutes, then remove it from the oven and let it cool for 5 minutes to crisp up. Serve warm and enjoy!
Looking for more bacon wrapped recipes? We've got you covered…