Chewy on the outside and creamy on the inside, these Cauliflower Bacon Biscuits have a spicy kick!
You can never go wrong by using cauliflower in a recipe. I'm convinced there's nothing this magical vegetable cannot do.
When I made these cauliflower biscuits, I wasn't entirely sure they'd turn out. Frankly, they happened as an experiment. Really, it was more for my own curiosity than anything to see how far I could stretch the power of cauliflower in baking.
Want to go Paleo? Not sure where to start?
Start with this FREE Paleo For Beginners Guide Today!
I was making mashed cauliflower (or "mashed potatoes") the other night when it dawned on me that if I blended in a little flour and eggs in with the cauliflower, I might be able to turn it into a batch of healthy, low-carb biscuits. And to make things fun, I added a jalapeno for spice and bacon. Because everything's better with bacon!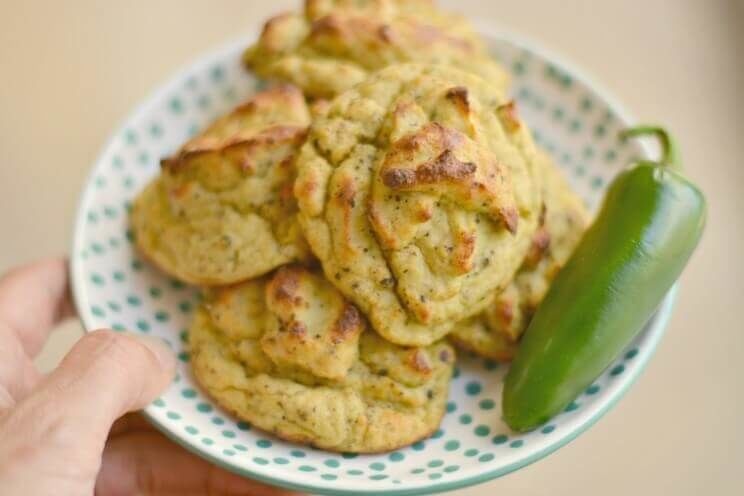 So I took the leap and transformed my mashed cauliflower into creamy, melt-in-your-mouth biscuits that burst with spicy, garlicky, bacon flavors in every bite. They don't taste much like cauliflower, which will have everyone wondering "what are these?" Either that or they'll be so impressed by you putting bacon in biscuits that they won't care they're made from cauliflower.
Like I said, cauliflower is magic!
Megan Olson
Cauliflower Bacon Biscuits Recipe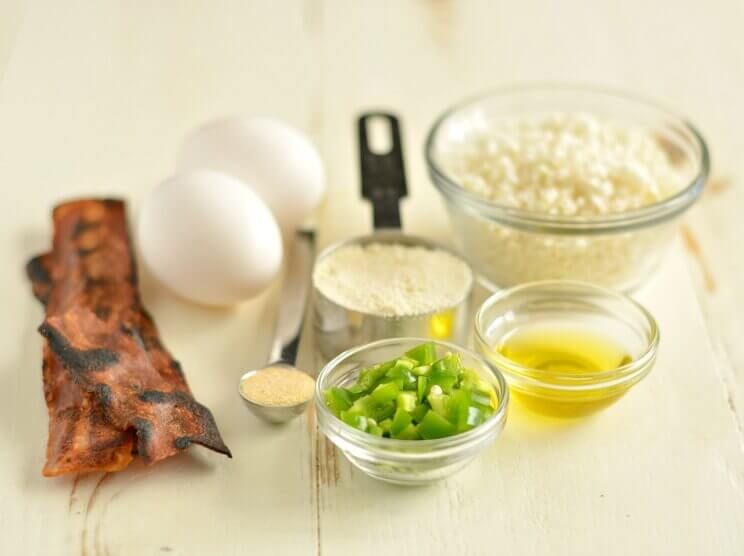 Cook Time:
35 mins
35 minutes
Prep Time:
5 mins
5 minutes
Cauliflower Bacon Biscuits Recipe
Chewy on the outside and creamy on the inside, these Cauliflower Bacon Biscuits have a spicy kick!
Ingredients
2 large eggs

1 medium cauliflower, riced

2 slices of bacon, cooked

1 small jalapeno pepper, diced

½ t garlic powder

¼ t salt

½ cup almond flour

2 T coconut oil
Instructions
Preheat oven to 400ºF. Prepare a baking sheet with parchment paper or a slip pad.

Rice the cauliflower by placing sliced chunks in a blender or food processor and pulsing until it turns into rice.

Heat a skillet over medium heat. Add coconut oil, riced cauliflower and jalapeno. Sauté 5-8 minutes, or until cauliflower softens.

Transfer the cauliflower mixture to a blender or food processor, add eggs, bacon, garlic powder, salt and almond flour. Blend on high until the rice is broken down and all ingredients are combined. It should be creamy and look like mashed potatoes.

Next form biscuits on the prepared baking sheet by carefully scooping ¼ cup of the batter at a time to form each biscuit. It will make 12 biscuits. They will be runny, but that's ok. If it's too runny, toss it back in the batter, mix with a spoon, and then reform the biscuits.

Bake at 400ºF for 35 minutes or until the edges are slightly browned.

Remove from the oven and cool on the pan 5 minutes before gently removing with a spatula and transferring to a wire rack. They will be a little loose when they're still hot, but will harden at room temperature.

Serve immediately or store in the refrigerator in an airtight container up to one week. They can also be frozen up to one month.
Watch the Recipe Video Below!


(You'll Also Love: Cauliflower Tater Tots)