Hardly anyone can say no to a chocolate chip cookie. They're a family favorite in most households, but did you know they can be Paleo-friendly too? Check out how to make maple bacon chocolate chip cookies without using any refined sugars or added grains. 
Traditional chocolate chip cookies are not always the healthiest when it comes to baking. But now you can put your own healthy spin on it to give by giving your family a delectable, mouthwatering, chocolate-laden alternative—no refined sugar and oils needed.
These Paleo maple bacon chocolate chip cookies are simple and easy to make. First, you'll want to combine all your ingredients using a food processor — don't add in the bacon or chocolate chips just yet. When you have the right consistency, slowly add in the bacon. Next, you'll transfer everything to a mixing bowl and add in your chocolate chips. Scoop, flatten, and spread your cookies onto a prepared baking sheet. Pop them into a preheated oven at 350 degrees for 8-10 minutes. And finally, cool your cookies on a wire rack and serve when ready.
Love almond flour recipes? Get our free almond flour recipe cookbook here!
These maple bacon chocolate chip cookies are bursting with chocolate chunks, and they have hints of bacon nestled into the crunchy almond flour. Good luck keeping them around for more than a day!
Megan Olson
Maple Bacon Chocolate Chip Cookies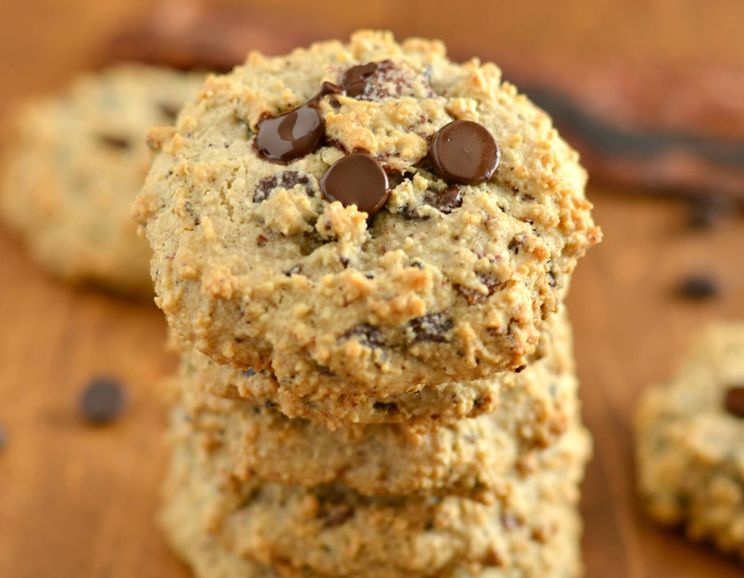 Cook Time:
10 mins
10 minutes
Prep Time:
5 mins
5 minutes
Maple Bacon Chocolate Chip Cookies
These cookies are bursting with chocolate chunks, with hints of bacon nestled into crunchy almond flour.
Ingredients
4 slices cooked bacon

1½ cups almond flour

2 T arrowroot starch

½ t baking soda

1 large egg white

½ t almond extract

¼ cup maple syrup

3 T coconut oil

¼ cup dairy-free dark chocolate chips
Instructions
Preheat oven 350 degrees F. Prepare a baking sheet with parchment paper.

Add all ingredients (except bacon and chocolate chips) to a food processor. Layer the wet ingredients first, then the dry ingredients. Process until ingredients are fully combined.

Add the cooked bacon to the food processor. Process until bacon is broken apart and dispersed throughout the batter.

Transfer the batter to a small bowl, then fold in chocolate chips.

Scoop ¼ cup of the batter onto the prepared baking sheet. With your hands, flatten the cookies with your hands—just until they're the shapes of cookies.

Bake 8-10 minutes at 350 degrees F (or until edges are slightly brown).

Remove from the oven. Then immediately transfer them to a wire rack to cool completely—before devouring.


(You'll Also Love: Paleo Maple Bacon Donuts)