Whip up these Ultimate Paleo Chocolate Chip Cookies for a grain-free snack you can treat yourself to any time, any day!
Made without dairy or refined sugars, these cookies are the ultimate way to indulge without the guilt. Using six simple ingredients, you can create chewy, soft, and completely grain-free cookies in just 30 minutes. Best part is, you get to indulge in ooey-gooey dark chocolate chips with an added bonus of antioxidants and essential minerals!
Almond butter is a great way to add some nuts to this recipe. It's full of gut-boosting properties that can help improve your digestion and keep your intestines running in tip-top shape. Wondering how to make your own? Check out this simple almond butter recipe using roasted almonds and a food processor!
Want to go Paleo? Not sure where to start?
Start with this FREE Paleo For Beginners Guide Today!
To get started, prepare the cookie batter by combining the almond butter, egg, and vanilla extract into a food processor. Blend until smooth and stir in remaining ingredients until everything is folded together.
Then, scoop out some dough and shape into a round ball, measuring about 1-1 1/2 inches each. Set them on a prepared baking sheet and gently push down with your palm, flattening each one into a small cookie shape. Place in the oven to bake for 12-15 minutes, or until golden brown. When finished, serve warm and enjoy!
Deanna Dorman
The Ultimate Paleo Chocolate Chip Cookies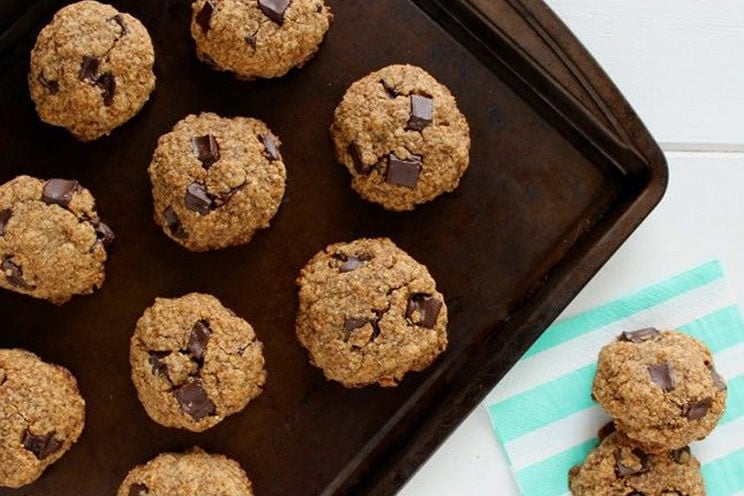 Cook Time:
15 mins
15 minutes
Prep Time:
15 mins
15 minutes
The Ultimate Paleo Chocolate Chip Cookies
Naturally sweetened, these cookies are easy to make and filled with ooey-gooey chocolate chips.
Tools
Electric Blender

Baking Sheet
Ingredients
1 cup almond butter or cashew butter

1 egg

½ teaspoon vanilla extract

1 cup coconut sugar

1 teaspoon baking powder

½ cup dark chocolate chips
Instructions
Preheat oven to 350°F.

Use an electric blender to mix almond butter, egg, and vanilla extract together until smooth.

Stir in coconut sugar and baking powder until well mixed, then add the chocolate chips.

Shape into 1-1 ½ inch balls and place onto a baking sheet. Use your palm to gently flatten, so that they spread into cookie rounds.

Bake for 12-15 minutes, or until golden brown.
Looking for Paleo ingredients? Here's what we recommend:
Almond Butter (Barney)
Dairy-Free Chocolate Chips (Enjoy Life)
Coconut Sugar (Wholesome)
(You'll Also Love: Maple Bacon Chocolate Chip Cookies)
Lose weight, fight inflammation, and soothe your digestion with delicious meals like juicy skirt steak with cucumber & radish salad, succulent pulled pork, and more!
FREE Cookbook:
80 Gourmet Paleo Recipes from
a Professional Chef trained at Le
Cordon Bleu in Paris
FREE Cookbook:
80 Gourmet Paleo Recipes
from a Professional Chef
trained at Le Cordon Bleu
in Paris