Brighten up your chocolate chip cookies with ground turmeric for a sweet and spiced treat!
When I can't decide if I prefer to eat cake or cookies, I opt for something in between – and these cake-like cookies are the perfect middle ground.
These perfectly-portioned cookies come with a moist, cake-like crumb. You'll love how the warm flavor of turmeric melds with rich dark chocolate chips and the almond flour-based dough. A hefty dose of coconut oil keeps these cookies moist and cakey, while coconut sugar lends the perfect amount of sweetness.
Love turmeric recipes?
Add power-packed anti-inflammatories to every meal with these FREE turmeric recipes!
Helpful Tips For Getting Started:
Chill the dough before shaping. Because we're using a significant amount of coconut oil in the recipe, I highly recommend that you chill the dough for at least 10 minutes before shaping it into small balls. Chilling the dough will firm it up a little and make it easier to handle and hold its shape.
Let the cookies cool completely. These cookies have a cake-like crumb, and have to be fully cooled before you remove them from the sheet or they will break. Simply be patient and you'll reap the benefits!
Felicia Lim
Golden Turmeric Chocolate Chip Cookies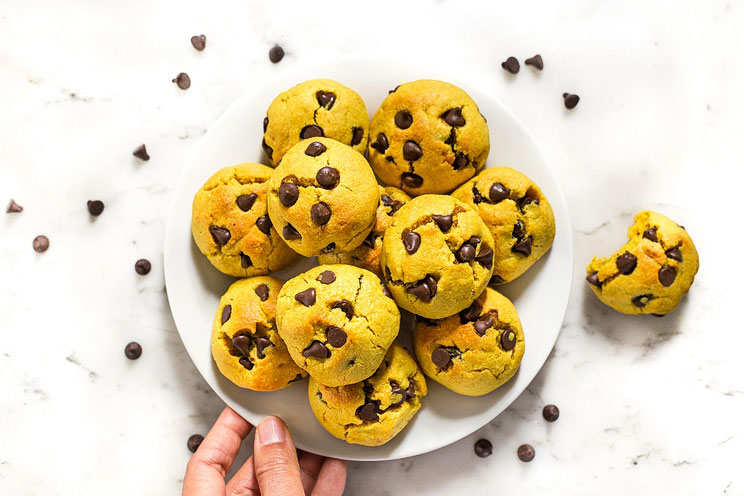 Inactive Time:
25 mins
25 minutes
Cook Time:
12 mins
12 minutes
Prep Time:
10 mins
10 minutes
Nutrition facts:
5 grams of protein
30 grams of carbohydrates
17 grams of fat
Golden Turmeric Chocolate Chip Cookies
Brighten up your Paleo chocolate chip cookies with ground turmeric for a sweet and spiced treat.
Tools
Large baking sheet

Large mixing bowl

Sifter

Parchment paper
Ingredients
¼ cup melted coconut oil

2 t ground turmeric

¾ cup coconut sugar

1 large egg

1 t vanilla extract

2 cups blanched almond flour

½ cup tapioca starch

Pinch of salt

1 t baking soda

1 cup dark chocolate chips
Instructions
Preheat oven to 350°F and line a large baking sheet with parchment paper. Pour melted coconut oil into a large mixing bowl. Stir in the ground turmeric until fully dissolved. Add the coconut sugar, egg, and vanilla extract, and beat with a whisk until creamy.

Sift in the almond flour, tapioca starch, salt, and baking powder. Add dry to wet ingredients and beat until you get a thick and homogeneous cookie dough. Use a spatula to fold in the chocolate chips and let dough chill in the refrigerator for at least 10 minutes to firm up a little.

Scoop heaping tablespoons of dough and roll into small balls between the palms of your hands. Place the balls of dough on the prepared baking sheet in a single layer at least 2 inches apart.

Bake for 12 minutes until slightly golden brown on top. Allow cookies to cool fully for at least 15 minutes in the baking sheet before removing and serving.
Looking for Paleo ingredients? Here are a few we'd recommend:
Cold pressed coconut oil (Viva Naturals)
Turmeric (Simply Organic)
Vanilla extract (Frontier)
Almond flour (Hodgson Mill)
Tapioca flour (Authentic Foods)
Baking soda (Bob's Red Mill)
Semi-sweet chocolate chips (Enjoy Life)
Pair these cookies with a golden turmeric latte for even more turmeric-laced goodness!