Bacon isn't just for breakfast anymore. These decadent bacon brownies prove that bacon is just as delicious (if not better) as dessert!
These thick, chewy, decadent brownies come together in five minutes in a blender. With a few cooked slices of bacon into that luxurious brownie batter, you get a sweet, creamy brownie bursting with itty bitty crunches of salty bacon bits in each bite. I added two cooked slices of bacon to mine, but feel free to add as much as you like.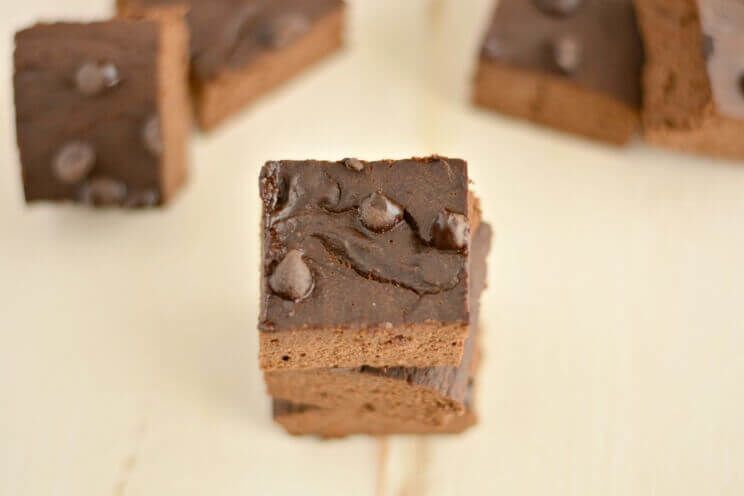 You get all the usual breakfast suspects here and more in a grain-free, gluten-free, and nut-free brownie. To make the flavors pop, I added a pinch of cayenne pepper to the batter. It gives the brownies an extra hint of spice. You could omit it if you wanted, but I like that kick of heat.
Love coconut flour recipes? Get our free coconut flour recipe cookbook here!
What I like most about these brownies is that they're not overly sweet. They have a deep, rich dark chocolate flavor. If you like yours a bit sweeter, you can add up to four tablespoons of maple syrup without affecting the batter's consistency.
You can never go wrong with a dessert that's sweet, salty and spicy. Good luck keeping them around for more than a day!
Megan Olson
Dark Chocolate Bacon Brownies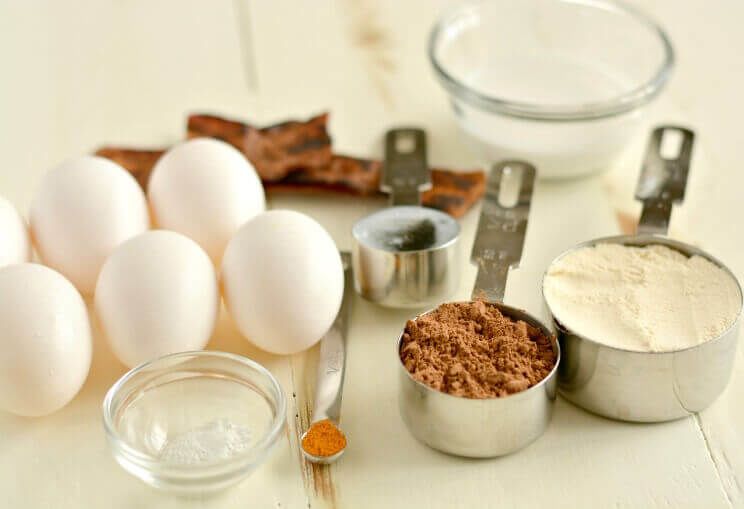 Cook Time:
12 mins
12 minutes
Prep Time:
10 mins
10 minutes
Dark Chocolate Bacon Brownies
These decadent brownies prove that bacon is just as delicious (if not better) as dessert!
Ingredients
2 slices bacon cooked

6 large eggs

¼ cup canned coconut milk

2 T coconut oil

2 T maple syrup (can add up to 4 T)

½ t vanilla extract

½ cup cocoa powder

½ cup coconut flour

½ t baking powder

¼ t cayenne pepper (optional)

2 T dark chocolate chips for topping
Instructions
Preheat oven 375ºF. Prepare a square 8x8 inch baking pan with parchment paper so that the parchment paper hangs off the sides (this is for easy removal).

Add all ingredients except chocolate chips to a food processor, layering the wet ingredients first and then the dry ingredients. Process until ingredients are fully combined.

Transfer the batter to the prepared baking pan and spread into a thin, even layer. The brownie batter may look thin, but the brownies will poof up in the oven.

Bake 10-12 minutes or until the batter has hardened and a toothpick can be removed clean from the center.

Remove from the oven and top with dark chocolate.

Cool 30 minutes in the pan prior to removing and slicing into 16 bars.


(You'll Also Love: Maple Bacon Chocolate Chip Cookies)