Bite into these chocolate chip cookies with a cake-like crumb and rich dark chocolate chips, without interfering with ketosis!
Foregoing sweets on the keto diet can be tricky, and classics like chocolate chip cookies are often the first to be missed. Fortunately, we've cracked the code for keto chocolate chip cookies that keep you in ketosis and taste rich and indulgent.
With a moist, cake-like crumb, these chocolate chip cookies are the perfect sweet snack to satisfy your sweet tooth and to calm hunger between meals. Bake a few batches and freeze the cookies to enjoy whenever a sweet craving strikes.
Curious about ketosis?
Click here to get the FREE Easy Keto Guide to learn the right way to go keto!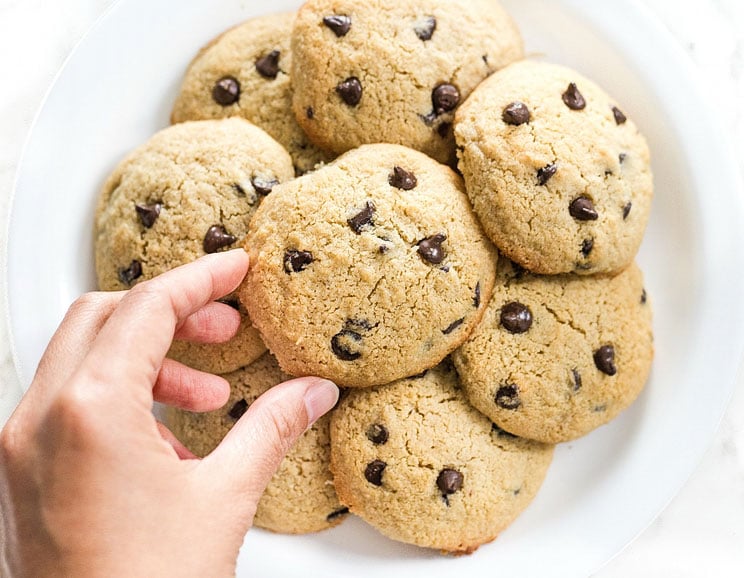 How To Choose The Right Keto Sweetener
For this cookie, you need a granulated sweetener that's low in carbs and the proper texture for creaming with coconut oil. Lakanto monk fruit sweetener is the ideal sweetener blend for the task.
This sweetener scores a zero on the glycemic index, meaning it won't send your blood glucose levels soaring. This particular blend is a one-to-one replacement for table sugar, thanks to a hint of erythritol. While we wouldn't recommend excess consumption of any sugar alcohols, moderate intake of erythritol has been shown to be safe and helps keep your body in ketosis when you want to tame a sweet craving.
You'll also want to opt for sugar and dairy-free chocolate chips, like these.
Helpful Tips To Get You Started:
Chill the dough before shaping. This recipe uses a significant amount of coconut oil, so it's important to chill the dough for at least 10 minutes before shaping it into small balls. Chilling the dough will firm it up a little and make it easier to handle.
Felicia Lim
The BEST Keto Chocolate Chip Cookies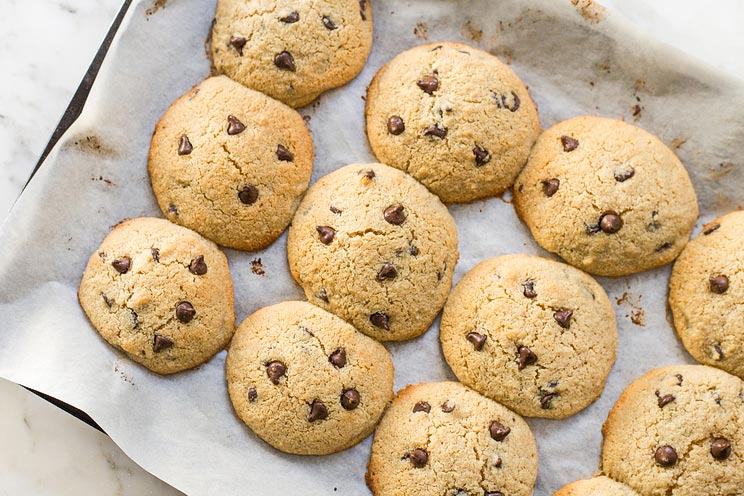 Inactive Time:
30 mins
30 minutes
Cook Time:
12 mins
12 minutes
Prep Time:
10 mins
10 minutes
Nutrition facts:
3 grams of protein
6 grams of carbohydrates
21 grams of fat
The BEST Keto Chocolate Chip Cookies
Enjoy chocolate chip cookies with a cake-like crumb and rich dark chocolate chips, without interfering with ketosis.
Tools
Large baking sheet

Parchment paper

Large mixing bowl

Sifter
Ingredients
⅔ cup granulated monk fruit sweetener

¾ cup softened coconut oil

2 eggs

2 t vanilla extract

3 cups almond flour

1 t baking powder

½ cup sugar-free dark chocolate chips
Instructions
Preheat the oven to 350°F and line a large baking sheet with parchment paper.

In a large mixing bowl, beat the monk fruit sweetener and softened coconut oil together until fluffy. Add the eggs and vanilla extract and mix until combined.

Sift almond flour and baking powder into the wet ingredients and mix until you get a homogeneous cookie dough.

Fold in the chocolate chips until they are evenly distributed. Allow the dough to chill for at least 15 minutes.

Once chilled, scoop heaping tablespoons of dough and roll the dough into small balls between your palms. Place the balls of dough in a single layer on the prepared baking sheet and flatten them slightly with your fingers, leaving at least 2 inches of space between each ball of dough.

Bake for 12 minutes, until the cookies are golden brown. Let them cool completely before removing them from the pan, about 15 minutes.
Looking for Paleo ingredients? Here are a few we'd recommend:
Monkfruit natural sugar substitute (Lakanto)
Cold pressed coconut oil (Viva Naturals)
Vanilla extract (Frontier)
Almond flour (Hodgson Mill)
Baking powder (Hain)
Keto chocolate chips (Explorado Market)
If you love keto cookies and other sweets, you need these 37 keto dessert recipes in your keto baking arsenal.