This Paleo Bacon Spinach Quiche is made with a sweet potato crust for the perfect Paleo breakfast.
Need something to bring to a big brunch? This recipe will feed lots of people and its sure to impress. With a crust of shredded sweet potato and a filling of garlic, spinach and bacon, this quiche won't make it long. It's basically a perfect Paleo breakfast pie!
Start by cooking the bacon in the oven. This will yield perfectly crispy bacon that will crumble easily when drained of excess grease. Meanwhile, use a food processor to shred one large sweet potato. You could use a box grater instead, but it'll take a little longer. Watch out for your knuckles, too!
Love Paleo breakfast recipes? Get our free breakfast recipe cookbook here!
Press the shredded sweet potato into a pie dish greased with butter, and bake 20-25 minutes to create the crust of the quiche.
Prepare the filling for the bacon spinach quiche while the sweet potato crust is in the oven. Start by sauteeing garlic, onions and spinach on the stovetop until softened. In a separate bowl, whisk 6 eggs until fluffy. Slowly incorporate the spinach mixture and crumbled bacon, and pour into the pie crust. Then bake another 30 minutes or so, or until the filling is set.
Bring your bacon spinach quiche to a brunch gathering to feed a crowd, or prep this at the beginning of a busy week and have a slice of bacon spinach quiche for breakfast every day!
Deanna Dorman
Paleo Bacon Spinach Quiche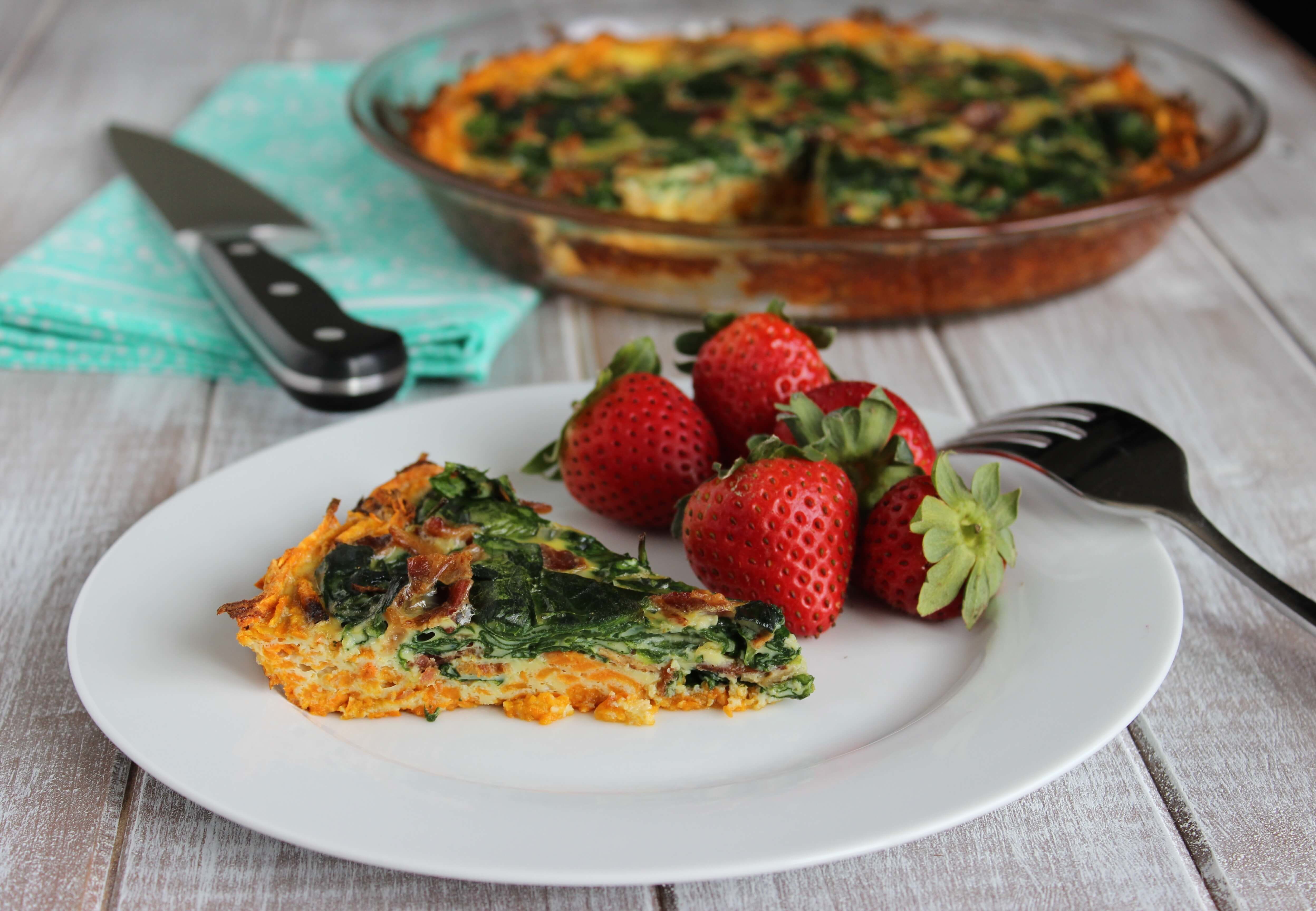 Cook Time:
1 hr 10 mins
1 hour 10 minutes
Prep Time:
5 mins
5 minutes
Paleo Bacon Spinach Quiche
This Paleo Bacon Spinach Quiche is made with a sweet potato crust for the perfect Paleo breakfast.
Ingredients
1 large sweet potato

6-8 slices bacon

1 tablespoon grass-fed butter

¼ onion, diced

1 clove garlic, minced

5 ounces fresh spinach

6 eggs

¼ cup coconut milk

salt & pepper to taste
Instructions
Preheat oven to 400 degrees. Line a baking sheet with tin foil and lightly grease a pie dish with butter.

Lay bacon on the baking sheet in a single layer. Bake for 15-20 minutes or until crispy. Lay on a paper towel to drain some of the grease and set aside. Once cool, crumble or cut into small pieces.

As the bacon is cooking, prepare the crust. Either using a food processor with a grating attachment, or using a box grater, grate the sweet potato through the large grates. Evenly press the shredded sweet potato to the sides and bottom of the pie dish.

Be sure to fill in holes as best as possible. Bake the crust for 20-25 minutes and remove from the oven. Lower oven temperature to 375 degrees.

As the crust is baking, prepare the filling. Melt butter in a large skillet over a medium heat. Cook the onions for 3-5 minutes, until translucent. Add the garlic and spinach and cook a minute or two, until the spinach wilts. Remove from heat and set aside.

In a large bowl, whisk the eggs and coconut milk until slightly bubbly. Mix in the spinach mixture and crumbled bacon. Pour mixture into the pie crust and bake for 25-30 minutes, or until the center is fully cooked.
(You'll Also Love: Bubbly Hot Bacon Spinach Frittata)