These Coconut-Crusted Avocado Fries are light, healthy, gluten-free, dairy-free, egg-free and totally scrumptious.
Now that you've tried sweet potato fries and parsnip fries, it's time to give these avocado fries a go!
This recipe is especially handy when you have an extra avocado laying around and don't feel like using it for guacamole. The coconut crust provides a delicate crunch while the avocado keeps it creamy and nutritious.
Want to snack smarter and curb cravings? Get your FREE 25 Healthy Paleo Snacks Cookbook here.
Click here to get your FREE copy of our Snack Recipes Cookbook!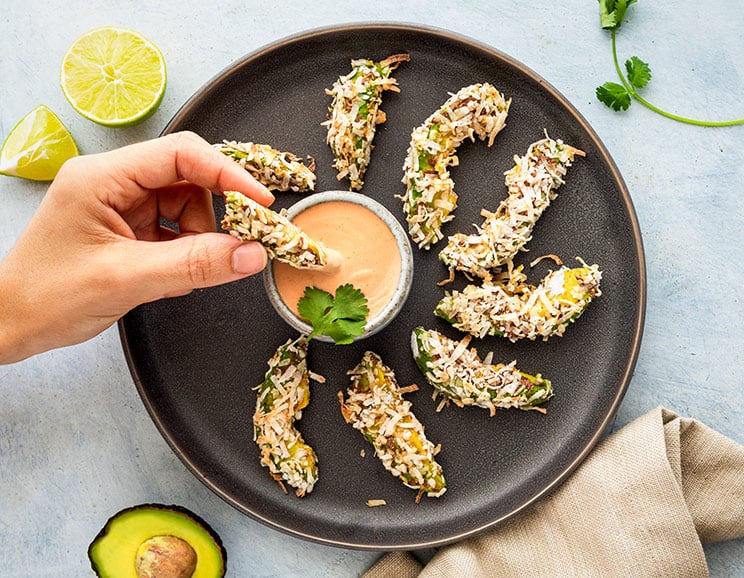 Pair it with your favorite Paleo burger or grain-free sandwich for a complete meal. Otherwise, you can enjoy them as a light snack in between. Whichever way you decide to eat them, you're sure to love them just as much as we do.
So simple, so clean. It's the perfect way to satisfy your savory-salty cravings without heading to your local fast food joint. The upside is, it's a perfectly shareable snack to enjoy with friends and family.
Rebecca Hughes
Coconut-Crusted Avocado Fries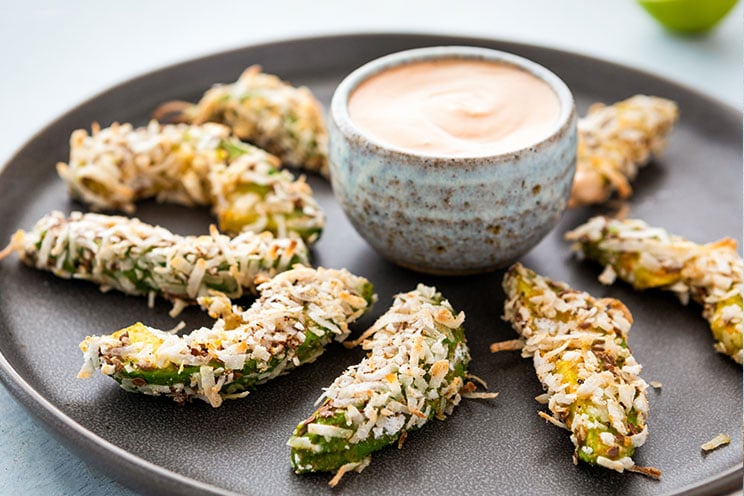 Cook Time:
10 mins
10 minutes
Prep Time:
10 mins
10 minutes
Nutrition facts:
5 grams of protein
18 grams of carbohydrates
30 grams of fat
Coconut-Crusted Avocado Fries
These Coconut-Crusted Avocado Fries are light, healthy, gluten-free, dairy-free, egg-free and totally scrumptious.
Tools
Baking Tray

Aluminum Foil
Ingredients
1 large avocado, ripe

½ t onion powder

1 t garlic powder

½ t smoked paprika

¼ t black pepper

3 T arrowroot powder

½ T flaxseed, plus 1½ T water

¾ cup unsweetened shredded coconut

½ T water
Instructions
Preheat oven to 400°F and place a rack on the middle shelf.

Line a baking tray with aluminum foil or a non-stick reusable baking sheet and set aside.

Add the flaxseed and 1½ tablespoon water to a bowl, mix together and place in a fridge.

Slice the avocado in half, and remove the pit. Cut each half into 4 or 5 slices, and set aside.

In a bowl, combine arrowroot powder and half of the seasonings (garlic, onion, smoked paprika and black pepper).

Remove the flax and water mix from the fridge.

In a second bowl, combine flax and water mixture with an extra ½ tablespoon water to make it more liquid.

In a third bowl, combine the shredded coconut and the remaining half of the seasonings.

Start with one avocado slice at a time. Dip an avocado slice in the arrowroot mix, then in the flaxseed mix, and then coat in the coconut mix.

Place the coated avocado on the lined baking tray. Repeat this process for the remaining avocado slices.

Bake in the oven for 5 to 10 minutes (this is dependent on your type of oven). Check after 5 minutes. If the coconut is very lightly golden in some places and the avocado slices don't feel 'soggy', then they are ready. If not, cook for a few extra minutes and keep checking until cooked.

Once ready, serve and enjoy!
Watch How To Make It Below!

(You'll Also Love: Bacon-Wrapped Avocado Fries
)