A fall-off-the-bone tender pork roast that marries apple and pork in tangy, sweet and savory harmony. This crock pot apple cider pork roast is sure to satisfy any hungry appetite!
Need a roast that'll impress? This apple cider braised pork roast is a gloriously fork-tender, sweet and savory hunk of meat that only looks like you've slaved over it. In fact, apart from quickly dicing veggies and putting a colorful sear on your roast, this meal cooks itself with the help of a crockpot.
Chock full of aromatic flavorings like onion, Dijon mustard, and fresh thyme, this roast is slightly sweet and tangy thanks to the blend of pure apple cider and Dijon mustard. This recipe makes more than enough to feed a large family. It also works as a Sunday dinner that'll feed one or two for the rest of the week. Feel free to buy a smaller roast and adjust your ratios if you'd like less.
Love slow cooker recipes?
Click here to get your FREE copy of our delicious Slow-Cooker Recipes!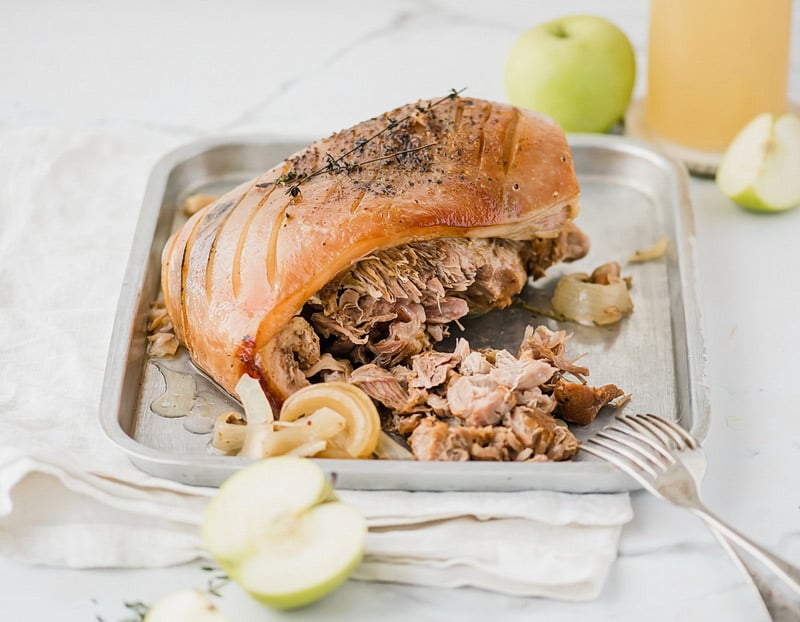 After cooking low and slow in its apple cider braise, the pork shoulder (other roast-style pork cuts work too) emerges fall-apart tender, ready to be sliced like butter and be ladled with its cooking juices and softened onions. We recommend serving it alongside some crispy garlic Brussels sprouts for a kick and mashed garlic cauliflower for a healthier riff on mashed potatoes.
Apple and pork complement each other well, as evidenced by all the variations of the two foods: pork chops and applesauce, kielbasa and sauerkraut cooked in apple cider, and more. This recipe errs on the side of tangy and savory, but you can experiment with ratios if you're looking to capture a sweeter apple flavor. Try adding sliced apples along with onions and garlic into the crockpot, or even a tiny bit of maple syrup for sweetness.
Courtney Hamilton
Crock Pot Apple Cider Pork Roast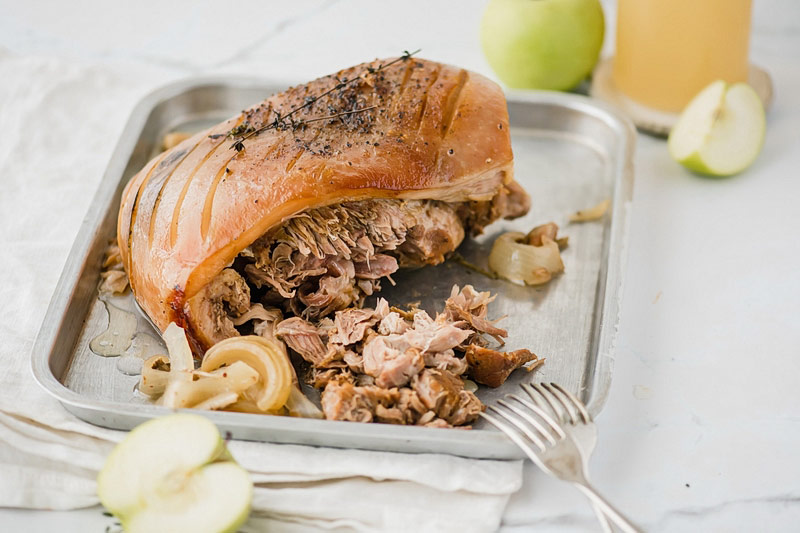 Cook Time:
5 mins
5 minutes
Prep Time:
15 mins
15 minutes
Nutrition facts:
40 grams of protein
7 grams of carbohydrates
39 grams of fat
545 calories
Crock Pot Apple Cider Pork Roast
Juicy pork shoulder with savory onions, mustard, and fresh thyme is melt-in-your-mouth delicious.
Tools
Large dutch oven

Crock Pot
Ingredients
6.5 lb pork shoulder

¼ cup olive oil

2 yellow onions

6 cloves garlic

2 T Dijon mustard

4 cups pure apple cider

5 sprigs fresh thyme

Salt and pepper to taste
Instructions
Liberally season your pork shoulder with salt and pepper on both sides. Heat olive oil in a large dutch oven.

Sear pork shoulder in dutch oven until golden brown, about 2 and a half minutes a side.

Chop onions and garlic cloves roughly. Add onions, garlic, apple cider, Dijon mustard and thyme to a crock pot. Stir to combine mixture.

Nestle in pork roast. Cook on high for 4 to 6 hours, or low for 8 to 10 hours. Flip the roast halfway through cooking time in the crockpot.
Looking for Paleo ingredients? Here's what we recommend:
Olive oil (Sky Organics)
You'll Also Love: Slow Cooker Keto Pulled Pork Chili