Firm but chewy, tart yet sweet, these apple cider coconut oil caramels are the perfect homemade treat.
To nix the processed ingredients, we're making caramels that swap in coconut sugar for corn syrup and coconut oil for dairy butter.
A blend of spices (including cinnamon, nutmeg, and allspice) is used to naturally sweeten the candies with apple pie flavoring. Although you can find many pre-made versions at your local grocery store, you can also combine a teaspoon of each spice to create your own apple pie spice blend at home. Feel free to adjust the spices to your preference, adding more or less of one spice over the other.
Love Paleo Desserts? Then you'll love our FREE Paleo Dessert Cookbook.
Click here to get your FREE copy of our delicious Dessert Recipes!
Fresh apple cider also offers a warm sweet flavor while rounding out the recipe with a bit of tartness. If you're looking for a solid cider recipe to use, try brewing this make-ahead Crock Pot version at home (it's super simple to make). You can also find a trusted brand at your local health food store for easy prep – just make sure there are no added sweeteners or preservatives.
To get started, combine all ingredients in a large pot. Stir continuously and bring to a boil, then lower the heat down to medium. Continue stirring occasionally for the next 30 minutes while maintaining the medium boil.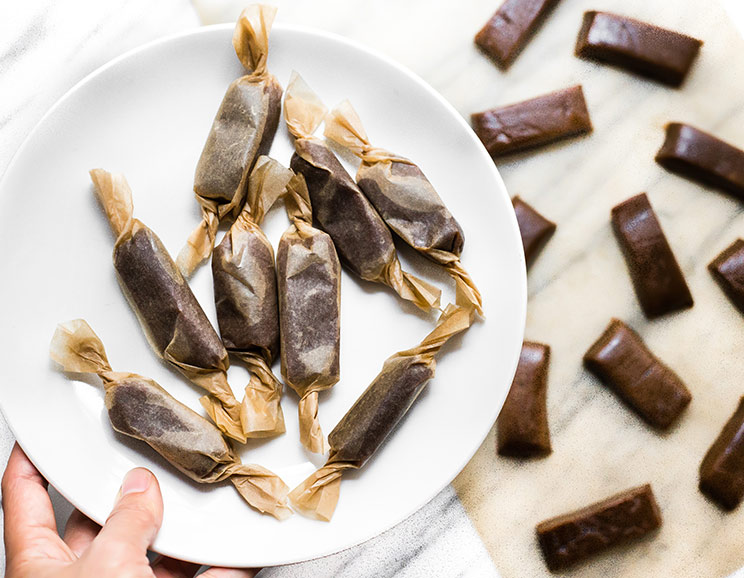 Once the caramel reaches 248°F on a candy thermometer, pour the hot caramel directly into a parchment-lined baking pan. Smooth out the top with a spatula, then let it chill in the refrigerator for at least one hour or until firm.
Once firm, remove the caramel from the baking pan and slice it into small pieces. Wrap each piece with a square of parchment paper and serve. Enjoy your homemade candy!
Tip: If you don't own a candy thermometer, test for readiness by dropping a bit of caramel onto the baking tray. If it turns solid within a minute, you're good to go. If not, continue cooking the caramel for another 5 minutes and repeat the test until caramel is ready.
Felicia Lim
Apple Cider Coconut Oil Caramels

Inactive Time:
1 hr
1 hour
Cook Time:
40 mins
40 minutes
Prep Time:
5 mins
5 minutes
Apple Cider Coconut Oil Caramels
Firm but chewy, tart yet sweet, these apple cider coconut oil caramels are the perfect homemade treat.
Tools
Baking sheet

Large pot

Parchment paper

Candy thermometer
Ingredients
3 cups coconut cream

2 ¼ cups coconut sugar

6 T coconut oil

½ cup apple cider

½ t salt

1 t apple pie spice
Instructions
Line a baking sheet with parchment paper and set aside.

In a large pot, combine the coconut cream, coconut sugar, coconut oil, apple cider, salt, and apple spice. Stir until it reaches a boil, then turn the heat down to medium.

Maintain the medium boil and stir occasionally for about 30 minutes, or until the mixture is reduced and thickened. Use a candy thermometer to ensure the temperature reaches 248°F.

Once the hot caramel is ready, pour it immediately into the prepared baking pan and smooth out the top with a spatula.

Chill the caramel in the refrigerator for at least 1 hour, or until it is solid to the touch.

When ready, remove from the pan and slice into 1 x 1 ½ - inch pieces.

Wrap the caramel pieces in parchment paper and enjoy!
Looking for Paleo ingredients? Here are a few we'd recommend:
Coconut cream (Native Forest)
Cold pressed coconut oil (Viva Naturals)

(You'll Also Love: Coconut Caramel Cashew Clusters)