Buttery, chewy Almond Bars drizzled with a healthy dose of chocolate!
These six-ingredient Almond Bars with Chia Seeds may taste like your traditional chocolate chip cookies, but they're packed with more healthy fats and antioxidants (thanks to the almond butter and chia seeds).
Chia seeds are nutritional powerhouses filled with fiber and a healthy omega-3 to omega-6 fatty acids ratio. In this recipe, these versatile seeds are the secret ingredient to keeping the bars eggless! Instead of using eggs, the recipe uses a "chia egg". Don't worry, this part is super simple. To make the chia egg, combine chia seeds with water and let them sit for 5-10 minutes. The chia seeds will soak up the water and plump up into a gel-like substance. It's a wonderful baking substitute if you're sensitive to eggs or simply want to change up your diet.
Love Paleo Desserts? Then you'll love our FREE Paleo Dessert Cookbook.
Click here to get your FREE copy of our delicious Dessert Recipes!
The recipe also calls for ground chia seeds to help thicken up the bars. If you have whole chia seeds, simply grind them in a blender or food processor before soaking them.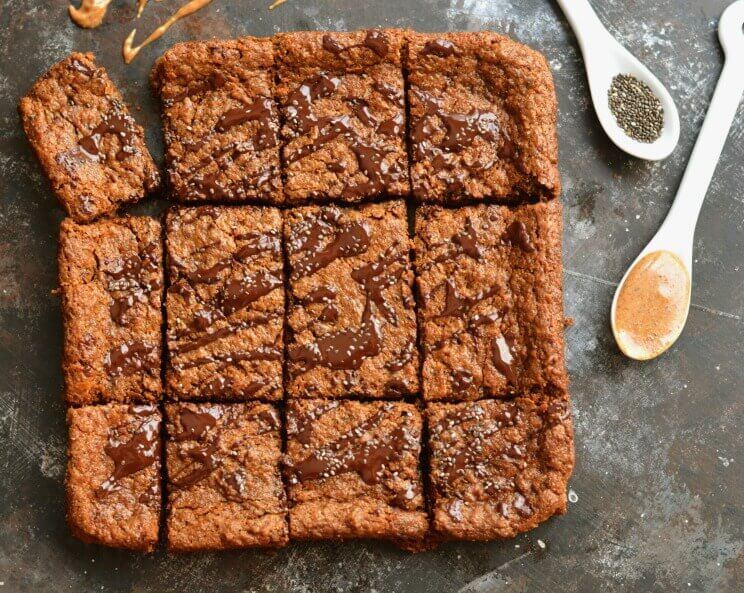 To start, combine all ingredients in a bowl, omitting the "chia egg". Then stir in the chia egg, blending it into the ingredients. Transfer the batter to a baking pan, smooth it into an even layer, let it bake for 20 minutes, and then cool in the pan for another 20 minutes.
When the bars cool, create the chocolate drizzle by melting chocolate and coconut oil over a double boiler. Drizzle that delectable goodness over the bars. Slice into 6 bars (or 12 mini bars) and devour immediately while warm.
Enjoy these Almond Chia Bars as a healthy snack or quick breakfast, taking caution not to eat them all at once. They're addictive!
Tips:
When spreading the batter, wet your spatula to help prevent it from sticking to the batter.
Ground flax works equally well in the recipe as a substitute for the chia seeds.
If you'd like to make the brownies less sweet, simply cut the coconut sugar in half.
Megan Olson
Chewy, Buttery Almond Bars with Chia Seeds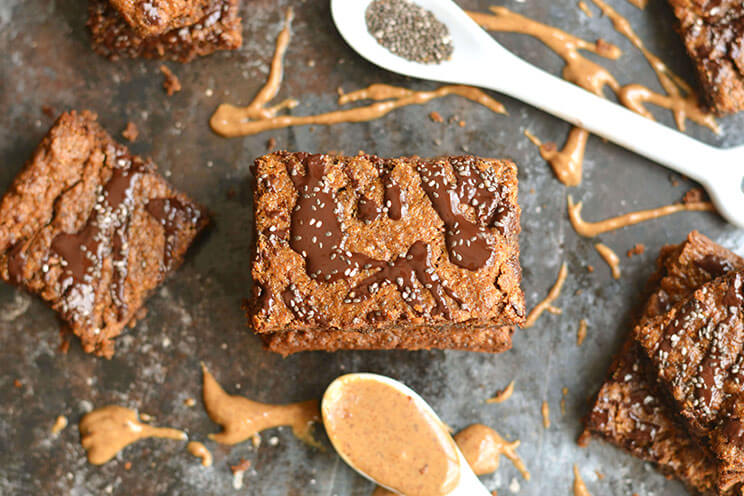 Cook Time:
20 mins
20 minutes
Prep Time:
10 mins
10 minutes
Chewy, Buttery Almond Bars with Chia Seeds
Buttery, chewy Almond Chia Bars drizzled with a healthy dose of chocolate!
Tools
8x8 baking pan

Parchment paper

Small bowl

Double boiler pot
Ingredients
For the Bars:
1 cup creamy, unsalted almond butter

½ cup coconut sugar

1 t vanilla extract

1 ½ T ground chia seeds

5 T water

1 t baking soda

¼ t sea salt
For the Drizzle:
4oz raw dark chocolate

1 t coconut oil
Instructions
For the Bars: Preheat oven to 350°F. Prepare an 8x8 baking pan with parchment paper, layering paper in a crisscross pattern. This makes removing the bars out of the pan easy!

Add chia seeds to a small bowl with water. Place in the refrigerator for 10 minutes to thicken.

In a medium bowl, mix coconut sugar, almond butter, vanilla, baking soda and salt. Next, stir in chia seed mixture.

Transfer the batter to the prepared baking pan. Spread into an even layer.

Bake for 20 minutes. Remove from the oven and cool in the pan for another 20 minutes before lifting the bars out by the sides of the parchment paper.

For the Chocolate Drizzle: Using a double boiler, melt chocolate and coconut oil until smooth. Stir to keep it from burning.

Drizzle chocolate over the bars and sprinkle extra chia seeds on top.


(You'll Also Love: Chocolate Almond Butter Brownies)