These 5-ingredient chia breakfast cookies are loaded with all kinds of goodies to fuel your morning.
In this recipe, the almond flour and creamy nut butter bring a boost of healthy fat and protein. I used almond butter for mine, but any of your favorite nut butters will work. The cookies are naturally sweetened with dates, which are high in fiber. Plus, they serve as the binder for the cookie, and make them extra gooey on the inside!
Chia seeds are the final ingredient that brings everything together and creates the "oatmeal" texture. High in fiber and Omega-3 fatty acids to help fight inflammation, they make a perfect addition to healthy baking!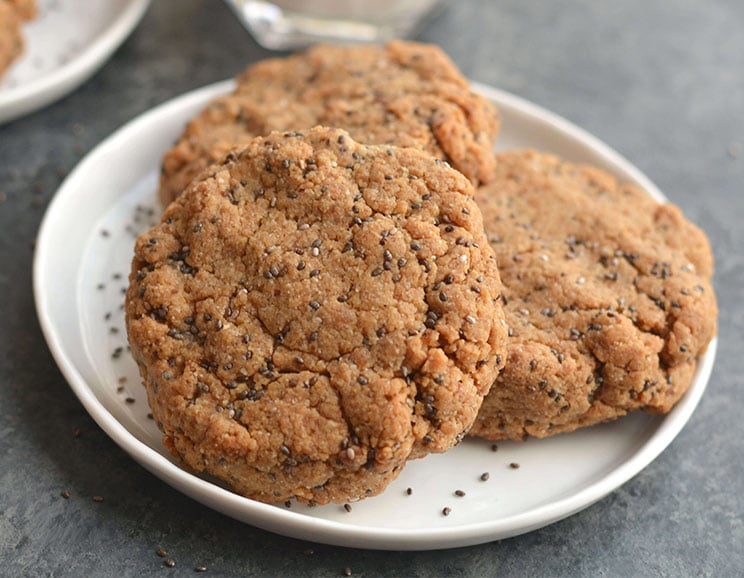 Pro tip: Use your hands to form the batter into cookies, and place them on the sheet pan. The cookies will not rise, so shape them the way you want them to turn out.
Baking the cookies takes just 10 minutes in the oven. They need to rest briefly on the pan to harden, so do your best to wait until they cool a little.
Love Paleo Breakfast Recipes?
Get our FREE Breakfast Recipe Cookbook here!
You can also jazz up these breakfast cookies with vanilla extract, dairy-free chocolate chips, cacao nibs, shredded coconut, or even blueberries. Keep these cookies fresh in the freezer for a quick, on-the-go breakfast!
Megan Olson
Oatless Chia Breakfast Cookies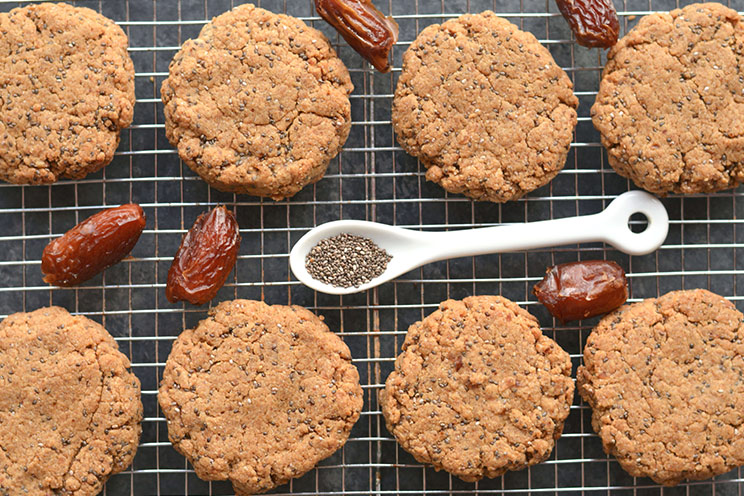 Cook Time:
10 mins
10 minutes
Prep Time:
10 mins
10 minutes
Oatless Chia Breakfast Cookies
These 5-ingredient chia cookies are loaded with all kinds of goodies to fuel your morning.
Tools
Baking Sheet

Parchment Paper

Food Processor
Ingredients
1 cup dates, soaked in water for 20 minutes and drained

¾ cup creamy, unsalted almond butter

1 cup almond flour

2 T chia seeds

½ t baking soda

¼ t sea salt
Instructions
Preheat the oven to 350°F. Prepare the baking sheet with the parchment paper.

Place the dates and almond butter in a food processor and blend until the dates are broken down.

Place the remaining ingredients in the food processor and process until fully blended. The batter should be slightly wet and sticky. If the mixture is too dry, add 1-3 teaspoons of coconut oil.

Use your hands to form and shape the batter into 9 cookies, and place them on the prepared baking sheet.

Bake for 10 minutes. Remove from the oven and keep the cookies on the baking sheet for 5 minutes before transferring to a wire rack to cool.
Looking for Paleo ingredients? Here are a few we'd recommend:
Almond butter (Barney)
Almond flour (Bob's Red Mill)
Chia seeds (Viva Naturals)
(You'll Also Love: Chewy, Buttery Almond Bars with Chia Seeds)
Eat cinnamon apple-crusted doughnuts… zesty lemon scones… and even breakfast chili all while staying healthy with the Paleo diet!
Enjoy 101 delicious Paleo
Breakfast recipes that melt fat, fight inflammation, and keep
you healthy
Enjoy 101 delicious Paleo
Breakfast recipes that melt
fat, fight inflammation, and
keep you healthy