Juicy, tender skirt steak drizzled with the best, freshest chimichurri sauce, ever.
Nothing beats the flavor of a great cut of meat fresh off the grill and served with a delectable sauce. To take your grilling skills to the next level, we're going to show you a few tricks to grill your steak to perfection and a recipe for mouthwatering chimichurri sauce.
Skirt steak is a versatile cut of beef that's affordable and great for grilling, searing or marinating. Since it's a lean, fibrous cut, skirt steak is best cooked to medium-rare and thinly sliced. Whether you sear your steak on a hot pan or grill it, the key is to use high heat and a low cook time, producing a flavorful char on the outside while leaving the center tender, juicy and slightly pink.
Love slow cooker recipes?
Click here to get your FREE copy of our delicious Slow-Cooker Recipes!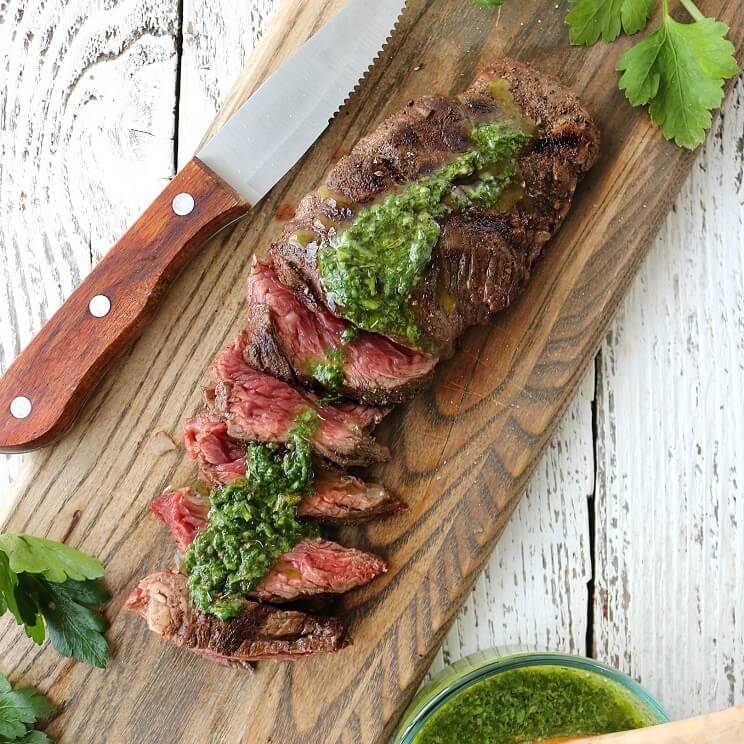 For this recipe, chimichurri sauce is ideal and also goes great with grilled chicken, fish, and lamb. This vinegar-based sauce packs fresh and dried herbs with garlic, creating an irresistible savory aroma. You can also use this chimichurri recipe as marinade as well. Just throw your raw meat in a container along with the sauce and let it marinate for 1-2 hours tops. Note: Marinating meat over 2 hours in vinegar-based marinades will start to toughen the texture.
Start by rubbing cumin, sea salt and black pepper onto the steak. Heat your grill on high heat and once it's smoking, place the steak on top and cook it for 4 minutes on each side. This will produce a medium-rare steak. If you have a thinner cut of steak, reduce the cook time to 2-3 minutes on each side. If medium-rare isn't your thing, leave the steak on the grill for an extra 2 minutes for medium doneness.
Now for the sauce. Chimichurri is one of the easiest sauces to make and packs a serious amount of flavor. Combine the chimichurri ingredients in a food processor and pulse until it reaches your desired texture. I like a chimichurri that resembles something similar to pesto, with the leaves of the herbs still visible. Slice the steak and drizzle a few tablespoons of chimichurri sauce over the top. All that's left to do is pour a glass of red wine and dig in!
Tip: Before slicing the meat, let it rest for at least 5 minutes. This allows the juices to redistribute throughout the steak, preventing the juices from pouring out on the cutting board and losing flavor.
Jennafer Ashley
How to Make Juicy Skirt Steak with Chimichurri Sauce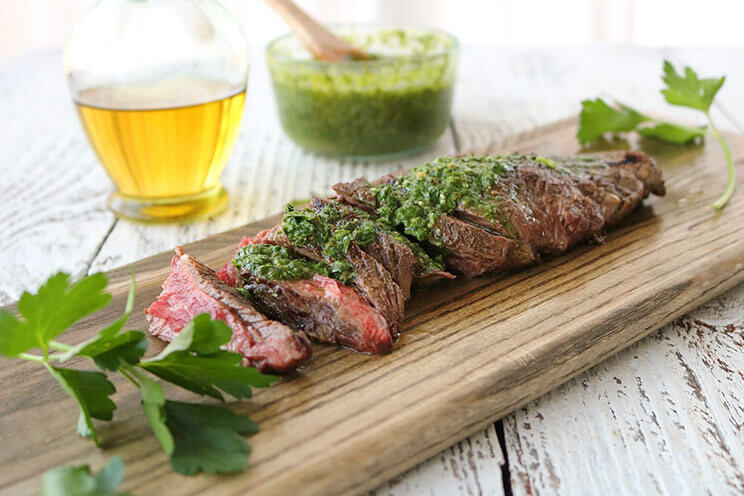 Cook Time:
8 mins
8 minutes
Prep Time:
10 mins
10 minutes
How to Make Juicy Skirt Steak with Chimichurri Sauce
Juicy, tender skirt steak drizzled with the best, freshest chimichurri sauce, ever.
Tools
Small bowl

Food processor
Ingredients
For the Steak:
1 lb grass-fed skirt steak

1/2 t ground cumin

1/4 t sea salt

1/8 t black pepper
For the Chimichurri Sauce:
1/2 cup extra virgin olive oil

1/4 cup red wine vinegar

3 cloves of garlic, minced

1 cup cilantro leaves, loosely packed

1 cup parsley leaves, loosely packed

1 T dried oregano

1/4 t sea salt
Instructions
Heat grill over high heat. Whisk together cumin, sea salt and black pepper in a small bowl and sprinkle over steak. Use clean hands to rub seasonings into steak.

Once grill is smoking, place steak on top and grill 4 minutes; flip and grill an additional 4 minutes. Allow steak to rest on a cutting board for 5 minutes.

While steak rests, combine ingredients for chimichurri sauce in a food processor. Pulse until well combined.

Slice steak and spoon chimichurri sauce over the top.
You'll Also Love: 8 Freezable Steak Marinades

Enjoy amazing walnut muffins… savory omelets… banana cookies… and even chocolate! Eat your favorite foods and stay fit and healthy at the same time.
Get started on your Paleo
weight-loss journey today
with our beginner-friendly PaleoHacks Cookbook
Get started on your
Paleo weight-loss
journey today with
our beginner-friendly
PaleoHacks Cookbook