I can't think of a single person who doesn't enjoy brownies. These rich and decadent Chocolate Almond Butter Brownies are sure to please a crowd!
Though I should preface by saying that brownies were NOT my favorite growing up—they were my brother's favorite, but I always preferred chocolate chip cookies or ice cream. I was a weird kid. Eventually I matured and came around to realize that brownies are DELICIOUS and should be eaten with a large glass of almond or coconut milk. And almond butter.
As you may or may not know, almond butter is all the rage these days. While it's delicious on its own, like most things, it's even better when paired with chocolate. These brownies use almond butter as the base rather than flour, and then are drizzled with even more almond butter on top.
Love Paleo Desserts? Then you'll love our FREE Paleo Dessert Cookbook. Click here to get it!
For added chocolate and melt-in-your-mouth goodness, I recommend stirring in the chocolate chips. Because…who wouldn't want extra chocolate in their chocolate brownies?
Erin Druga
Chocolate Almond Butter Brownies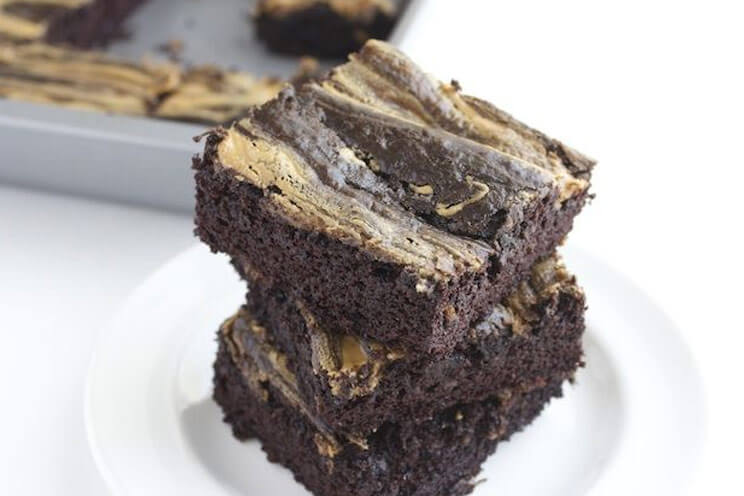 Cook Time:
15 mins
15 minutes
Prep Time:
7 mins
7 minutes
Chocolate Almond Butter Brownies
Ingredients
1 cup creamy almond butter

½ cup coconut milk

3 eggs

2 tbsp coconut oil

3 tbsp organic maple syrup

1 tsp vanilla

½ cup unsweetened cocoa powder

2 tsp baking soda

Pinch of salt

2 tbsp creamy almond butter for drizzle

Optional: 2 tbsp dairy free chocolate chips
Directions:
Preheat oven to 375°.
In a large bowl, combine almond butter, eggs, milk, coconut oil, syrup, and vanilla; stir with an electric mixer.
Add cocoa, baking soda and salt and mix. Optional: hand stir in dairy free chocolate chips.
Spray an 8×8 dish with nonstick spray and pour batter evenly into pan.
Melt 2 tbsp almond butter (either in microwave or over stovetop) and drizzle overtop of chocolate batter.
Place pan in oven and bake for approximately 15 minutes or until brownies are cooked through.
Remove from oven and allow 10 minutes or so for brownies to cool.
Cut, serve and enjoy!
[author_bio name="yes" avatar="yes"]