Make a batch of these sticky-sweet almond butter bars to satisfy your chocolate craving!
These almond butter bars are better than any candy bar and are made without any refined sugars, gluten, or dairy. Best of all, they're completely no-bake. Just set them in the freezer and enjoy!
Start With The Cookie Crust
To make these almond butter bars vegan-friendly, we ditch the eggs and use a combination of almond flour, dates, and coconut oil instead. This creates a light and chewy texture with a caramel-like sweetness.
Love Almond Flour Recipes? Then you'll love our FREE Almond Flour Recipes.
Click here to get your FREE copy of our delicious Almond Flour Recipes!
As an added bonus, dates come with powerful anti-inflammatory benefits and a plethora of fiber-rich nutrients. Try adding them to other treats like brownies, ice cream, or puddings to boost your gut health.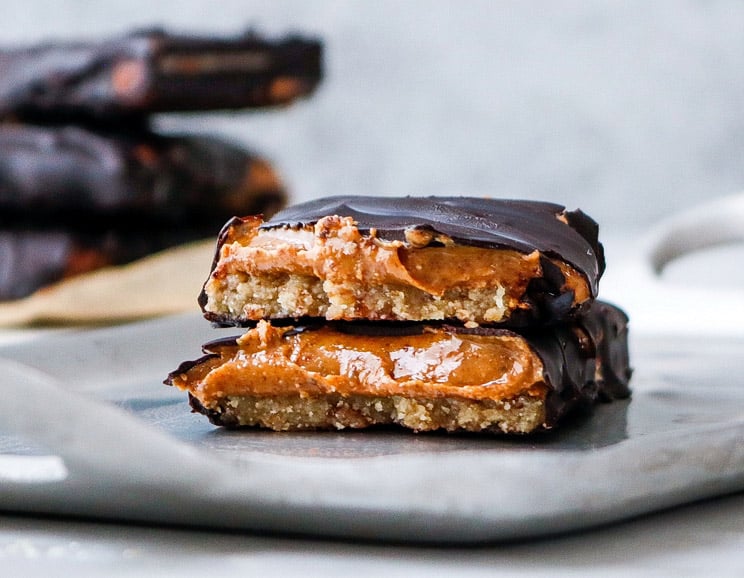 Fill It With Almond Butter
Almond butter and maple syrup come together to make up the second layer of this treat. For an extra creamy and rich filling, we suggest going with almond butter that has a little extra oil – it'll also make it easier to spread.
After layering the sweetened almond butter on top of the crust, you'll need to freeze it for at least three hours or overnight. This will set the bars into place and prevent the almond butter from melting when you add the warmed chocolate on top.
Finish It With Chocolate
After the almond butter is done cooling, we coat it in rich dark chocolate. This chocolate coating is made with four simple ingredients (including raw cacao) and packs in plenty of mood-boosting antioxidants.
Helpful Tips To Get Started:
Keep the bars cool. You can store leftovers in your fridge or freeze them up to 2 months. Just make sure to layer parchment paper between the bars to prevent them from sticking.
Serve them like a pro. To create clean slices, rinse a knife with warm water before cutting into the bars.
Jennafer Ashley
No-Bake Almond Butter Bars with Dark Chocolate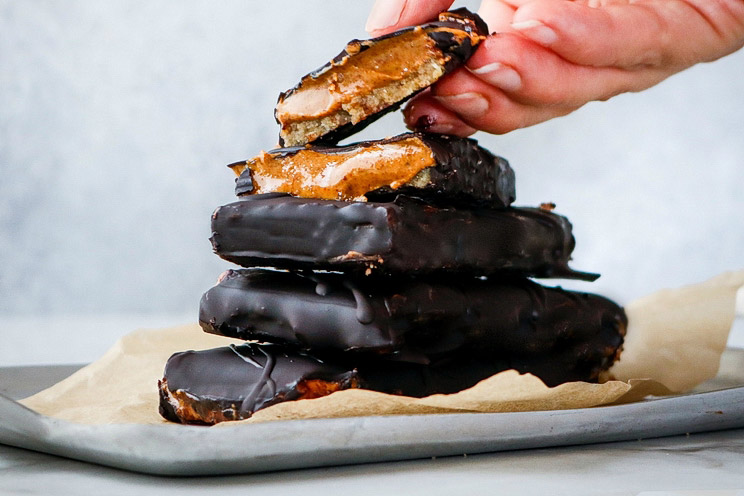 Inactive Time:
4 hrs 15 mins
4 hours 15 minutes
Cook Time:
10 mins
10 minutes
Prep Time:
15 mins
15 minutes
Nutrition facts:
11 grams of protein
39 grams of carbohydrates
53 grams of fat
No-Bake Almond Butter Bars with Dark Chocolate
Make a batch of these sticky-sweet almond butter bars to satisfy your chocolate craving.
Tools
Food processor

8-by-8-inch square baking pan

Parchment paper

Medium mixing bowl

Double boiler
Ingredients
For the Crust:
1 cup dates

1½ cups blanched almond flour

2 T melted coconut oil
For the Almond Butter Filling:
1½ cups creamy almond butter

2 T pure maple syrup
For the Chocolate:
1 cup cacao butter

1 T coconut oil

⅔ cup raw cacao powder

¼ cup pure maple syrup
Instructions
To Make the Crust: Soak the dates in 1 cup of hot water to soften for 5 minutes. Drain, then pulse in a food processor for 5 seconds.

When the dates are finely crumbled, add the almond flour and coconut oil to the food processor. Blend for about 10 seconds or until it is moist and combined.

Transfer and press the mixture into the bottom of the baking pan, then set aside.

To Make the Almond Butter Filling: Stir together almond butter and maple syrup in a mixing bowl. Pour the almond butter over the crust layer and spread evenly with a spatula.

Freeze for 1 hour, then remove and slice into 10 bars. Return them to the freezer for 3 hours, or until the almond butter is set.

To Make the Chocolate: Heat the cacao butter and coconut oil over medium heat in a double boiler. Simmer for 10 minutes, or until it's completely melted.

Stir in the cacao powder and maple syrup, then remove and set aside to cool for 5 minutes.

Dip each of the chilled bars into the chocolate and place onto a tray lined with parchment paper.

Drizzle the tops of the bars with the remaining chocolate and return them back to the freezer for 15 minutes. Serve and enjoy!
Looking for Paleo ingredients? Here are a few we'd recommend:
Almond flour (Anthony's)
Cold pressed coconut oil (Viva Naturals)
Almond butter (Barney)
Cacao butter (Terrasoul Superfoods)
Raw cacao powder (Healthworks)
If you have a sweet tooth that just won't quit, you'll love our Paleo Sweets cookbook! You'll get 70 delicious and nutritious desserts that you'd swear came from your local bakery. Bake your family mouth-watering brownies, whip up decadent cakes and churn out creamy dairy-free ice creams. Get your FREE copy HERE (just pay for shipping)!