This Paleo-Style Zuppa Toscana houses pasture-raised pork, parsnips and Italian herbs in a creamy, cozy broth.
In this Paleo version of Zuppa Toscana, low carb parsnips are swapped in for potatoes, and coconut cream steps in to keep the soup creamy and dairy-free. Plus, you'll have this comforting meal ready in under an hour!
Parsnips are a terrific Paleo-friendly substitute for white potatoes. They're also high in fiber and are full of manganese and potassium. We'll also be adding ground pork seasoned with fennel seeds, basil and garlic powder to create the warm, meaty flavor that runs throughout the soup. Finally, we finish the Zuppa Toscana with vitamin K-rich wilted kale for added antioxidants and a nice leafy texture.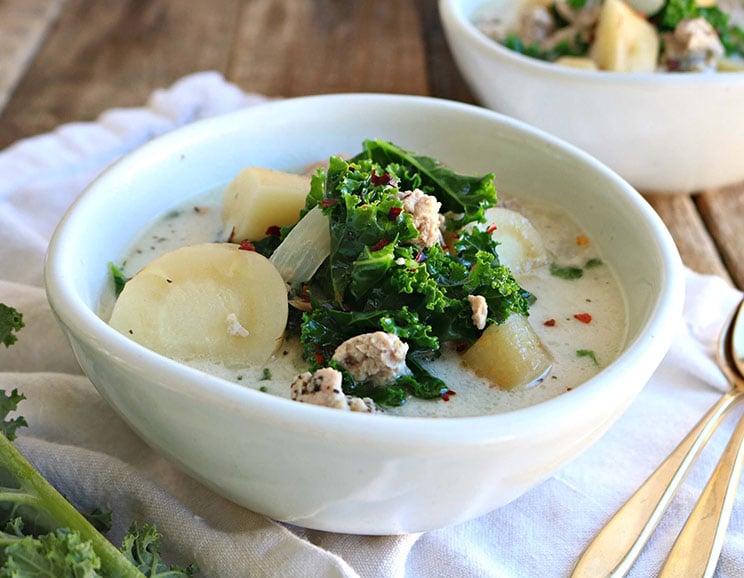 Start by browning the pork and softening the onions together in a large pot with seasonings. Add the chopped parsnips, chicken bone broth and the cream portion of a can of coconut milk. Tip: Keep the coconut water to use in smoothies! Bring the soup to a simmer and cook uncovered for 25 minutes. Stir in the kale and cook for 5 minutes more, until just wilted. Finish with chili flakes for a bit of heat.
Trying to figure out exactly what to eat on Paleo?
Look no further than our FREE 21 Day Paleo Meal Plan
Jennafer Ashley
Paleo Zuppa Toscana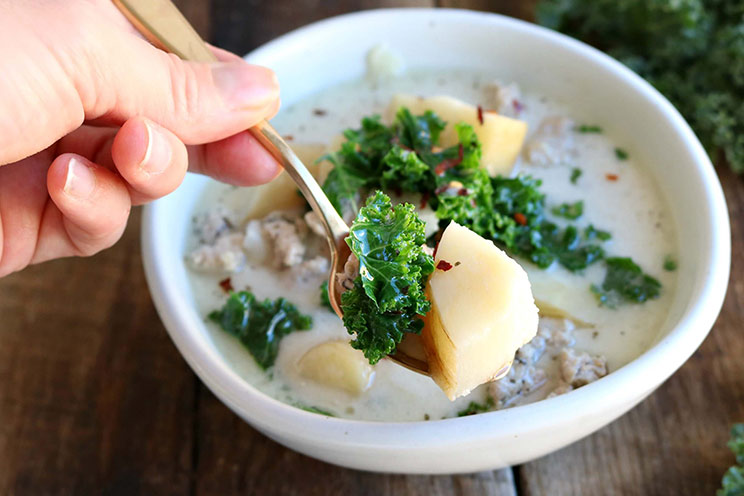 Cook Time:
40 mins
40 minutes
Prep Time:
5 mins
5 minutes
Paleo Zuppa Toscana
This Paleo-Style Zuppa Toscana houses pasture-raised pork, parsnips and Italian herbs in a creamy, cozy bone broth.
Ingredients
1 lb ground pasture-raised pork sausage

1/2 cup white onion, chopped

1 t fennel seed

1 t dried basil

1/4 t garlic powder

2 parsnips, chopped

1 can full fat coconut milk, cream portion only

1/2 t sea salt

4 cups chicken bone broth

2 cup kale, chopped

½ t chili flakes (optional)
Instructions
In a large pot over medium heat, cook the pork and onion, using a spatula to break the pork into pieces. Stir in the fennel, dried basil and garlic powder. Cook for 10 minutes, until the pork browns and the onions have softened.

Add the parsnips, coconut cream, sea salt and chicken bone broth. Bring to a boil, then reduce the heat and simmer for 25 minutes.

Add the kale and cook for 5 minutes more. Add chili flakes to taste, and serve hot!
Tip: You can also use pasture-raised Italian sausage in a pinch, just remove the sausage from the casing and break it up into small pieces.
Looking for Paleo ingredients? Here's what we recommend:
Coconut milk (Native Forest)

For more comforting Paleo soups, try these recipes…
Lose weight, fight inflammation, and soothe your digestion with delicious meals like juicy skirt steak with cucumber & radish salad, succulent pulled pork, and more!
FREE Cookbook:
80 Gourmet Paleo Recipes from
a Professional Chef trained at Le
Cordon Bleu in Paris
FREE Cookbook:
80 Gourmet Paleo Recipes
from a Professional Chef
trained at Le Cordon Bleu
in Paris