This Paleo chicken pot pie is the ultimate comfort food, packed with protein and veggies in every bite.
This Paleo meal has everything you love about chicken pot pie in a creamy, rich bowl that's a cinch to make! Coconut milk adds thickness to the soup and keeps the chicken tender. For the veggies, I chopped up a hearty mix of celery, carrots, mushroom, asparagus and yellow bell pepper.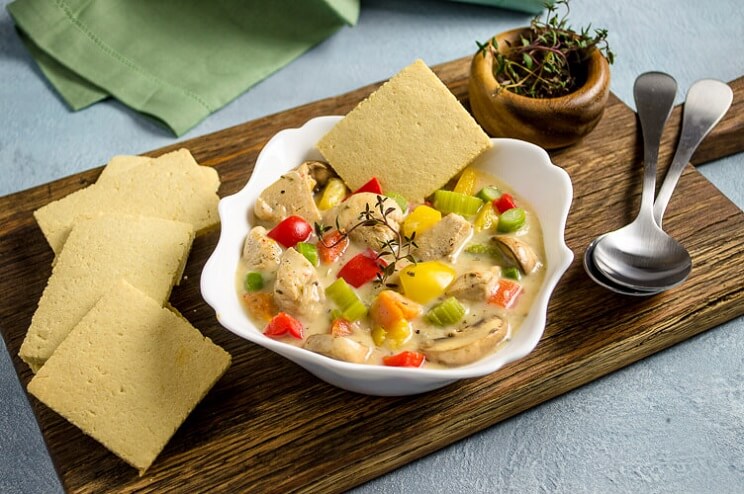 To pair with the soup, I made "pie crust crackers" that are flaky and buttery. And yes, they're grain-free and completely Paleo! To make them, start by mixing the flours together, and then add the butter, egg and water. Once the dough comes together, leave it in the fridge to chill for about 30 minutes. After that, just roll it out, cut it into squares and pop it into the oven to bake. In under 20 minutes you'll have crackers that taste like the best part of the pie (the crust!) and are perfect for dipping into this cozy chicken soup.
Love slow cooker recipes?
Click here to get your FREE copy of our delicious Slow-Cooker Recipes!
Dina Hassan
Chicken Pot Pie Soup with Pie Crust Crackers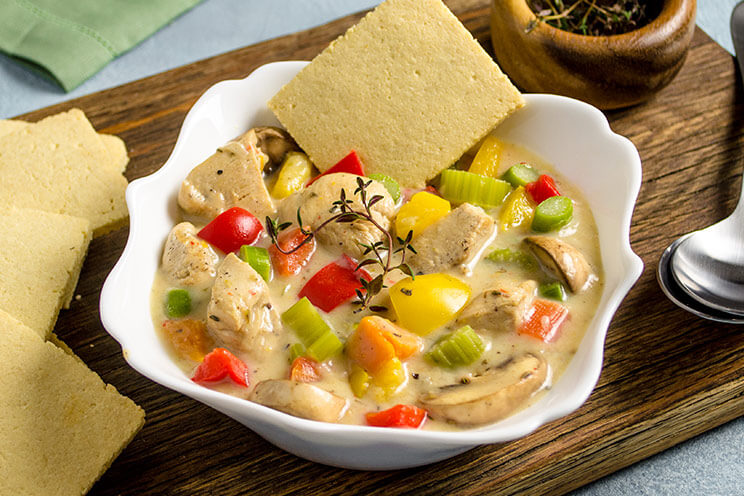 Cook Time:
60 mins
60 minutes
Prep Time:
40 mins
40 minutes
Chicken Pot Pie Soup with Pie Crust Crackers
This Paleo chicken pot pie is the ultimate comfort food, packed with protein and veggies in every bite.
Tools
Baking tray

Parchment paper

2 large bowls

Small bowl

Plastic wrap

Knife

Medium stockpot

Large stockpot
Ingredients
For the Pie Crust Crackers:
1 cup almond flour

1 cup tapioca flour

½ cup coconut flour

1 egg

¼ cup grass-fed butter, cold and cubed

¼ cup cold water
For the Chicken Pot Pie Soup:
1 lb chicken breast fillet

2 T extra virgin olive oil

1 medium onion, diced

2 celery sticks, thinly sliced

1 medium carrot, cubed

2 medium sweet potatoes, cubed

1 cup chopped asparagus

3 garlic cloves, minced

3 oz mushrooms, sliced

½ cup yellow bell pepper, chopped

½ cup tapioca flour

3 cups chicken stock

1 can coconut milk

½ t dried basil

½ t dried oregano

½ t dried thyme

Salt and pepper, to taste
Instructions
For the Pie Crust Crackers: Preheat oven to 350oF and line a baking tray with parchment paper.

Begin by preparing the pie crust. In a large bowl, mix together the almond flour, tapioca flour, and coconut flour. Add the butter cubes and rub it with the flour mix until the mixture resembles fine crumbs with a few larger pieces.

In a small bowl, whisk egg and water together. Pour over dry ingredients. Mix until the ingredients are combined and form a ball. Lightly press the ball into a disc, wrap it in plastic and refrigerate for 30 minutes.

Remove pie dough from the fridge and roll over the prepared baking tray, until ¼-inch thick. Using a sharp knife, cut the rolled dough into uniform squares (this will make it easier to break the crust into pieces when baked). Bake for 20 minutes, or until golden yellow. When done, remove from oven and set aside to cool.

For the Chicken Pot Pie Soup: Cube the chicken breasts and season them with salt and pepper. Fill a medium stockpot halfway with water (or enough to cover the chicken) and bring to boil; add chicken cubes and cook for 20 minutes.

In a large stockpot over medium high heat, heat extra virgin olive oil until it is shimmering. Add onion, celery, carrot, potatoes and asparagus. Saute for 5 minutes, stirring frequently, until onion is translucent. Add in garlic, mushrooms and bell pepper, and saute for another 2 minutes, until garlic is fragrant.

In a large bowl, mix the chicken stock and coconut milk, then add tapioca flour and stir until dissolved. Pour stock mix into the pot containing vegetables; add the chicken and dried herbs, and then season with salt and pepper.

Bring the mixture to a gentle simmer, stirring frequently. Reduce the heat to medium-low and continue simmering for 15 minutes, until the vegetables are soft and cooked through. Remove from the heat and ladle into serving bowls.

Break crackers into pieces and serve on top of the soup.
Tip: You can use the recipe for the "Pie Crust Crackers" for actual pies and sweet tarts too!

You'll Also Love: The Best Paleo Chicken Pot Pie