Craving something light and sweet? This Paleo custard is the perfect healthy option.
Made with thick coconut milk, eggs and just a little raw honey to sweeten it up, this custard makes a great dessert, snack, or even a nice protein-forward breakfast!
I love to cook, but I don't want to be in the kitchen all day. This recipe uses only 5 ingredients, and it's super easy to make. Total prep time is about 10 minutes, and your family will love it. My husband is obsessed with this dessert. You can serve it warm or refrigerate it for a cold version. I personally think it's better chilled. Give it a try and see what you think!
Jen Broyles
Decadent Paleo Custard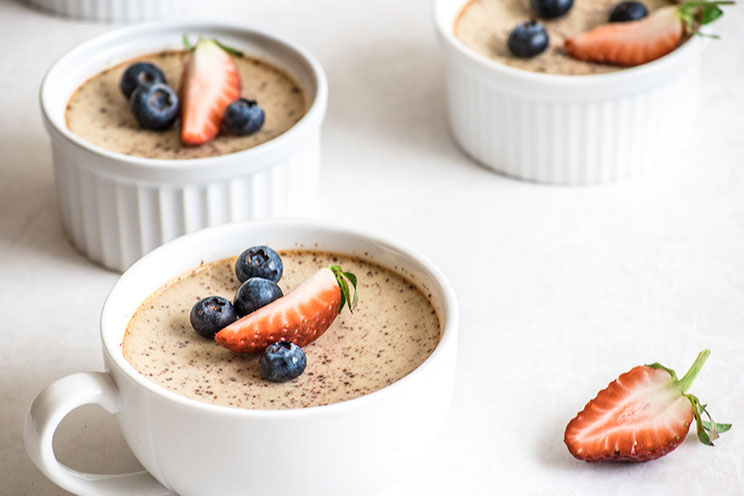 Cook Time:
30 mins
30 minutes
Prep Time:
10 mins
10 minutes
Nutrition facts:
7 grams of protein
11 grams of carbohydrates
23 grams of fat
Decadent Paleo Custard
Craving something light and sweet? This Paleo custard is the perfect healthy option.
Ingredients
1 can 13.5 oz full-fat coconut milk

4 pasture-raised eggs

2 T raw honey

2 t vanilla extract

1-2 t cinnamon

2 cups water
Instructions
Preheat oven to 325°F

In a medium pot, boil 2 cups water.

In another medium pot, heat coconut milk and honey on medium heat.

In a medium bowl, whisk eggs, vanilla, and cinnamon.

Turn heat down to medium-low on water.

Turn heat down to low on coconut milk.

Once milk is heated, pour into bowl with egg mixture. Mix together.

Place 4-6 ramekins in baking dish.

Fill baking dish halfway with the hot water.

Pour milk and egg mixture evenly into the ramekins. Bake for 20-30 minutes.

Refrigerate for 2 hours or eat immediately for a warm version.
Looking for Paleo ingredients? Here are a few we'd recommend:
Coconut milk (Native Forest)
Raw honey (Bee Farms)
Vanilla extract (Frontier)
Ground cinnamon (Simply Organic)
Love Paleo Desserts? Then you'll love our FREE Paleo Dessert Cookbook.
Click here to get your FREE copy of our delicious Dessert Recipes!
(You'll Also Love: Easy Pumpkin Custard in a Jar
)