Cook up these low-carb, garlic-flecked mushroom and zucchini noodles when you need dinner on the table, stat!
Warm weather calls for light dinners with bright, refreshing ingredients. Zucchini noodles fit the bill because they're simple to cook and easy on the digestive system.
This Asian-inspired dish only calls for seven ingredients and takes less than 30 minutes to make. It's the perfect dinner for two and can be served with your favorite proteins like steak or chicken.
Love pasta? Grab your spiralizer and crank out these amazing veggie noodle recipes!
Click Here to Get Your FREE recipe book of 20 Easy Ways to Use Your Spiralizer.
How To Cook Up Paleo-friendly, Asian Flavors
Capturing Asian flavors on the Paleo diet can be tricky, especially with many Asian staples like soy sauce off limits. Luckily, with a few healthy substitutions, you'll be well on your way to recreating your favorite meals with a Paleo twist.
Here, we use coconut aminos in lieu of soy sauce, which delivers a similar umami flavor profile without the soy. A sprinkle of red chili flakes, fresh garlic, and chopped green scallions round out the flavors, while the mushrooms add their own savory layer.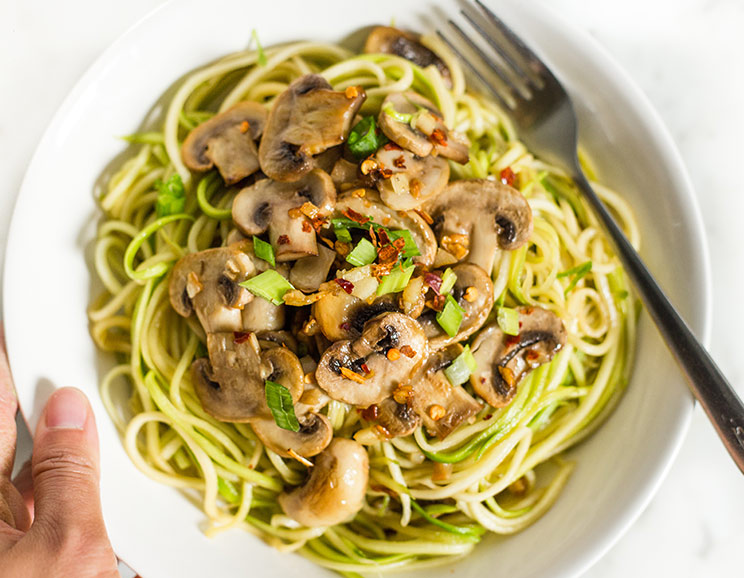 Some Tips To Get You Started:
Tone the heat down, or crank it up. If you don't like heat, simply leave out the red pepper flakes. Add more if you prefer the opposite.
Make use of your vegetable peeler. A hand-held julienne peeler works best for these thin strands of zucchini, but you can use a normal peeler for thicker ribbons or a spiralizer for curly noodles.
Pack in more Asian-inspired flavor. You can also add in a bit of sesame oil and a sprinkle of sesame seeds for savory, nutty notes.
Experiment with different mushrooms. Go ahead and sub out button mushrooms for your favorite variety. Shiitakes would add a distinct flavor, while white mushrooms lend a more subtle, mild note to your meal.
Be careful not to overcook your zoodles. If you want perfect, al dente zucchini noodles, take care not to overcook them. A couple minutes over medium-high heat is all it takes.
Felicia Lim
One-Pan Zucchini Noodles with Garlic Mushrooms

Cook Time:
15 mins
15 minutes
Prep Time:
10 mins
10 minutes
Nutrition facts:
6 grams of protein
24 grams of carbohydrates
28 grams of fat
One-Pan Zucchini Noodles with Garlic Mushrooms
Cook up these low-carb, garlic-flecked mushroom and zucchini noodles when you need dinner on the table, stat.
Tools
Large skillet

Julienne peeler
Ingredients
4 T olive oil, divided

2 T minced garlic

2 cups sliced button mushrooms

4 cups julienned zucchini noodles

3 T coconut aminos

1 T red pepper flakes

¼ cup finely chopped scallions
Instructions
Heat 2 tablespoons of olive oil in a large skillet over medium-low heat and sauté the garlic for approximately 2 minutes. You'll want them to be fragrant and golden brown in color.

Place the sliced mushrooms in a single layer into the skillet with the garlic. Cook for 10 minutes, flipping halfway through, and set aside.

In the same skillet, heat the remaining olive oil and sauté the zucchini noodles until just tender, approximately 2 minutes.

Pour the coconut aminos over the zucchini noodles and toss to coat.

Return the cooked garlic and mushrooms back to the skillet and toss with the zoodles.

Garnish with red pepper flakes and chopped scallions before serving.
Looking for Paleo ingredients? Here's what we recommend:
Olive oil (Sky Organics)

(You'll Also Love: Zucchini Noodles with Coconut Lime Shrimp)