The freezer aisle boasts fast and convenient meals that can be prepped in less than half the time it takes to make things from scratch. But what's actually healthy from there?
If you walk down the freezer aisle of any grocery store, you're going to see everything ranging from frozen vegetables and fruits to alluring TV dinners filled with artificial ingredients.
In the world of healthy eating, rarely is the fast option the healthiest one. However, certain types of frozen food can still retain their nutrients and be a part of a healthy diet. And while fresh food is always best, frozen food doesn't mean worse as long as you're choosing wisely.
Do you struggle with bloating, gas, constipation, or other digestive issues?
Get our FREE Guide to Healing Your Gut Naturally here!
---
Tips to Using Frozen Fruits and Veggies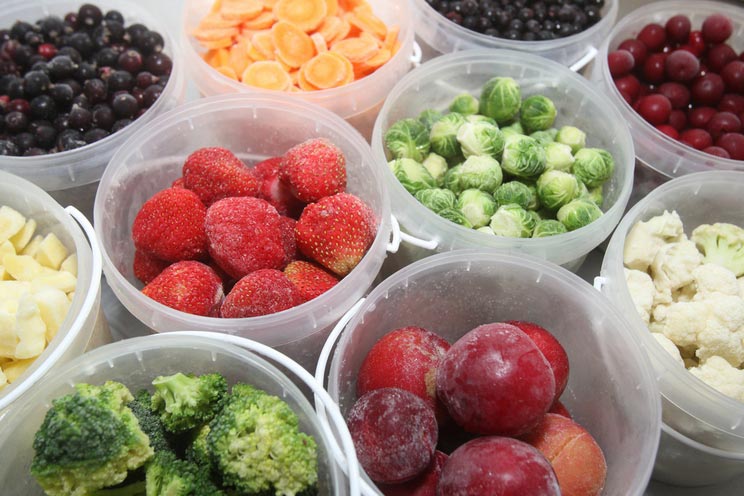 While fresh vegetables and fruits typically contain more nutrients, freezing them is the second-best option. Freezing, in some cases, can help to maintain nutrients for longer. Below, are tips on how to choose the healthiest frozen produce and retain their nutrients (and taste) for longer.
Between canned versus frozen food, both can retain nutrients, with canned doing better long-term, and frozen retaining more initially but losing them the longer they're frozen. (1)
Check the dates on frozen food. If they're expiring any time within a year, they've probably been frozen for a long time already. Once purchased, use freeze produce within 3 months for the best quality and to avoid freezer burn.
If you're using frozen veggies in a soup or a stew, be sure to add them after the meat has fully cooked, and simmer for up to 2 hours.
If you're cooking frozen veggies on their own, sauté times will be reduced, both in temperature and time.
When steaming frozen veggies, never use the microwave and always keep an eye on the stove. When the vegetable appears bright, it's usually ready to eat. Green beans, broccoli, and peas are most easily overdone, and they can adopt a drab, grayish-green color when they've cooked too long. That's appetizing for no one!
To roast frozen veggies, drizzle them with some coconut or avocado oil, add some sea salt, and roast at 425°F until they're bright and easily pierced by a fork. Cooking times will vary depending on the type of veggie, but again, don't set a timer and walk away until you're familiar with the cooking time required.
Frozen fruits are usually best left frozen and blended directly into smoothies or cooked in pies, muffins, or breads.
Unfortunately, nothing can replace the benefits of eating raw vegetables and fruits, so be sure to work these into your diet along with your frozen produce for the best levels of antioxidants, vitamins, and minerals.
When it comes to frozen vegetables that are pre-seasoned, this is where you need to watch out. Often these are paired with junky vegetable oils, like canola or soy, and unless the product is explicitly organic, the spices used likely won't be. For people with food allergies, it's best to avoid anything that has been pre-seasoned, since often times this can be potential for cross-contact with allergens.
Bottom line: Frozen vegetables and produce aren't the worst things at the store, by far, so feel free to use them to save time and prep. Just be sure to choose organic when available, and skip anything that is pre-oiled or seasoned. You can quickly do this yourself in your own kitchen.
---
Tips on Using Frozen Meats & Seafood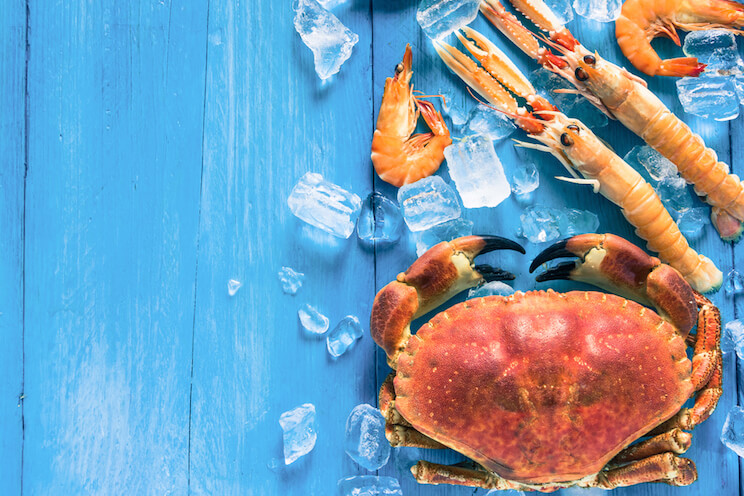 Just like frozen veggies and fruit, nutrients can be retained in meat as long as it hasn't been frozen for too long. Expiration dates should always be checked.
Prioritize quality over quantity. Typical grocery store frozen meat is cheap, usually from concentrated animal farming operations. The bigger the brand name, the better the chance that the meat is far from pasture raised. Do your research on companies that produce meat, and try to choose brands that closely adhere to your food values, such as grass-fed meat and pastured chicken.
When it comes to frozen seafood, make sure to read the labeling. Sometimes factory-farmed fish will be labeled to make it sound as if they're wild-caught. Tip: Fish caught in the Atlantic or China are often farmed, regardless of the label. Pacific or Alaskan caught fish are more likely to be wild.
Steer clear of any meats and seafoods that are breaded, seasoned, or otherwise flavored. These are usually filled with allergens, low-quality and refined oils, grains, and preservatives.
If you're really craving dishes like fish sticks or chicken strips, it's very easy to DIY using almond flour, coconut flour and even coconut flakes. Plus, making them at home is more allergy-friendly and gut-friendly.
Try these quick, gluten-free "breaded" recipes: Crispy Paleo Fish Sticks, Coconut-Crusted Chicken Fingers.
Bottom line: Frozen meat can be a great convenience, but make sure you're choosing good quality and skipping seasonings, oils, and unnecessary ingredients.
---
Are Frozen French Fries Ever Okay?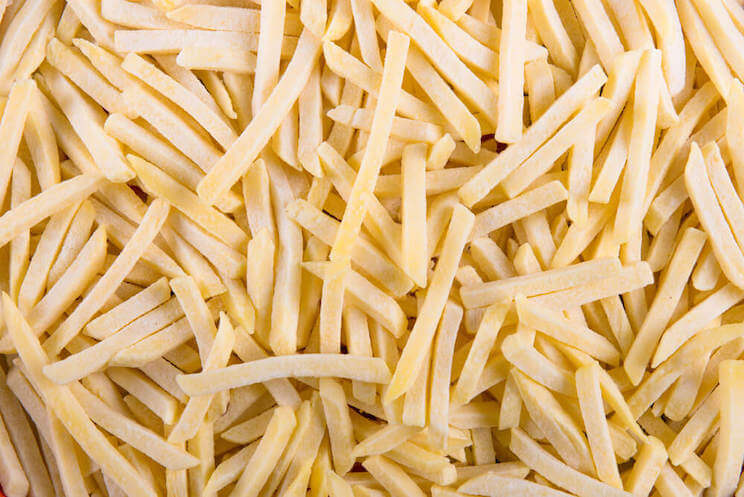 Most frozen french fries, even those from organic companies, contain canola, vegetable, or cottonseed oil, which are all highly refined and filled with inflammatory Omega-6 fatty acids. While eating these occasionally certainly won't harm you unless you're allergic, they're not something to stock your freezer with. [tweet_quote]Skip the frozen french fries at the store and freeze your own sweet potato fries instead![/tweet_quote]
Instead, make your own with wholesome ingredients like sweet potatoes. Simply chop and freeze them in batches. When you're ready to eat them, pop the sweet potato fries in the oven for 20 minutes (just like you would with the store-bought version) and enjoy them with your favorite dip.
Try these Sweet Potato Curly Fries and Parsnip Fries next time a craving comes on.
Bottom line: If you're looking for a healthier option to store-bought frozen french fries, try making them yourself. It's a much healthier option and keeps the refined oils and inflammatory ingredients out of your kitchen!
---
The Trouble with Frozen TV Dinners
The real bummer about most frozen meals is that they're often filled with junk-quality ingredients, trans fats, gluten, cheap dairy, and a good deal of other things also found in fast food. It can be deceiving to think that by heating a frozen dinner or pizza at home it's healthier than just hitting up a drive-thru. Unfortunately, nine times out of ten, it's just as bad.
Even "healthy" options like low-fat and low-calorie frozen meals will contain cheap oils (which are inflammatory), preservatives, and other anti-Paleo ingredients found in fast food.
Ready-made options like waffles, pancakes, and the like are also best avoided since these are rarely Paleo and often contain massive amounts of sugar and refined starches. [tweet_quote]Even "healthy" frozen meals are likely to contain cheap oils and preservatives.[/tweet_quote]
Instead, go straight to the Paleo companies offering ready-made meals delivered to your door. Note, they're more expensive than the frozen dinners you would by at the grocery store, but you're not sacrificing quality for convenience. Paleo On The Go, Pete's Paleo, and Eatology are three tried and true Paleo meal services that deliver delicious, nutritious meals that are well worth the cost (Find the 13 Best Paleo Meal Delivery Services here).
You can also make your own freeze-friendly meals! You can prep the ingredients, then freeze almost anything from soups to chicken dinners. Below are some super easy freezer meal ideas:
Bottom line: Your basic grocery store freezer aisle is a landmine of non-Paleo, unhealthy fast food options. If you're in need to convenient dinners, try healthier options like Paleo meal delivery services or try batch prepping freezer-friendly meals.

(Read This Next: The 10 Best Foods to Eat for Weight Loss)