Drizzle these fluffy Pumpkin Spice Coconut Flour Pancakes with maple syrup and dig in!
Packed with wholesome ingredients and perfectly spiced with fall flavors, this pancake recipe is bound to make any Paleo (or non-Paleo) belly full and happy. They're made with a coconut and tapioca flour base to make them thick and fluffy, while also keeping it gluten free!
You only need eight ingredients to make these fluffy flapjacks. Most of them are standard Paleo ingredients, plus the seasonally necessary pumpkin purée and pumpkin spice.
Love Coconut Flour Recipes? Then you'll love our FREE Coconut Flour Recipes.
Click here to get your FREE copy of our delicious Coconut Flour Recipes!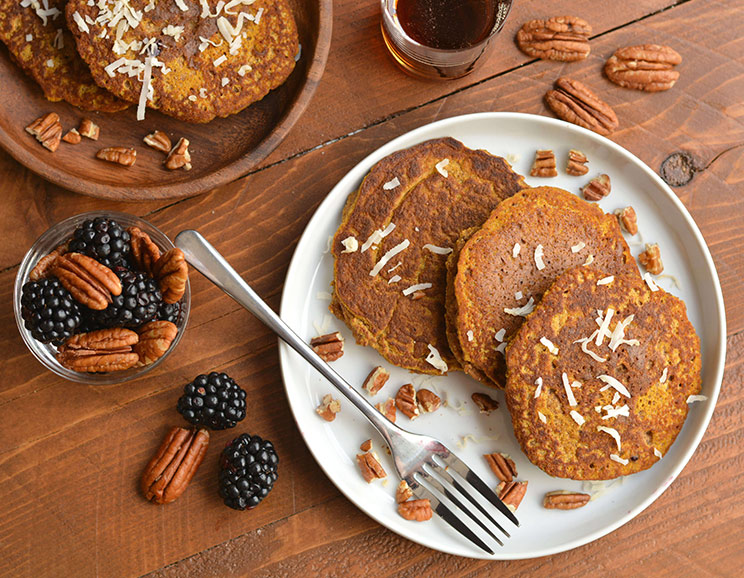 To make the pumpkin spice coconut flour pancakes, start by whisking eggs together with coconut milk, maple syrup and pumpkin purée in a large mixing bowl. Then, slowly incorporate the dry ingredients. Note: Coconut flour is very absorbent, so it's easy to overmix. Stir the batter until just combined to ensure you get the thickest and fluffiest pancakes possible.
The recipe calls for one teaspoon of pumpkin spice, but depending how much you like, you can add up to two teaspoons or add an extra dash of cinnamon. It adds an extra layer of warmth and sweetness to the batter! Before making the pumpkin spice coconut flour pancakes, use a little coconut oil to grease the skillet, as coconut flour tends to stick more than traditional flours.
These Pumpkin Spice Pancakes are a wonderful addition to any breakfast morning and great for meal prepping, as they'll keep in the fridge for a week. Top your pancakes with homemade coconut yogurt, fresh fruit or almond butter, plus a nice drizzle of maple syrup for a delicious and filling way to start the day!
Megan Olson
Pumpkin Spice Coconut Flour Pancakes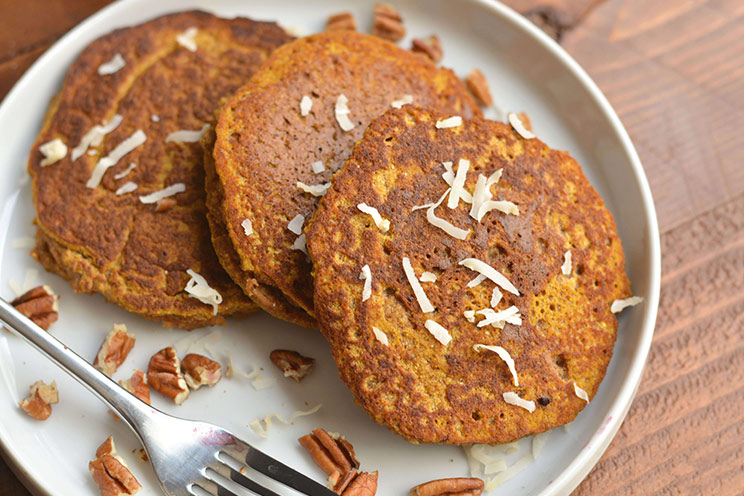 Cook Time:
10 mins
10 minutes
Prep Time:
5 mins
5 minutes
Pumpkin Spice Coconut Flour Pancakes
Drizzle these fluffy Pumpkin Spice Pancakes with maple syrup and dig in!
Tools
Skillet

Mixing bowl

Wooden spoon

Spatula

Wire baking rack
Ingredients
3 large eggs

¾ cup pumpkin purée

2/3 cup unsweetened coconut milk

¼ cup maple syrup

½ cup coconut flour

¼ cup tapioca flour

1 t pumpkin spice

1 t baking soda
Instructions
Lightly grease a skillet with coconut oil and bring to medium-low heat.

Whisk the eggs, pumpkin, coconut milk and maple syrup in a large bowl until creamy and smooth.

Stir in the coconut flour, tapioca, pumpkin spice and baking soda. Do not overmix.

Scoop ¼ of the batter to form a pancake onto the skillet. The batter will be thick, so you will need to flatten and shape it with a spatula.

Cook the pancakes 3-4 minutes, then carefully flip and cook another 3-4 minutes. Both sides should be browned.

Transfer the pancakes to cool on a wire rack until all the pancakes are done.

Serve immediately or store in the refrigerator up to one week.
Looking for Paleo ingredients? Here are a few we'd recommend:
Coconut milk (Native Forest)
Coconut flour (Nutiva)
Tapioca flour (Authentic Foods)
You'll Also Love: 20 Mix-Ins to Instantly Upgrade Your Pancakes