Sweet potato curly fries tossed in beef tallow make a healthy snack for both kids and grown-ups!
I'd like to shake the hand of whomever invented the curly fry, putting a fun spin on a classic snack we didn't think could get any better. While fast food curly fries are anything but Paleo (usually made with white potatoes and preservatives), making a healthy version is super easy. All you need are a few sweet potatoes, a spiral slicer and beef tallow.
Why We Use Beef Tallow
Beef tallow is high on the list of the purest forms of fat to cook with. You can render your own using a crockpot method and a little bit of patience, or, thanks to the Internet, you can conveniently order it online from a reputable source (we love this little tub from our friends at US Wellness). Tallow is solid at room temperature, with a smooth and waxy texture. It is no surprise to the Paleo community that this type of animal fat is making a big comeback. As with meat, grass-fed tallow is rich in omega-3's, CLA, and vitamin K2. Tallow is versatile and can be used to cook savory dishes (it has a subtle, rich flavor) or even used in handmade soaps.
Want to snack smarter and curb cravings? Get your FREE 25 Healthy Paleo Snacks Cookbook here.
Click here to get your FREE copy of our Snack Recipes Cookbook!
Start by slicing sweet potatoes on a spiral slicer using the 6mm blade to make curly ribbons. Sweet potatoes are a terrific swap for white potatoes, adding a boost of vitamin C, beta-carotene, fiber and potassium to recipes. Plus, you get that sweet and savory flavor combo that's oh-so satisfying. Once the potatoes are spiralized, melt down the tallow over low heat and pour it evenly on the sweet potatoes. Work quickly using your hands to rub the tallow on the fries – make sure the tallow isn't hot and is safe to handle. The tallow is solid at room temperature, so it will quickly return to its original state. Season with black pepper and bake at 425°F for 10 minutes. Give the fries a quick toss, using tongs to turn them, so that they can evenly crisp up. Return to the oven and bake an additional 10 minutes or longer. Finish with a few pinches of sea salt.
Serve hot with plenty of your favorite homemade ketchup for dipping!
Jennafer Ashley
How to Make Healthy Curly Fries with Sweet Potatoes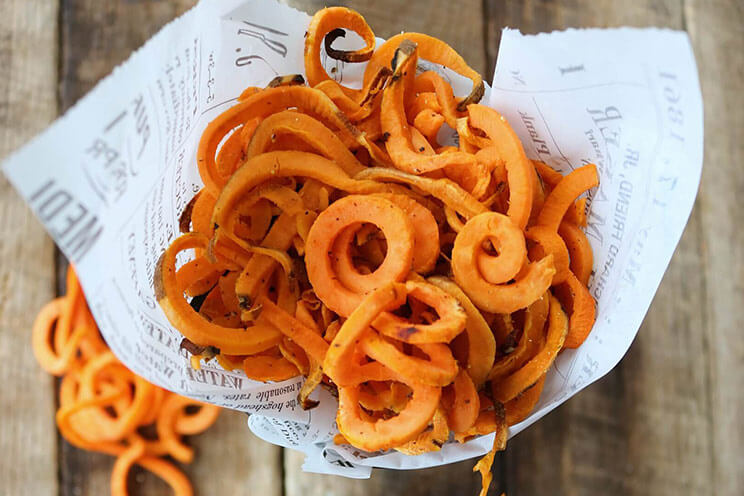 Cook Time:
20 mins
20 minutes
Prep Time:
10 mins
10 minutes
How to Make Healthy Curly Fries with Sweet Potatoes
Sweet potato fries tossed in beef tallow make a healthy snack for both kids and grown-ups!
Tools
Baking sheet

Parchment paper

Spiralizer

Small saucepan
Ingredients
1 pound sweet potatoes, lightly peeled

2 t beef tallow

1/4 t sea salt

1/8 t black pepper
Instructions
Preheat oven to 425°F. Line a baking sheet with parchment paper. Using a 6mm blade on spiral slicer, slice potatoes into curly ribbons. Place into a bowl.

Melt tallow in a small saucepan over low heat. Pour tallow over fries and toss together. Spread fries out evenly on baking sheet. Season with pepper.

Bake for 10 minutes. Use tongs to gently toss fries and return to oven for another 10 minutes. Season with sea salt.
Looking for Paleo beef tallow? We'd recommend US Wellness' Grass-Fed Beef Tallow here.
Tip: It's best to keep tallow stored in the refrigerator or freezer. For a fun hack, spoon it into ice cube trays and freeze. When you're ready to use it, simply pop a tallow cube out and melt it down in whatever you're cooking!
Watch the Recipe Video Below!



(You'll Also Love: Cajun Sweet Potato Fries)