Blend up this creamy pumpkin spice ice cream in minutes – zero churning required!
Pumpkin spice season has arrived! This homemade ice cream is ready for the freezer in only three simple steps with the help of rich coconut cream, dates and pumpkin purée. Together they create a creamy, custard-like ice cream that doesn't need any churning. Add your favorite festive autumn spices like nutmeg, ground clove and cinnamon to ease you into the cooler months.
Canned pumpkin is readily available during the fall season in most grocery stores. Look for BPA-free, organic canned pumpkin with no added ingredients. Full of fiber, vitamin A and beta-carotene, pumpkin helps fight cancer, aging and heart disease. Something you won't find in traditional ice cream!
To make this pumpkin spice ice cream, start by soaking the dates in water to soften them. Dates add a naturally deep sweetness that complements the pumpkin well. They also happen to be an excellent remedy for healing digestive issues!
Love Paleo Desserts?
Get our FREE Paleo Dessert Cookbook here!
After the dates have soaked for 10 minutes, add them to a blender or food processor along with the coconut cream, pumpkin and spices. Blend for a few minutes until thick and smooth, stopping every minute or so to scrape the sides of the blender to incorporate any bits of dates that haven't blended in. Once completely smooth, pour the mixture into a loaf pan, cover with plastic wrap and freeze for 3-4 hours. This ice cream is best served right when it has just frozen so it can scoop easily. You can also thaw the ice cream for 20 minutes for a soft serve-style ice cream.
Top your pumpkin spice ice cream with chopped pecans, walnuts, dark chocolate chips, or a drizzle of Paleo caramel sauce!
Jennafer Ashley
Easy Pumpkin Spice Ice Cream (Made in a Blender!)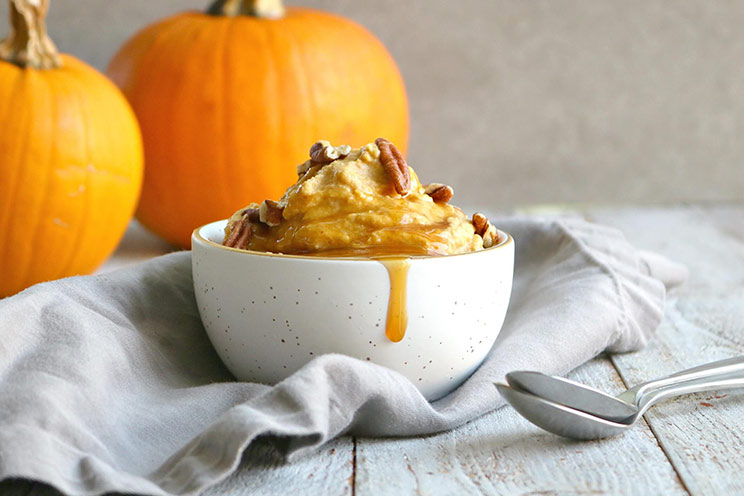 Prep Time:
15 mins
15 minutes
Easy Pumpkin Spice Ice Cream (Made in a Blender!)
Blend up this creamy pumpkin spice ice cream in minutes - zero churning required!
Ingredients
6 oz. pitted dates

2 (14oz.) cans coconut cream (cream portion only)

8 oz. canned pumpkin

1/2 t ground cinnamon

1/4 t ground nutmeg

1/8 t ground clove
Instructions
Cover dates in hot water in a small bowl. Soak 10 minutes.

Drain dates and add to blender along with the rest of ingredients. Blend until smooth.

Pour into a loaf pan and smooth evenly with a spatula. Freeze for 3-4 hours. Thaw 10 minutes, or 20 minutes for soft serve-style. Scoop and serve!
Looking for Paleo ingredients? Here are a few we'd recommend:
Coconut cream (Native Forest)
(You'll Also Love: Pumpkin Spice Pie with a Grain Free Crust)
Full of some of the most powerful superfood nutrients known to increase "feel-good" hormones, suppress appetite, lower blood pressure, feed good gut bacteria, and more!