Bake up this scrumptious blueberry cobbler for a dessert rich in antioxidants!
One of our favorite ways to use up a fresh blueberries is to bake them into a crumbly, gluten-free cobbler. It's a simple dessert you can create for your friends and family. Go ahead and indulge – no need to worry about extra additives or refined sugars!
What Goes Inside?
This simple filling combines all the sweetness of honey and blueberries with the tartness of fresh lemon juice. Then we add coconut oil and tapioca starch to help meld the flavors together, creating a warm sticky syrup that oozes out from under the crumbled topping.
Love Paleo Desserts? Then you'll love our FREE Paleo Dessert Cookbook.
Click here to get your FREE copy of our delicious Dessert Recipes!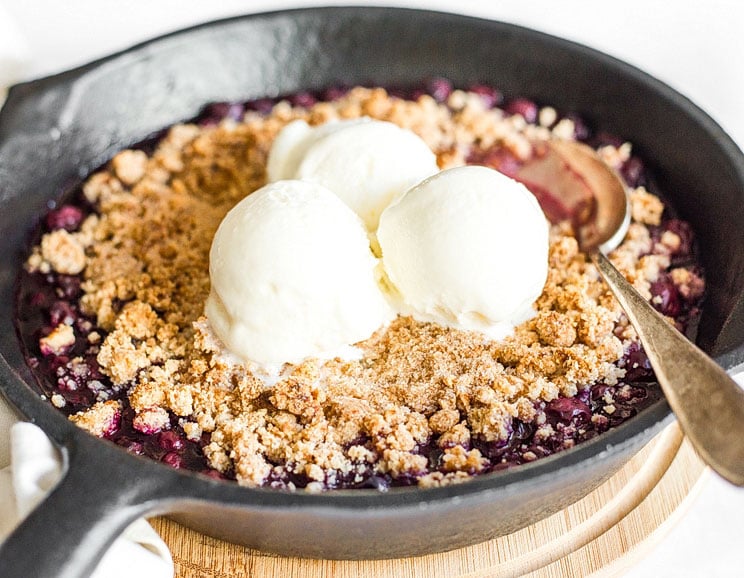 How to Make the Best Cobbler Topping
The cobbler crumble is a lot like a traditional pie crust in that it's flaky, golden, and crisp to the bite. It's made with a base of almond flour and a bit of powdered monk fruit sweetener to keep things light, nutty, and slightly sweet.
Serve It a la Mode Style
To make this dessert even better, try serving it with dairy-free ice cream or whipped coconut cream. Tip: Blueberry cobbler pairs great with this simple coconut milk ice cream!
Helpful Tips for Getting Started:
Use ramekins for portion control. This recipe bakes the cobbler in one cast-iron skillet, but you could also divide filling and topping between four small ramekins instead.
Check for burst berries. When checking for readiness, look to see if the blueberries have burst. This is a good indicator that cobbler pie is done baking.
Felicia Lim
Healthy Blueberry Cobbler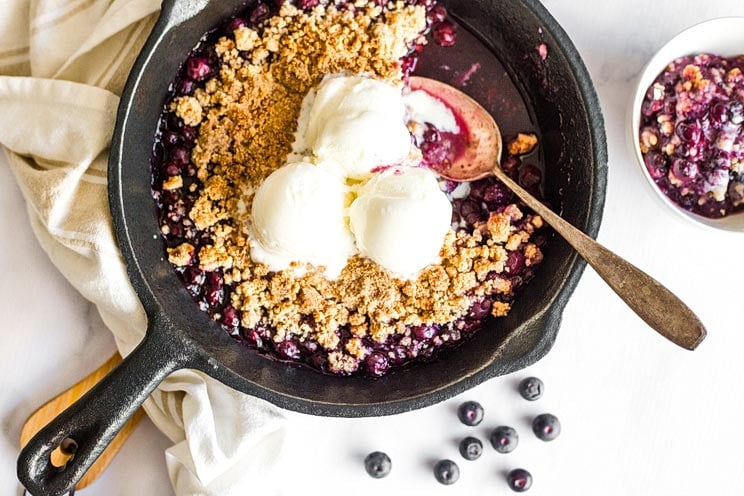 Prep Time:
10 mins
10 minutes
Nutrition facts:
7 grams of protein
44 grams of carbohydrates
22 grams of fat
Healthy Blueberry Cobbler
Bake up this scrumptious blueberry cobbler for a dessert rich in antioxidants.
Tools
Cast-iron skillet

2 large mixing bowls
Ingredients
For the Blueberry Filling:
3 cups fresh blueberries

¼ cup fresh lemon juice

2 T honey

1 T tapioca starch
For the Crumbled Topping:
1½ cup blanched almond flour

⅓ cup tapioca starch

⅓ cup coconut flour

3 T melted coconut oil

1 T powdered monk fruit sweetener, plus more for sprinkling on top
Instructions
Preheat the oven to 350°F, then grease a cast-iron pan with a tablespoon of coconut oil and set aside.

To Make the Blueberry Filling: Combine all ingredients for the filling in a large bowl and mix well to combine. Pour evenly into the skillet and set aside.
To Make the Crumble: In a separate bowl, whisk together the ingredients for the crumbled topping. Layer the crumble over the filling and sprinkle extra monk fruit powder on top.

Bake for 30 minutes. Remove the skillet, tent with aluminum foil, and place it back into the oven for another 20 minutes.

Serve warm topped with coconut ice cream or whipped coconut cream.
Looking for Paleo ingredients? Here are a few we'd recommend:
Raw honey (Bee Farms)
Tapioca flour (Authentic Foods)
Almond flour (Anthony's)
Coconut flour (Anthony's)
Cold pressed coconut oil (Viva Naturals)
Monk fruit powder (Julian Bakery)
If you have a sweet tooth that just won't quit, you'll love our Paleo Sweets cookbook! You'll get 70 delicious and nutritious desserts that you'd swear came from your local bakery. Indulge in mouth-watering brownies, whip up decadent cakes, and churn out creamy dairy-free ice creams. Get your FREE copy HERE (just pay for shipping)!