Looking for the ultimate kid-friendly weeknight meal that the whole family will love? These Paleo Crispy Fish sticks are just the ticket!
On busy weeknights, it's easy for parents to open up the freezer and pull out those chemically-filled, perfectly-shaped, rectangle "fish" sticks to satisfy picky eaters.
Unfortunately, those boxed fish sticks are just as much a "mystery meat" as the food in your middle school cafeteria.
Want to go Paleo? Not sure where to start?
Start with this FREE Paleo For Beginners Guide Today!
So, we wanted to make things easy for you and your kiddos, and recreated the classic snack the PaleoHacks way. The best part? They take only minutes to prepare — giving you a go-to kids' meal even on the busiest of weeknights.
If you recruit the kids to help you make this meal, you could even prep this dish in a mere five minutes!
First, you'll make a crispy coating made from almond flour and a few simple spices. Then you'll just need to slice up some meaty-white fish fillets into "sticks."
The little ones can help you dredge the fish sticks in a beaten egg, and coat with your almond flour mixture. They'll love helping out in the kitchen and getting their hands dirty!
Put those all-natural fish sticks in the oven and in just about 12 minutes they'll be cooked and deliciously golden brown.
And what goes better with fish sticks than another kid-friendly recipe: honey mustard for dipping, of course!
While the fish sticks are baking, prepare a simple honey mustard sauce by mixing some raw honey with some Dijon mustard. Dip those tasty fish sticks in this homemade Honey Mustard (or try these other Paleo condiments) and ditch the freezer food.
Deanna Dorman
Crispy Paleo Fish Sticks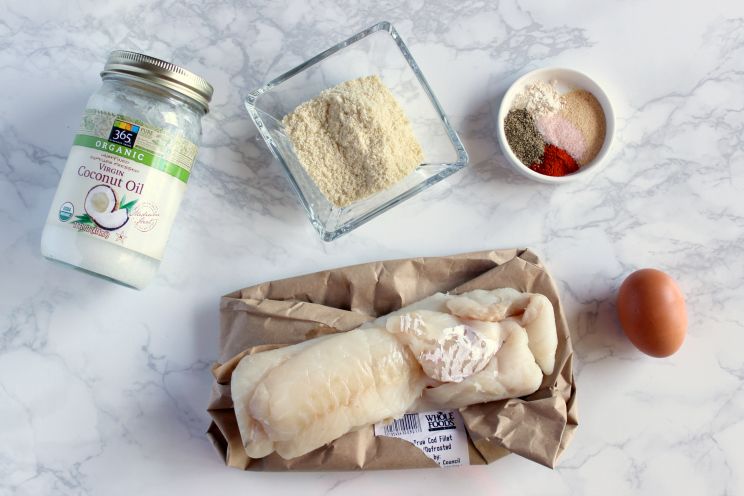 Cook Time:
15 mins
15 minutes
Prep Time:
5 mins
5 minutes
Crispy Paleo Fish Sticks
Ingredients
2 - 6 ounce white fish fillets, thinly sliced (cod works well)

1/2 cup almond flour

1/2 t garlic powder

1/4 t onion powder

1/4 t cayenne pepper (optional)

salt & pepper to taste

1 egg, beaten

2 T of coconut oil

For the Honey Mustard:

2 T raw honey

2 T Dijon mustard
How To Make It
1. Preheat oven to 350 ℉ and grease a baking sheet with coconut oil.
2. In a shallow dish, mix the almond flour, garlic powder, onion powder, cayenne, and salt and pepper to taste.
3. Beat eggs gently in a shallow dish and dip the fish into the eggs. Transfer the fish to the almond flour and coat the fish with the mixture.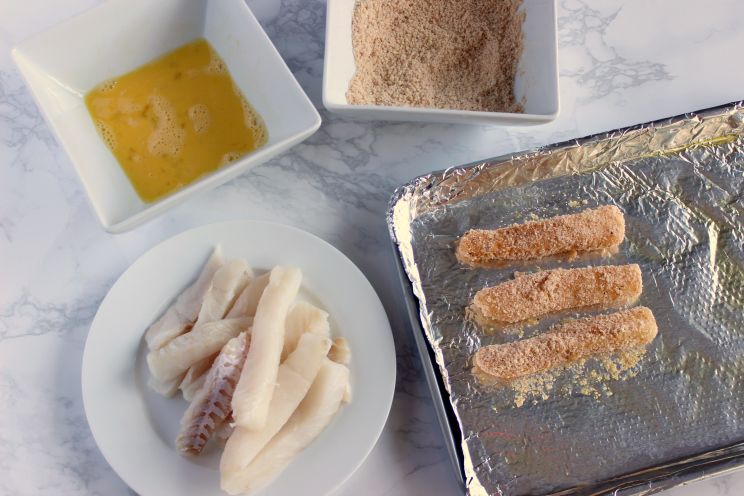 4. Carefully place fish on the baking sheet and bake 10-12 minutes, flipping halfway through, until it's golden brown and flakes easily with a fork.
5. While the fish sticks are baking, whisk together the honey and mustard until smooth. Serve with the fish sticks and enjoy!


(You'll Also Love: Macadamia-Crusted Chicken Nuggest)