Sweet Watermelon Fruit Pizza topped with a homemade coconut yogurt and fresh berries for a dazzling summer dessert!
There's nothing better than a sweet, refreshing watermelon on a hot day. This healthy, low calorie summer snack uses watermelon as a base for piling on yogurt and fruit. Your whole family will love it!
The best part about this recipe is that it requires no cooking or baking. No chilling either. Just 10 minutes to cut and assemble before you're sinking your teeth into this thirst-quenching pizza!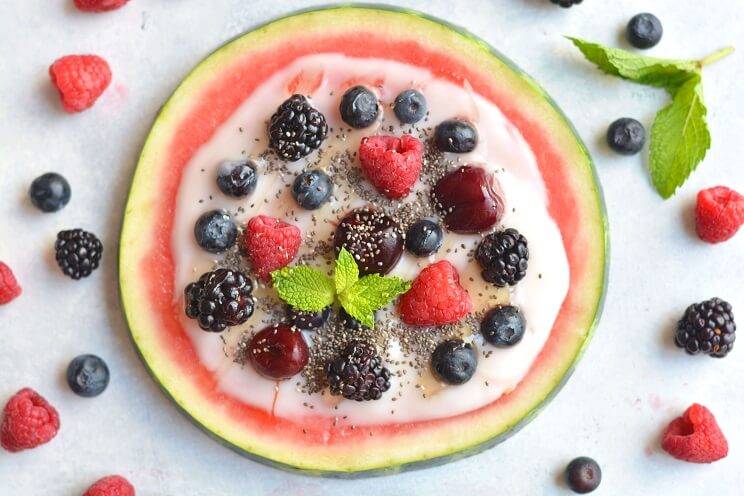 To build this watermelon fruit pizza, start with a slice of melon about two inches thick. Then spread on a layer of homemade coconut yogurt. (If you're in a pinch, you can buy organic coconut yogurt too.) The yogurt binds the toppings and adds a creamy texture that melts into the soft, juicy watermelon.
Next, sprinkle a medley of sweet berries and tart cherries over the yogurt. Pomegranate seeds, passion fruit, kiwi and mango also make yummy additions. Feel free to experiment with any fruit you like!
Raw honey and chia seeds are drizzled over the top for a little bonus of protein and sweetness. You can adjust the honey to your liking.
Love Paleo Desserts? Then you'll love our FREE Paleo Dessert Cookbook. Click here to get it!
Finish off your watermelon pizza with bright mint leaves for a light and fragrant flavor. Enjoy your Watermelon Pizza for a quick afternoon snack, for brunch, or to serve at an outdoor party. If you plan to bring this to a gathering, cut the watermelon ahead of time and assemble the ingredients when you arrive to keep the ingredients fresh.
Megan Olson
Watermelon Fruit Pizza with Coconut Yogurt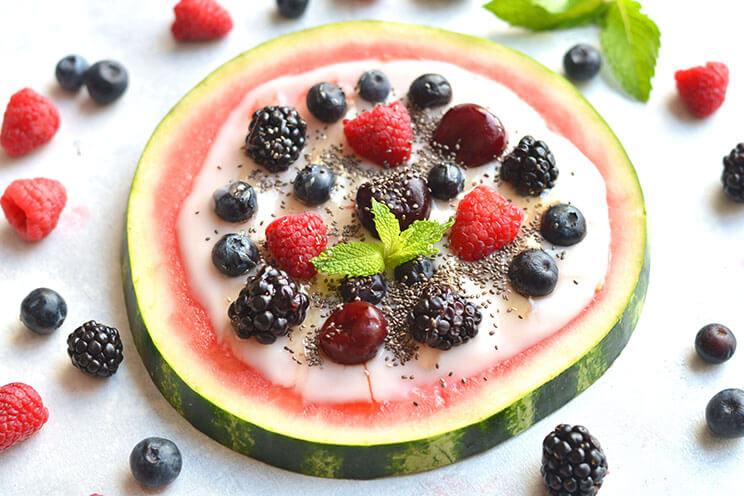 Prep Time:
10 mins
10 minutes
Watermelon Fruit Pizza with Coconut Yogurt
Sweet Watermelon Pizza topped with a homemade coconut yogurt and fresh fruit for a dazzling summer dessert!
Ingredients
½ cup coconut yogurt

1 medium watermelon

½ cup blueberries

¼ cup raspberries

¼ cup blackberries

3 T cherries

1 t chia seeds

1 T honey

Mint leaves, for garnish
Instructions
Slice watermelon in the center, then cut a slice from one of the sections about 2 inches thick.

Spread the homemade coconut yogurt on top of the watermelon

Layer the berries and cherries, then evenly sprinkle the chia seeds. Drizzle honey on top and garnish with mint leaves.

Slice into 6 sections like a pizza and eat immediately!
Watch the Recipe Video Below!

Looking for Paleo ingredients? Here are a few we'd recommend: 
Looking for a Dairy-Free Yogurt Recipe? Click here.


(You'll Also Love: Healthy Coconut Yogurt-Less Parfait Recipe)