This avocado-topped, Mexican-inspired tamale pizza is your new dinnertime game changer.
Made with a simple coconut flour crust, this fiber-packed pizza takes just three minutes to whisk together in a bowl and under 10 minutes to bake on the stovetop. It's that easy!
This pizza isn't just any pizza, though. The batter is spiced with a homemade blend of Mexican-inspired seasonings that smell delicious when you bake with it. The baking infuses the pizza crust with those amazing spicy flavors so every time you take a bite, you get a kick of heat in your mouth!
Love Coconut Flour Recipes? Then you'll love our FREE Coconut Flour Recipes.
Click here to get your FREE copy of our delicious Coconut Flour Recipes!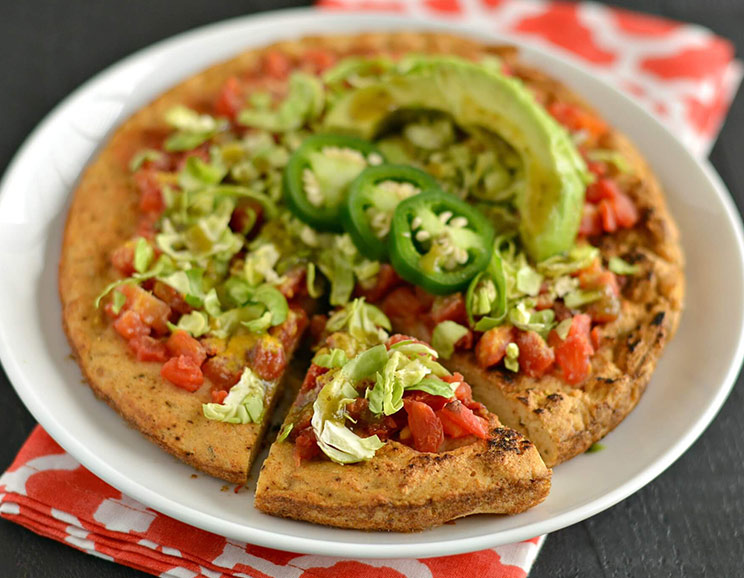 Top the pizza with diced tomatoes and nutritional yeast, and bake under the broiler for a few minutes. This will melt the nutritional yeast so you get a dairy-free "cheesy" effect. Then remove from the oven and top with your favorite ingredients: shredded cabbage, diced jalapeño, sliced avocado, extra salsa and hot sauce, to name a few! The warm flavors balance out the thick, savory tamale pizza crust and ooze out with every bite.
This Tamale Pizza makes a simple, 20-minute dinner. Perfect for a quick meal, appetizer or snack!
Megan Olson
Tamale Pizza with Coconut Flour Crust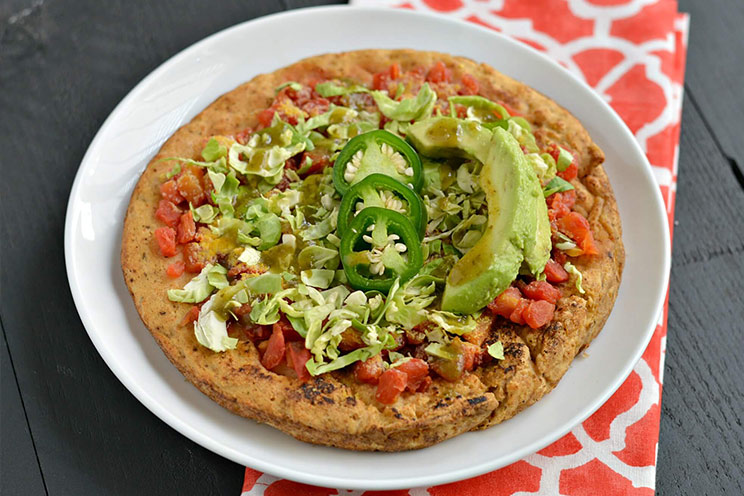 Cook Time:
7 mins
7 minutes
Prep Time:
15 mins
15 minutes
Tamale Pizza with Coconut Flour Crust
This quick, homemade Paleo Tamale Pizza marries Italian and Mexican flavors in a delicious way!
Tools
Cast iron skillet with lid

Medium bowl
Ingredients
For the Pizza Crust:
2 T coconut flour

1 T baking soda

6 egg whites

¼ t paprika

¼ t chili powder

¼ t garlic powder

¼ t onion powder

¼ t dried oregano

1 T coconut oil
For the Toppings:
½ cup tomatoes, diced

1 jalapeño, diced

2 T nutritional yeast

1 avocado, sliced

½ cup green cabbage, sliced
Instructions
Bring a cast iron skillet with coconut oil to medium heat.

In a medium bowl, whisk together the egg whites for 1-2 minutes until frothy. Then whisk in coconut flour, baking soda and seasonings until fully combined.

Transfer mixture into preheated skillet and spread into an even layer. Cover and cook 4-5 minutes until the bottom sets up a bit. Then with a spatula, flip and cook uncovered another 2-3 minutes.

Remove from heat, spread diced tomatoes over the crust, and sprinkle the nutritional yeast on top.

Turn the broiler on high, and then place the skillet under the broiler for 4 minutes to melt the nutritional yeast.

Remove from the oven and top with jalapeños, cabbage and avocado. Slice into quarters, serve and enjoy!

(You'll Also Love: 'Cheesy' Pesto Pizza)