Summer is grilling season, and also one of the most Paleo-friendly ways to cook.
Nothing takes to the grill better than juicy steaks or chicken breasts. Even the flavor of most veggies is elevated when charred over some hot coals.
Yes, meat and vegetables are perfect for grilling, but they're definitely not the only things you can grill. Fresh fruit is perfect for grilling, since the high heat brings out its sweet flavor. Since most fruit is at its best in the summer months when in season, it becomes a double win in the flavor department. When topped with honey lime spiked coconut cream, you'll find yourself asking if this is a dessert or a side dish.
The fruit here is a guideline; feel free to use whatever you have on hand, or whatever your favorite is to create your own combinations.
Coconut Oil has hundreds of health benefits – learn how you can experience them
Get our FREE Guide to Coconut Oil & its benefits here!
Note: To avoid the flavors of meat or fish from penetrating you fruit, make sure your grill is clean before starting.
Amy Hunter
Grilled Fruit Salad with Coconut Cream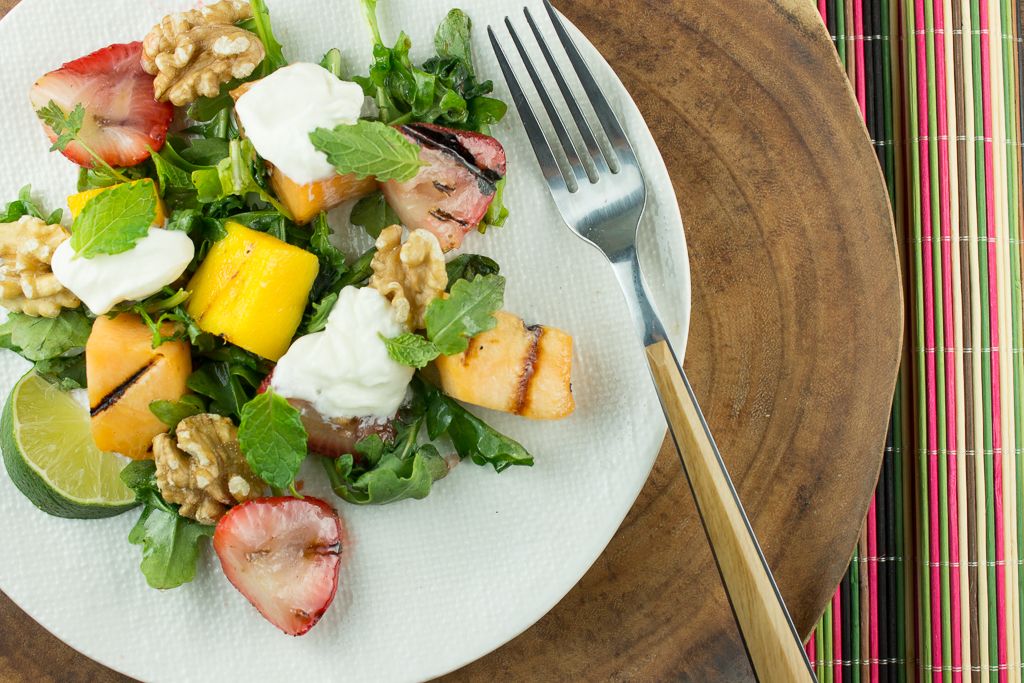 Cook Time:
20 mins
20 minutes
Grilled Fruit Salad with Coconut Cream
Ingredients
1 can full-fat coconut milk, chilled in the fridge for 6-8 hours

2 T raw honey

Juice of 1 lime

1 cup cubed melon

1 cup cubed mango

1 cup halved strawberries

1 t coconut oil

4 cups baby arugula

2 T olive oil

1/2 cup walnut halves

Fresh mint leaves
How To Make It:
1. To make the coconut cream, open your can of coconut milk and remove the solid cream from the top. Save the milk for another use. Add it to a mixing bowl and add the honey and one teaspoon of lime juice.
2. Beat on high speed until cream is thick and set aside.
3. Preheat a gas or charcoal grill to medium high heat. Put the fruit on skewers and brush very lightly with coconut oil. Grill the skewers until fruit is charred on all sides, and remove from the grill. Transfer to a bowl and add the arugula.
4. Whisk the olive oil and remaining lime juice in a small bowl and toss it with the salad.
5. Add the walnuts and mint leaves, and top with the coconut cream.
(You'll Also Love: Cinnamon Fruit Salad) [author_bio name="yes" avatar="yes"]