Grab a spoon and dive into an elegant coconut parfait topped with Paleo "granola"!
With only five ingredients, this Coconut Parfait is the perfect quick and healthy dessert. Made with coconut cream, the recipe keeps things deliciously gluten-free, dairy-free and sugar-free.
There are two secrets to making this coconut parfait extra thick and fluffy. One is chilling the coconut cream in the refrigerator overnight so it blends silky creamy. The other secret is adding a few tablespoons of coconut flour to make it extra thick and frothy.
Love coconut flour recipes? Get our free coconut flour recipe cookbook here!

Coconut flour is ultra-absorbent, so it will bind and thicken the parts of the coconut cream that are a bit liquid. The coconut flour turns the texture of the coconut cream into a fluffy cloud of goodness that resembles yogurt. Once you try it, I guarantee you'll never want it any other way!
It takes 10 minutes or less to whip up this dessert parfait in a blender or food processor.
For the layering, I made a quick Paleo "granola" by pulsing walnuts in a food processor to layer in my parfaits with fresh berries. You can try any combo for your favorite Paleo nuts and seeds. Try experimenting with different fruits and natural sweeteners (like honey and maple syrup) too!
Megan Olson
Healthy Coconut Yogurt-Less Parfait Recipe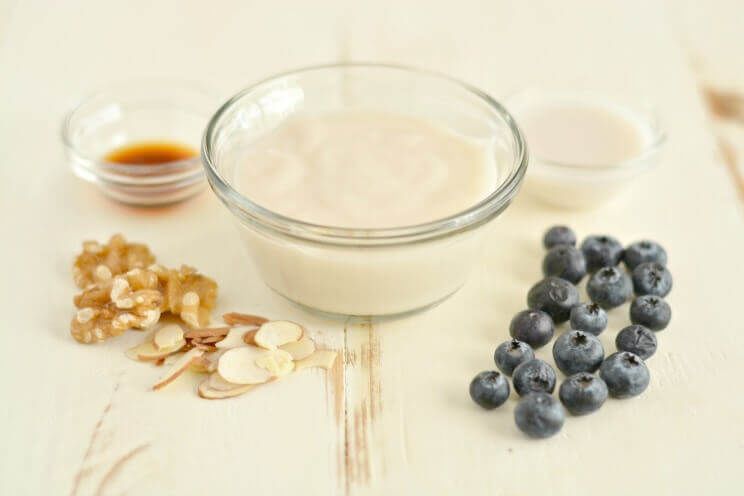 Prep Time:
10 mins
10 minutes
Healthy Coconut Yogurt-Less Parfait Recipe
Grab a spoon and dive into an elegant, five ingredient coconut parfait topped with Paleo "granola"!
Ingredients
To Make the Paleo "Granola":

1 cup raw walnuts

To Make the Parfait:

1 15-ounce can coconut cream, chilled overnight

½ t vanilla extract

2 T coconut milk

2 T coconut flour

¼ t salt

Optional Toppings: Slivered almonds, fresh berries, shredded coconut flakes
Instructions
Add walnuts to a blender and pulse until a granola-like mixture appears.

Transfer walnuts to a bowl. Set aside.

Place coconut cream, vanilla extract, coconut milk and coconut flour in blender. Blend on high 3-5 minutes until the ingredients make a smooth, yogurt-like mixture. If it's not creamy enough, add 1-2 tablespoons coconut flour.

Layer the parfait by placing walnut "granola" in an even layer on the bottom of the glass. Follow that with fresh berries and top with coconut cream. Repeat the layers until you reach the top.
Pro Tip: If you want your coconut cream to be extra thick and creamy, place it in the fridge the night before.


(You'll Also Love: Blackberry Coconut Soufflé)