These yogurt bites are made from dairy-free coconut yogurt and fresh, seasonal fruit for a yummy frozen treat.
All you need for this easy, freezer-friendly snack is coconut yogurt and fruit. This recipe uses blueberries and raspberries to create two separate flavors, but you can experiment with other fruit combinations like mango or strawberry.
To make these bites, use a high-speed blender to mix the yogurt and fruit until completely combined. Dollop the mixture into quarter-sized bites and freeze overnight.
Love Paleo Desserts? Then you'll love our FREE Paleo Dessert Cookbook.
Click here to get your FREE copy of our delicious Dessert Recipes!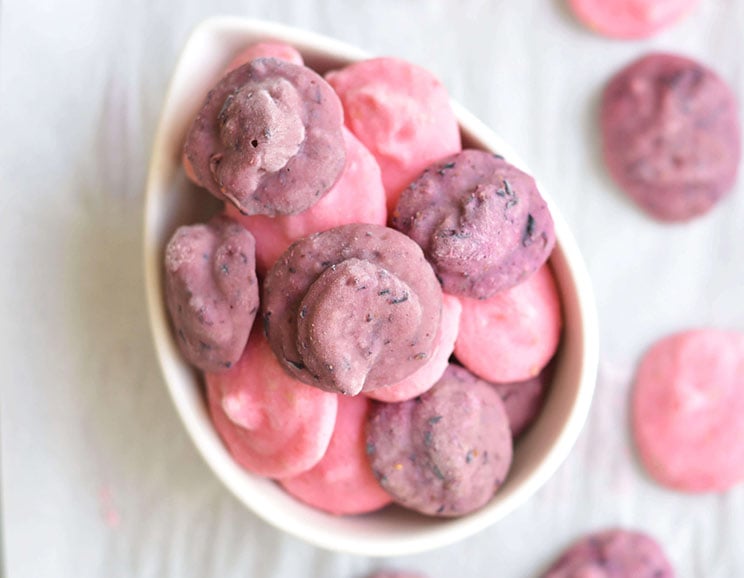 The trickiest part of this recipe is transferring the coconut yogurt mixture to the baking sheet without the mixture getting runny. To ensure this doesn't happen, freeze the baking sheet for 20 minutes prior to making them, and place a large ice pack underneath the baking sheet to keep it cool while you assemble the bites. This process ensures the mixture stays firm, and will freeze nicely.
Serve the coconut yogurt bites as a cool party treat, pop them as a snack, or add them to smoothies!
Tip: This recipe doesn't use any added sweetener, but if you want to add some, be sure to substitute with something sticky to ensure the bites hold together. Maple syrup would be too runny, but a ½ tablespoon honey or coconut sugar would work fine.
Megan Olson
Coconut Yogurt Bites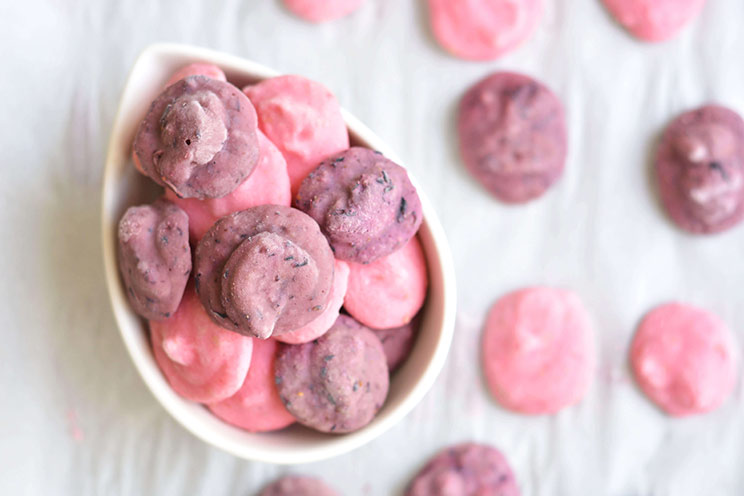 Prep Time:
30 mins
30 minutes
Coconut Yogurt Bites
These yogurt bites are made from dairy-free coconut yogurt and fresh, seasonal fruit for a yummy frozen treat.
Tools
Food processor or blender

Piping bag

Baking sheet

Parchment paper

Freezer-friendly container

Ice pack (optional)
Ingredients
1 cup coconut yogurt, divided

½ cup blueberries

½ cup raspberries
Instructions
For the Blueberry Bites: In a food processor or blender, combine ½ cup coconut yogurt with the blueberries. Process until the blueberries are fully broken down and combined. Swipe down the sides, process again, then transfer the mixture to a bowl and cover.
For the Raspberry Bites: Wash out the blender, and combine the remaining coconut yogurt with raspberries. Repeat the same process above and transfer the mixture to a separate bowl.

Place both bowls in the refrigerator. At the same time, place a small baking sheet in the freezer. Chill for 20 minutes.

Take out the yogurt mixtures, and place each flavor in 2 separate piping bags; line the baking sheet with parchment paper. If you have one, put an ice pack underneath the baking sheet.

Using the piping bags, squeeze out 12 drops per bag ( 24 total), each drop about 1 inch wide.

Place in the freezer for at least 3 hours.

Remove bites from the parchment paper and place in a freezer-friendly container. Enjoy immediately, or store in the freezer for up to a month.

You'll Also Love: How to Make Gut-Boosting Coconut Yogurt in the Slow Cooker